I was not sure where to put this, so, since it is prone to answers, I decided to put it here.

It is basically a translation of a conversation I had with a friend some time ago, and that I decided was worth saving.

~~~~~~~~~~~~~~~~~~~~~~~~~~~~~~~~~~~~~~~~

Luis(psychology student): I really can't understand how your moral code works.

Caio(myself): How come?

Luis: You are always saying how you hate people, in every given scenario you point out how you would take the machiavelic approach and how little human life is really worth.

Caio: Yep, never listened to Slipknot? People equal shit.

Luis: Yep, but you are always the first to stand up for random people and listen to others' problems.

Caio: Of course I do, I know these people's names.

Luis: And it's different how?

Caio: It makes the whole difference, they cease being a number.

Luis: Wut?

Caio: You see, take, for example, a random guy in a bus. He is just another human being. Just another nameless digit in the number of indiferent faces I see every day. He is human, and the human race is inherently foul, so if he was to spountaneously combust right in front of me, the only difference it would make in my life is that I would be happy that Earth has to bear one burden less.

Luis: So far, it's the same as always. What if you suddenly know his name?

Caio: Then he stops being just a number. He now has a name. He is not a simple human being, he is John, THE John Bullworth. He is not just another dead weight taking space in my bus, he is John, who likes chicken, and loves the color green. Who was the best Space Invaders player at his childhood years, and still keeps a copy hidden somewhere in his closet. John, who was in love with Carla in fifth grade and got dumped, never being able to trust women again.

(I'm getting fucking poetic from this point on. That happens sometimes.)

John, who has to always keep his bedside light on after midnight, because the sounds in the night scare the fuck out of him. John, who has his own rich history, and his own personal dreams. John, who has suffered, cried, smiled and rejoiced, who was forged in the cruel fires of the real life. John is a fighter. A million others have done every single thing he did, but only John is John. John survived, John lived, John cried, and I love John for this. I always will.

Luis: You know an awful lot about John.

Caio: No, I don't, but I know his name, I just imagine what the rest can be, because sure as the night after day, it will be even more unique and fantastic than what I imagined.

Luis: But if only his name is enough, there must be a few hundred different people you've met at least once and know the name.

Caio: And I love each one of them, from the most painful depths of my heart.

Luis: That's fucking deep, man.

Caio: If you say so...

Luis: But doesn't that make love cheap and trivial?

Caio: Only if you consider love is a word that describes a single feeling. You know philosophy as well as I do. I love Lud in one way. I love my family in other. I love you and my other friends in a different way. I love my equals in another. None is best, but all are different, and some are just more compelling.

Luis: It makes some sense. But does that mean you love EVERYBODY?

Caio: Not necessarily, there ARE some people so annoying they manage to earn my hate when we first meet. It's just really uncommon.
Fleeting Dreamer





Posts

: 1147


Join date

: 2012-05-05


Age

: 26


Location

: I was BORN to the stage, baby!



Allindur, that was pretty deep. XD Like holy shit. I gotta say I'm definitely on board with what you're saying.
_________________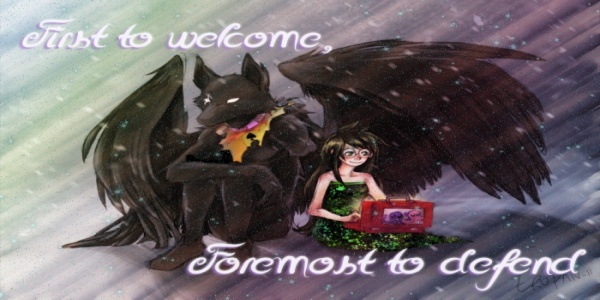 *Thanks to Mayari for the wonderful avatar/signature combo
WhippedCreame wrote:oh god yes eat my spaghetti confetti
Eternal Dreamer





Posts

: 16376


Join date

: 2009-10-28


Age

: 26


Location

: Home or work. Or some post-apocalyptic dream.



Thanks. I think it's a nice way to see the world. I think society would be considerably more bearable if more people saw the world that way, though it would take away part of the fun.

The part about not liking humans is a litte destructive, but it's by no means connected to the Love philosophy.
Fleeting Dreamer





Posts

: 1147


Join date

: 2012-05-05


Age

: 26


Location

: I was BORN to the stage, baby!




---
Permissions in this forum:
You
cannot
reply to topics in this forum