It could have been a deep, piercing pain in your bosom or a searing burn across your womb, maybe you felt something explode from your back to your chest or even a burning feeling down your throat. You could have been pierced, slashed, crushed, charred or even poisoned. It matters not.

The only thing that matters is...

You died.

It's no big deal, really, it happens to everyone. It was terribly painful, but only at first. Then it got worst. Then you felt the world spinning and getting darker and darker, until at last, you were plunged into a tar pit. Not literally, of course, but that's what it feels like, being devoured by the shadows. For a while, there was numbness and silence, you felt nothing, because there was nothing to be felt. In the end, however, you began to suffocate. How long had it been? A century? A couple seconds? Hard to tell, but in the end, you craved for fresh air. There was no sense of up and down, so you picked a direction and went for it. It is very difficult to swim in tar, even more if there is no tar, only darkness, but you kept going. You REALLY craved air. More than you had desired anything in your life. You strugled for some time, waving your nonexistent limbs pathetically without any detectable progress, until you finally manage to find a surface and gasp deeply.

Only then do you feel you are not in a tar pit by any means, but lying on the ground naked among a group of strangers, equally gasping for air. A mysterious figure oversees you all, a creepy smile on it's face.

It wasn't more than a smiling mask in a hood and cloak, but that was more than enough. The mask thing glided around grinning at you and the others and making you all unconfortable. It offered explanations, it offered sollutions, but nothing that could ease the pain of knowing what had passed.

"Good morning, babies, I am your most humble transporter, and it was my job and mine only to bring you to this place. No, no need to talk, I am here to speak, not to listen, keke. I have taken your lives. I have taken your bodies, your souls and your hearts. I have taken them because you were not using them, you had given up on them a long time ago, and that is why you had your lives taken. But rejoice, for you have a second chance, all do, in fact, keke. There is one chance to recover all that was once yours, and it depends on you, each and every one of you, for this here is the Limbo, where you will fight, suffer and go through trial after trial. Should you suceed, I promisse you shall have your bodies back and a second shot in life. Should you fail, well, you will meet the permanent residents and see for yourselves, kekeke.

You are probably wondering about these bodies you now possess. Truth is: I lent them to you, together with your souls and your hearts, because I'm just that nice of a guy, kekeke. Of course this is but a fake body, a vessel, if you will, for containing your hollow souls and hearts while you are here. Why hollow? Well, I will explain that. Your goal is simple: the Limbo may look like a wide world for you, but it has layers, like a tower, or an onion if you will. You, as the scum you are, are curretly in the lowest layer. Should you reach the highest tier, you can find a room where you will be absolved of your sins and given new life. You will be tried in this room. Tried to see if you tended to your borrowed souls and hearts better than you did while living, so in the long path upwards, you shall care for these hearts and souls and make them grow strong, because I stripped them of all humanity when I lent them to you. Why? Well, because it is funny, that's why, kekekeke. How do you grow them? That's simple. Souls grow through hardship, and your very ascention should prove tasking enough to nurture your souls, if you try hard enough. As for your hearts, it's somewhat more complicated. A heart can never bloom by itself, if can only grow when it's light shines over another. That's why you are here as a group. You are all strangers to each other, and it's the task of loving each other and knowing each other's hearts that will bring your own hearts to shine. To make it short, you win as a team, or lose by yourselves, it's just simple as that, because I'm that much of a simple guy, keke. Now, there is one last thing that should be noted. These bodies of yours, they are only dolls, really, as real as they may look. They are made of souls. Whose souls? Well, soul matter, the thing that could maybe happen to one who fails. The important part is: you need to feed this body if you want it to remain strong. No, there is no food down here. Well, there kinda is, but you don't require it, it is just a luxury. What you must feed on is souls. Where you will get these souls? Well, they can be extracted from any locals, as long as you either rip their body with utmost care or just really brutally fast. It sounds cruel to you? Well, it sure is, but don't expect everyone to be polite to you, one can get a little bad in the head down here. What? Well, sure you can take the souls of any one, regardless of if they harm you, but there is a price to be payed, a price in sanity. I wouldn't want to stain the soul I was so lucky to get back, but you are the one to decide. Oh, what it's too complicated? Well, what can I say, I'm a complicated guy, kekeke. That is it, my job is done. There is some things to cover you up scattered around and some sharpies to defend yourselves. Explanation? You want more? Well, too bad, my time is over, I have more souls to reap. Good luck and have fun. If you don't, no worries, the next group is sure to enjoy these borrowed souls of yours better than you do. They might find them delicous even...kekeke..."

--------------------------------------
This is it, this is my new attempt at holding an RP for some lengh of time. The basic explanation is there. I will make a few changes to the standard system to match better with the scenario. First, there is no EXP. Yep, that's right. Levelups will occur in predetermined events, usually when you ascend a tier. That means everyone levels together, and that means you will never really outlevel any enemy. It means progression is slower than usual at first, but faster in higher levels. There are a few features to the currency that will be explained later if it takes off, and a change to the usual Affinity system, since it will be critical in the story. Last, but not least, there is what I call the Soul system, that will be explained if we have any amount of people interested enough to take off.

This can work with any number of players above 2, so if we have 3 or more, we can have a go.

So, interested?
Fleeting Dreamer





Posts

: 1147


Join date

: 2012-05-05


Age

: 26


Location

: I was BORN to the stage, baby!



I'm interested, that's for true. P:
_________________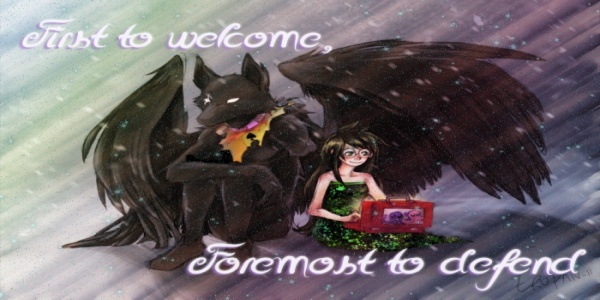 *Thanks to Mayari for the wonderful avatar/signature combo
WhippedCreame wrote:oh god yes eat my spaghetti confetti
Eternal Dreamer





Posts

: 16376


Join date

: 2009-10-28


Age

: 26


Location

: Home or work. Or some post-apocalyptic dream.



Kurio will happily be a guinea pig for new mechanics and systems o3o
Masochistic Kitty Kat Maid





Posts

: 8939


Join date

: 2009-10-30


Age

: 23


Location

: I dunno 3:



You have my interest as well.
Totes-Mcgoats





Posts

: 16374


Join date

: 2009-11-01


Age

: 26


Location

: Naletia



Ok, the Soul system.
Your body is, as explained, only an artificial vessel, and it can and probably will grow weak. When that happens, you must feed it souls to put it back into shape. The "health" of your body is measured in the Soul scale, numbered according to the number of souls curretly in your body.
Spoiler:


0:The Husk - The body has fully degenerated. Flesh has withered and skin is like parchment, gray and coarse. Veins are very black and visible. Hair has turned gray and is dry and coarse as straw. Eyes are a dull red by this point. The air is stagnant, dry and smells of death around the Husk. In this point of degeneration, the very feelings of the subject have been consumed, as his abilities to show his potential, all devoured by the soul void, in a desperate attempt to fuel the body. The Husk CAN NOT GAIN Drive. He may still spend it. The Husk also bears all penalties of previous degenerations.

1-The Shade - The body has been worn to a dangerous level. Skin is brittle and cracked, and veins have turned purple. Hair is mostly gray and eyes have turned orange by this point. The very air around the Shade is dry and suffocating. By this point, the very matrix of positive magic is disturbed by the powerful soul void created by the Shade. All positive magic effects are 25% less effective on a Shade, in addition to previous penalties.

2:The Geist - Real withering has started from the lack of energy to fuel the body. Skin has started to dry out and the veins are swolen and visible. Hair has started to pale and the eyes are filled with veins. The very air seems stagnant around a Geist. In this state, in addition to the penalty from Revenant, the character has the efficiency of all beneficial itens used on him/her reduced by 25%, as the body loses part of it's capacity to methabolise nether chemicals.

3-The Revenant - The body has started to weaken from hunger. Skin is pale and the hair is opaque and dry. Eyes seem empty and void. In this state, rare itens have a 30% lesser chance to drop from last hit enemies, as good energy is repelled from the soul void created by the body, that sucks in bad vibes.

4:The Incarnated - The amount of soul energy to maintain human-level health on the artificial body. No penalties or bonuses.

5:The Ascended - The excess energy is enough to ascend the body to an elevated state of energy. The whole body seems covered in a brilliant aura, the hair is shiny and flowy, almost like underwater, and the eyes cast of a powerful glow. In this state, any enemy last hit by this player has a 30% higher chance of dropping rare itens as the powerful energies in the Ascended draw in good vibes. Also, this is the peak of soul energy that can be stored, any now souls acquired will be converted into 15% HP and MP.

In addition to these effects, inhabitants of the Limbo tend to avoid degenerated individuals, as the wild ones tend to be feral, while looking up to ascended, or even incarnated, ones. Husks are generally scorned and ignored, if not outright attacked for fear of madness.
Now, about the fluctuation of the Soul Level. There are a few ways to gain or lose Souls, but first off one thing should be noted. You are all dead, what means you can't really trully die again, unless someone consumes your soul. For that reason, if any character dies in battle, as long as at least one is alive to take him back, he can be reanimated in the circunstances that will be explained inside the RP. Death per se isn't all that unpleasant, as it is common and has already been experienced. There are other downsides to it, though.
Gaining Souls:
-When a character scores a perfect kill, the victim's soul will be consumed, providing one, or rarely more, Soul. The same can be achieved by scoring an Overkill. I'll consider an Overkill a last hit that leaves the target on -50% HP or less.
-There is no real money in the Limbo. There are Graces. Grace is a kind of highly energetic living sprite materialized by the destruction of a spiritual body. It can be obtained by killing enemies and is highly useful, being used in synthesis, alchemy, and being able to fuel magic and special attacks if consumed, has healing properties and can do an unknown number of other things. For this reason, Graces are used as currency. One other use of Graces is that they can be consumed, in very high concentrations, to provide a Soul. (TLDR: you can buy souls with money, but they are very expensive)
-Any denizen of the Limbo, including the players, can donate Souls to other denizens. The donation cannot occur if it will result in the donator having a lesser Soul Level than the receiver, pretty much like you can't heat an object using a colder object.
Yep, these are the only ways. On the other hand, here is how you can-
Lose Souls:
-You can, at any time, convert your Souls into Drive points. Each Soul translates into 3 points.
-You can consume Souls to recover HP and MP. Each Soul consumed translates into 15% HP and MP.
-It can be possible to spend Souls in other ways, depending on the character and on special occasions.
-You can spend 3 Souls to revive an adjacent dead character with 45% HP and 45% Mp or the MP it had on death, which is greater.
-For each turn a character spends dead, it will lose one Soul. As this translates in seconds out of combate, if the character ends the battle dead, he will have 0 Souls upon be revived on the Soul Pyre, reverting to a Husk.

As it should be obvious by now, Souls carry over from battle, and your Soul Level is in effect at all times. It is equally possible to lose, obtain, donate or receive Souls out of battle, though a few things should be noted. First, Souls are very delicate, and usually dissipate when the body is destroyed, either to join the Limbo or to be reborn, and extracting one is very difficult, requiring utmost precision or great brutality, which is why a Perfect or Over Kill is required. As such, extracting Souls from a person killed out of battle requires a good Rolleplay and even then has only a chance of succeeding. If the victim is helpless and out of battle, however, a careful Coup de Grace has 100% chance of extracting the Soul. Nothing stops you from harvesting Souls from innocents or people who have not harmed you or pose no threat, but doing so is a great Sin, and will bring grave consequences and a perpetual stain. Seeing as you seek absolution and rebirth, you can measure the worth of such acts by yourselves.
Keep in mind being in a degenerated state is unpleasant. It is like being without food or water for days. And the more degenerated, the worse it gets, to the point of scruciating, random pain streaks on Husk stage. This should be RPed. Being Ascended, on the other hand, is very pleasant, like walkig on clouds. This means donating Souls is a very serious and meaningful action.
If there are no doubts and nobody has any problem with the system, I'll post the details of the profiles tomorrow.
EDIT: Had forgotten to edit to correct grammar mistakes. Sorry.
Fleeting Dreamer





Posts

: 1147


Join date

: 2012-05-05


Age

: 26


Location

: I was BORN to the stage, baby!



Hm...I thought this would be complicated, but it's relatively simple to understand. I don't think I have any qualms with this. It seems pretty cool as it is. (b=3=)b
Totes-Mcgoats





Posts

: 16374


Join date

: 2009-11-01


Age

: 26


Location

: Naletia



I didn't notice this at first, but I am interested as well.
_________________
Prince of Dreams





Posts

: 9517


Join date

: 2009-11-29


Age

: 22


Location

: I stand at a crossroads and stare at a question.



Well, since we got people, you can send the profiles to me.
Code:

[b]Name:[/b]
[b]Age:[/b]
[b]Gender:[/b]
[b]Appearance:[/b]
--------------------------
[b]Profession:[/b]

[b]Level:[/b] 1
[b]Soul Level:[/b] Revenant

[b]Weapon:[/b]
[b]Armor:[/b]
[b]Acessory:[/b]
-------------------------
[b]A-Ability:[/b]
-------------------------
[b]S-Ability:[/b]

[b]D-Ability:[/b]
-------------------------
[b]Heart:[/b]

[b]Character's Name:[/b] 0
[b]Regard:[/b] Personal Note
[b]Synchrony:[/b] None
The equipment is what the character had in life, so it needs not be starter stuff. In fact, it's better if it sounds mid to high tier. Keep in mind you will have lost the gear upon death, but it could reappear eventually. Keep noted your desired bonus for starting acessory. You may leave the Heart part blank, as it depends on other players. It works mostly like Affinity, but the Synchro part is kinda different. It records special A-Abilities you earn by leveling your heart level with someone. I will get into depth if we ever reach a point where you do unlock any Synchro effect.
Write your appearance as it would be on Incarnate level.
Fleeting Dreamer





Posts

: 1147


Join date

: 2012-05-05


Age

: 26


Location

: I was BORN to the stage, baby!




---
Permissions in this forum:
You
cannot
reply to topics in this forum