Augh! Sometimes people piss me off because they either jump to conclusions or just treat you like crap. I have some diffrent points of views and act differently and people just start treating me like crap because of it! People stop talking to me or just call me freak or something along those lines. It gets me mad when someone can't just take a few seconds to comprehend or actually think about it before jumping to conclusions and start calling someone names. Sorry, just had to let that out....
Daydreamer





Posts

: 109


Join date

: 2009-11-09


Age

: 22



It's sort of how we're wired. Humans are so eager to jump to conclusions because it never occurs to them that they are fully capable of making mistakes.

People like that... they aren't worth your time. Personally, I've come to realize that there is just no changing some people. The stubborn are firm in their beliefs - and that is both a pro and a con. There is little that can be done about them, other than to leave them be.

Hopefully writing down your feelings has helped.
Fleeting Dreamer





Posts

: 954


Join date

: 2009-11-11


Age

: 24


Location

: Beneath the ashes.



Look at that. ANOTHER rant about how horrible people are. I'm thinking of using this as evidence in some kind of federal case: Masquerade v. The Stupid People. Epic.

But yeah. Seriously. People are just going to be people. You're in middle school right? I can give you some advice. Harden your heart. Transform it into a steel fortress of which can block any insult. You already know that people are stupid, so their words are also meaningless, ignorant babble, are they not? Anything they say must be discredited for they are too unintelligent to comprehend the very phrases of which they speak. So yeah. Just ignore them. Let them toss insult upon insult upon you, but let them know that it means nothing to you. In a way, I guess that I'm telling you to act arrogant, but in a very subtle manner.

The most important thing to remember is that people are losing more and more intelligence as generations continue to be brought forth into existence. Humanity will not change.
_________________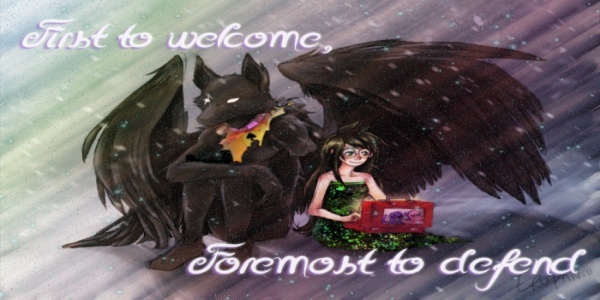 *Thanks to Mayari for the wonderful avatar/signature combo
WhippedCreame wrote:oh god yes eat my spaghetti confetti
Eternal Dreamer





Posts

: 16376


Join date

: 2009-10-28


Age

: 25


Location

: Home or work. Or some post-apocalyptic dream.



Hey. Don't pile on the cynicism, Masq. Take a chill pill and try to be more optimistic.
Fleeting Dreamer





Posts

: 954


Join date

: 2009-11-11


Age

: 24


Location

: Beneath the ashes.



Actually i think that is useful advice, just something don't work out well. By the way, yes i just hit middle school. Buy of course everyone there is being bums because I'm doing something not right. >_> Like seriously it's my life stop judging me!
Daydreamer





Posts

: 109


Join date

: 2009-11-09


Age

: 22



My advice?
Find good friends.
People who like you for who you are, and will back you up when you need it.
That's how I got through middle school. And a lot of those friends are still my friends to this day. Even though I don't get to see them much (they all went to a different high school), when I reunite with them, it's like middle school all over again.

))
Tormented By Nightmares





Posts

: 165


Join date

: 2009-11-02


Age

: 25



I completely agree with Obli. That's the biggest reason I got through middle school without doing something really stupid, my best friends, who still are friends of mine today. Hell, if it hadn't been for those guys . . . at the time I was seriously considering running away or suicide.

_________________
"We must no more ask whether the soul and body are one than ask whether the wax
       and the figure impressed on it are one."
Right Hand of Destruction





Posts

: 5479


Join date

: 2009-10-29


Age

: 26



I'm a user. I have no friends. And by user, I mean manipulator. I have no friends, just puppets I can use whenever I need to let off some steam, or halt the progress of my insanity.

You'd have to be so friggin' unique in your own right that your personality is almost incomprehensible to me. Which is something you will never encounter in my school. Therefore, every person at my school's just a cute little puppet whom I may call upon whenever I need a brick wall to bounce ideas off of.

Please tell me you understood why I used the term "brick wall" to define them, and you get an imaginary cookie.

If you know what I mean by "ideas", you know me too well.
Graced with Good Dreams





Posts

: 1561


Join date

: 2009-11-06


Age

: 24


Location

: Places




---
Permissions in this forum:
You
cannot
reply to topics in this forum