The roiling of the sheer amount of confusion was only just now receding. There seemed to be nothing more than an inky blackness around anything, and all one could see was perhaps themselves. There could not be anything more terrifying than not being able to see anything other than oneself. A single light shone down upon the person that was stuck here in this place of sorts. It was a warm light, something that might become stifling if it was stood under for too long. There was a small, persistent voice that was ringing through the resounding silence. It was almost something that could not really be understood, if only for the fact that its volume was nearly nonexistant. As time went on, though, the small voice got louder, bit by bit, and eventually, the first miniscule words started to take form, even if they were not something that really made sense if one were just waking up.

"...ey.... yo.... ka.... e up.... lo?"

The spotlight did not shift its focus from the one person that it was keeping its light on. Perhaps it was something that would follow the person, if it even began to budge. At this rate, it looked quite hopeless. Time still went on, and the voice began getting louder. The words also got clearer as the volume increased.

"Hello? Are you there?"

The source of the voice was still yet to be seen, but the only possible responder was the person under the spotlight, and as of the current moment, they looked as if they weren't getting up for quite some time. The voice continued to badger, but it all seemed to be useless. The person had to wake up on their own volition; no one outside source would bring them back to life. They had to decide for themselves that they wanted to wake up. All anyone could do was just wait.

Just wait.
Full Eight Hours





Posts

: 650


Join date

: 2013-05-31


Age

: 23


Location

: Texas



A darkness as black as the small splotch of paint upon the palette. This was a darkness beyond pitch, tar, and a starless night sky. A perpetual darkness, this one was, and it threatened to strangle the small form that floated within it. The form was that of a small boy with darkened skin and messy brown hair that moved about of its own accord as he remained suspended in the expanse of black. In his hands, he clutched a large wooden palette and a paintbrush, but there was no paint upon the palette. No color. There could be no color in this black expanse. Words penetrated the darkness but to no avail. They encouraged him to wake, to take action. There was no one but him that could bring color back into this world. His heart beat once. The thought of color filling the world--it thrilled him. His heart beat twice more. The passion of doing art in the most beautiful of settings, filled with color he wished to capture on canvas. The heart beat was steady now, and inside that small form a fire grew and blazed stronger and stronger. Warmth returned to that form, chasing away the frigid darkness. The voice kept persisting, no matter how fruitless it was, but it wasn't fruitless! He could do this! He could wake up and do what he dreamed of doing! Fill this world with art...

"...and it shall become...as a paradise." The boy opened his bright blue eyes and the darkness was gone. Instead, it was replaced with a brilliant spotlight, and he had to sleepily block it out of his eyes in order to get used to the sudden radiance. Blinking a few times, he lowered his hand. He checked the pouch at his side for his painting supplies and was glad to see them in place, paintbrush included. His large wooden palette was still on his back--everything seemed in tact. There was only one thing that remained in question for now. "Where...where am I?" he muttered aloud to anyone who was listening. He vaguely recalled a voice trying to reach out to him, so where was it? Would whoever it was be able to answer his questions? He was so lost...he couldn't remember what was going on, where he was, or how he had even managed to get himself caught up in this predicament if it could even be called that at this point. Managing to stand, he brushed himself off and awaited for the answers he hoped would come.
_________________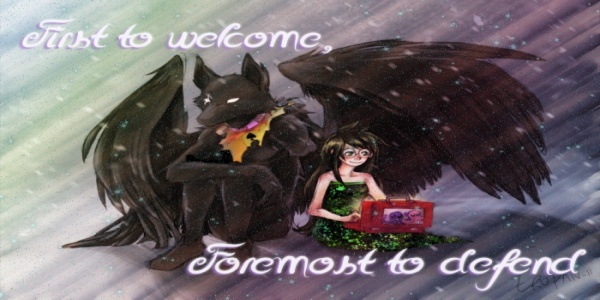 *Thanks to Mayari for the wonderful avatar/signature combo
WhippedCreame wrote:oh god yes eat my spaghetti confetti
Eternal Dreamer





Posts

: 16376


Join date

: 2009-10-28


Age

: 26


Location

: Home or work. Or some post-apocalyptic dream.



As the boy awoke, the spotlight that shone down on him began to widen out into the atmosphere around him. It showed him metal grating on the floor beneath, interspersed with a dingy carpet. Just beyond that, the walls were plaster, white and cold, and fluorescent lights were now above the boy instead of the spotlight. It appeared to be an endless hallway that one could not see any feature other than the cracked plaster on the walls... certainly a harsh environment for someone who wanted only color.

"Chroma."

The voice paused for a moment, as if contemplating its next course of action.

"It matters not where you are, but what your purpose is here."

As the voice continued to speak, the carpet began to crawl with a black, teeming life that no one could possibly distinguish the quality of. Just looking at the writhing mass beneath the grating would be enough to make some people sick. What was this place? Where exactly was he?

"I can say that this is far from Paradise my child... your world is void of color, save for the red that now permeates everything without distinction. Will you choose to move forward or will you perish locked inside?"

And so the boy was presented with a choice.

>Walk down the endless, white hall
>Succumb to the rising mass beneath

"The choice is yours."
Full Eight Hours





Posts

: 650


Join date

: 2013-05-31


Age

: 23


Location

: Texas



Void of color? Those words didn't even make any sense to Chroma. What was gray and white and black then, if not colors? Chroma smiled to himself even though the atmosphere had turned out to be quite frightening. Beneath the grate he could see the writhing mass. What other option did he have but to move on? If the voice insisted that this place was not a paradise, then it was up to the boy to prove it wrong. He would make it into one by shedding light and...a wider variety of colors onto this place. Few colors it may have now, but by the time he was finished, this place would be as vibrant as could be. The voice hinted that he had a purpose here. Maybe that was it! Maybe he was going to be the hero that brought color back to this place!! That thought delighted him and he instantly set off skipping down the white hallway that seemed to stretch on forever. But there had to be an end somewhere, and at that end, his journey would begin.

"The choice is mine? Then I choose to move forward! I have a task that needs to be completed and I will see it through to the end," he shouted cheerily as he went along, blissfully unaware of what was truly going on, but finding solace in his own self-given mission.

>Chroma walks down the endless, white hall.
_________________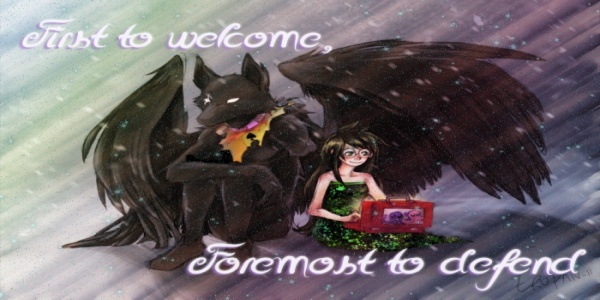 *Thanks to Mayari for the wonderful avatar/signature combo
WhippedCreame wrote:oh god yes eat my spaghetti confetti
Eternal Dreamer





Posts

: 16376


Join date

: 2009-10-28


Age

: 26


Location

: Home or work. Or some post-apocalyptic dream.




---
Permissions in this forum:
You
cannot
reply to topics in this forum