Page 2 of 2 •

1, 2

After the dismissal, Remus Varshtig heads straight for the exit in order to gather his things and pack. Halfway out the door, however, he stops and instead turns to the side and pauses to think. He will need to consider his allies carefully before making any choices, and while he would much prefer to start his preparations now there is far more benefit in examining the current resources already made available to him. Several of these travelers he did not know personally, and possibly will never truly know them, but he can guess as to their uses.

The bard is likely to be very knowledgeable about little villages and some out-of-place cities. Many times during his travels, Remus experiences constant exposure to the elements, sometimes without any shelter. Knowing where all these small civilizations are will come in great handy for staying away from the weather. Not to mention bards are rather sneaky individuals and typically have a talent for sneaking about and silencing threats without being noticed. Of course not all bards are alike, but Remus knows he must take every possibility into account. The bard would be incredibly useful.

The woman who spoke up later and asked for a private conversation. Remus could not remember her name, but there is no disputing that she is a magic-user. Most likely a closer range mage than he, though very few mages exist who have a longer range magic than Remus Varshtig. Still, having more magic on their side will come in incredibly handy. Perhaps Remus might even learn something from the woman.

The Vanchelian. She, out of all of them, will be the most resistant to the effects of the Blight, perhaps even being immune to it completely. Remus could not know the extent of the blood ritual's power, but most magic that involves blood and bindings tend to be very powerful. Also very dangerous, the Vanchelian might just as easily turn on them as she would combat the Blight. She would need to be under a constant watch, and while Remus wagered he can subdue the woman if she turns, he would feel safer if they had more protection.

Which means he needs to find a warrior with a great deal of skill and the ability to go man-to-man with the Vanchelian. Cetri would be ideal, but Remus hardly even paid another thought to that being a remote possibility. The Knight-Commander will not leave the castle, not while the royal line remains. But another Knight will prove just as effective.

"Lord Varshtig? Should you not be making preparations?" Remus glances up and sees exactly what he is looking for. What better Knight to take than the one that part of the others have already encountered? Knight Yuron stands before the young Varshtig with his hand on his hip, odd for a man, but perhaps he feels uncomfortable.

"Knight Yuron, pay me no mind, I am simply thinking of what my current resources are before I start preparations," Remus replies easily, not giving Yuron any more of his gaze. He did not want the man to believe he has designs on him. The Knight takes the bait almost right away, making Remus a little disappointed, but happy regardless.

"If there is anything that you need, do not hesitate to ask it of me and I will lend you my aide."

"There is something I need, Knight Yuron. I need another man that I can trust with my life on this journey with me," Remus says after a slight pause. "I cannot be entirely trustful of all my company and so will need protection. My magic is sufficient against most foes, but I fear the Vanchelian enough to doubt. I'd like to ask Lady Reshe if she would allow you to join me. If you wish to go, that is." Knight Yuron remains silent for a time. He is quiet for so long that Remus begins to believe that he had forgotten to speak his plan and opens his mouth to speak it again when the Knight finally responds.

"To combat the Blight, I would give my life and more. I will go whether Knight-Commander Cetri wants to approve it or not."

"Excellent! Then you must inform her at once. I will go prepare my things, I believe I have several supplies that will be useful to all of us. Mother is quite the alchemist, after all." Remus bows to Knight Yuron out of respect, and he as well returns the salute. That is when Remus Varshtig leaves the castle and Knight Yuron turns around and heads deeper into the castle's Great Hall, where she sees the bard from before, Valeria.

"It seems that Lord Varshtig was not the only one hanging back," Knight Yuron wonders as she approaches the bard. "My Lady, is there anything that you need? Knights are always prepared to serve the people, citizen or not."
"Then we go and find you drink," U'tei says in a rather curt manner. She tugs on his hand again before releasing it and turning her back on him and walking further into the collection of tents. She expects him to follow. The other tribeswomen and children that are there give U'tei and Wendell plenty of girth to walk. It is clear from the looks on the tribeswoman's faces that they have little trust for the mage-boy that their leader abruptly dropped on their grounds. But they allow his presence for now, surely the boy will not be quite so foolish as to cause a scene in the midst of so many warriors, though none of them are actually present.

U'tei leads Wendell through the mass of tents that do not seem like they are situated in a particular manner. That of course, proves to be untrue once the sun is taken into thought. The entrance to each tent faces away from the descending sun, to the east. Each tent will receive an equal amount of sunlight in the morning when the sun ascends. Clearly this is how the tribe wakes all at the same hours so that they may pack and cross the plains in search of food.

U'tei comes across several older tribeswomen and speaks to them rapid-fire in a language different from what she uses with Wendell. Syllables and coherent words evaporate from U'tei's tongue, but the women do not have problems following the language and soon U'tei has a small waterskin in her hands. She hands it to Wendell. Upon feeling it, he would be able to tell that only a third of the skin is actually filled with water.

"Water is rationed," U'tei says. "Only people who work get refills. If you don't work, no water. If you don't work, no food. If you don't work, you die. It is mother's law, you will follow too."
Just as Valeria scattered the last thoughts of Ser Yuron from her mind, the very man himself had appeared out of nowhere and approached her.  This was a terrible thing to happen.  She was about to venture out and face the Blight.  Her senses had to be sharper than that.  She shamed herself mentally, but Ser Yuron's concern made her feel a bit better.  She did not smile, but it was easy to tell that she was happy to see the knight.

"May you rest easy knowing that I want for nothing, Ser Yuron," Valeria spoke kindly, removing her gaze from the knight and focusing off in the distance.  "I am merely collecting my thoughts regarding the events so far as I plan to chronicle everything that happens.  It will make for a performance grand should myself and the others survive.  Would you not agree?"

Valeria moved her hand over her curtain, stroking it as she spoke.  It had always been so soft to the touch, impossibly so perhaps.  It was the one thing that had kept her warm since she had lost everything dear to her.  It was something that could never be lost to her.  It could travel a thousand miles but always return to the hands of the performer with no effort.  It was an enigma, but perhaps it was enchanted?  When the world was filled with magic, many things were possible.

* * *

Wendell didn't waste any time in following U'tei.  After all, he was quite thirsty.  As he walked along he paid no mind to the stares he received from the rest of the tribespeople.  If they wanted him out of here we would gladly go.  What was the point in letting him be here if no one wanted him here?  Maybe they just wanted the cheap labor.  He paid it no mind.

They eventually reached some older tribeswomen and U'tei rattled off in a language Wendell did not deign try and understand.  If this was indeed a foreign world, there would be no point, and anthropological spells were definitely not his forte nor his family's.  The result of U'tei's rattling turned out to be a waterskin with a little bit of water in it.  He would have been better off drinking from that puddle in the grove where he had arrived.  She informed him that it was rationed so despite the fact that he wanted to guzzle it down, he restrained himself.  His body was lacking it so badly.  If he could just get himself healthy again, he could go back to working on magic.  He really needed to discover some more spells.  The four he knew currently were just about practically useless.  Together they could not get him out of this place.  He could fight but he would be drastically outnumbered.  There was no hope.

"I shall take that into consideration," Wendell spoke as he took a couple of sips from the skin.  It was far less than what he wanted but he had to have some self-control.  It seemed as though that if he wanted to get strong again, he would have to work for it.  It was just a matter of what he should do.

"I've spent most of my time studying magic," Wendell stated to U'tei.  There was a small light of pride in his eyes, but what good would that do?  He spent his life studying something he could not use currently without regaining strength.  What was the point?  "I don't know how much use to you I will be.  I wish to do something.  I know first aid.  I can hunt.  I am not physically strong, but I am crafty.  I can outwit the wild creatures.  Is there anything in particular that you need help with?  As in the village?  I wish to be where I am most useful."

In truth, Wendell had other things he was good at such as gardening and the like.  He figured he'd be put somewhere that was picked that did not cater to his strengths so what was the point?
_________________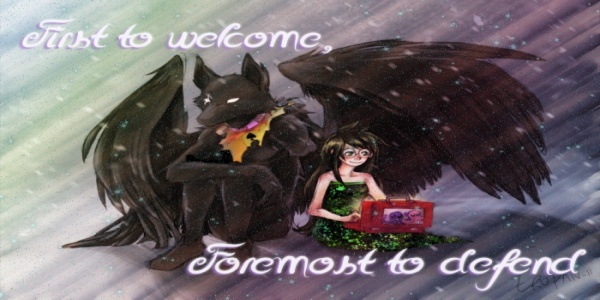 *Thanks to Mayari for the wonderful avatar/signature combo
WhippedCreame wrote:oh god yes eat my spaghetti confetti
Eternal Dreamer





Posts

: 16376


Join date

: 2009-10-28


Age

: 26


Location

: Home or work. Or some post-apocalyptic dream.



Cerys did not hesitate to follow Ser Yuron. She breathed easy, in fact, knowing that her request would, at the very least, be acknowledged. There was little reason to worry if her matters could be discussed. Yet still she felt the tendrils of that very negative emotion curl around her. The walk to more private chambers did not take particularly long, but the young mage felt a tightness squeeze her chest. She barely caught what Ser Yuron had explained to her about the matriarch of the Varshtig clan. Somewhere in the recesses of her mind the information sat, but at the moment all she could think of was how to adequately phrase her request to Queen Hiki.

Still, Cerys offered the knight a word of thanks as she retreated and Hiki entered the chambers. The young mage did her best to keep her breathing steady. Hiki certainly seemed pleasant enough. Perhaps the Glyph Composer's plight would fall upon kind ears. "That is more than satisfactory, thank you," she began politely. Her silver-blue eyes flittered over for a moment to the guard in the room––Cerys hoped the knight would not find what she had to say upsetting. A thin hand with delicate fingers ran its way through her thick raven-colored hair a moment before pushing some behind her ears. "As I mentioned before, there are some extenuating circumstances at work, Milady. I wish to inform you that I have come to your kingdom as an outsider. A foreigner entirely..."

She paused a moment and chose her next words carefully. "I hail from a land I fear resides in another dimension entirely. Prior to coming here I had been trying to avoid a rather... difficult situation. I know not how it truly happened but by some great feat I managed to bridge our worlds. In doing so I have lost much of my original power, but I yearn to reclaim it." Cerys' eyes focused intently on Hiki's. This last bit would hopefully settle well with the newly crowned Queen. "I cannot, however, blindly seek to regain my power and then move on. Upon hearing your plea I found myself moved and I wish to aid you as I have already mentioned. I would like to ask that in return for my services, granted I live to see the end of your world's blight, that I receive aid in returning to my homeland." Cerys breathed. Her heart thumped in her chest.

"I hope that that is not too much to ask, your Majesty."
_________________
Prince of Dreams





Posts

: 9517


Join date

: 2009-11-29


Age

: 22


Location

: I stand at a crossroads and stare at a question.



Hiki listened quietly with the hints of her previous smile still etched on her lips. She took great care in listening to Cerys's request and when Cetri opened her mouth to speak, no doubt to voice something that would come from one ignorant of magic, Hiki held her hand up to her, stopping the words before they came. Once Cetri settled herself, Hiki lowered her hand and smiled for true to the woman before her.

"You are in luck, Lady Cerys," Hiki spoke warmly. "Ermith is no stranger to otherworldly connections. All who know magic know that anything is possible. Magic can create just as easily as it can destroy or sustain. The idea of connecting two worlds together is not so far-fetched." Queen Hiki raised a hand and kept her finger at a point, where it began to glow with a little white light. Hiki then moved her finger to create another light at a different point. Then again and again until thirteen lights hung in the air before her. The light from each little orb connected, some more strongly than the others.

"Think of our worlds as these lights," Hiki said, gesturing towards the many lights before her. "They are all connected, some more powerfully than others. Yours and this world are connected in some way. All that we need to do is find that connection and strengthen it. Once it is strong enough, you will be able to travel back to your world with little more effort. I'm afraid I know little about finding different worlds, but my cousin Remus may have the knowledge you seek. You met him earlier, though briefly. Ask him, I am sure he will be forthcoming with what he knows.

"And do not worry about this world. Though you may remain here as long as you wish, if you find your world before this conflict ends, I would rather see you safely home than risking your life for my people's sake." Hiki waved her hand through the lights and they vanished from view. She glanced towards her Knight-Commander, Cetri. "If that is all you needed, then Cetri will lead you out. I need to call the Council into action. For all the good those formalities will do me."
Cerys could not help the smile that shone on her face. Queen Hiki offered naught but the kindest of responses to the Glyph Composer's plight – such kindness could not be repaid in full. That fact, however, did not stop the young foreigner from smiling widely. She would aid the Queen. She would help to end the blight. And now, when the conflict ended, she would be able to return home. A wetness pooled in Cerys' eyes; she did her best to keep it contained as she shook her head. "I thank you, milady. I promise I shall do all I can to aid you in this venture."
_________________
Prince of Dreams





Posts

: 9517


Join date

: 2009-11-29


Age

: 22


Location

: I stand at a crossroads and stare at a question.



Page 2 of 2 •

1, 2


Similar topics
---
Permissions in this forum:
You
cannot
reply to topics in this forum