~Days of Aurona~
Zeri. Here it is. For the THIRD time, I present to you the background info for Days of Aurona.
The Chaorian Era. In the land of Dalmaschior to the immediate north of the country of Elendia separated by the great body of water, Magnus Amnis Discrimen, a horrific event occurred. A noble by the name of Albert Valentine overthrew and exiled the king, taking the throne of Dalmaschior for himself. He forced all of his people and advisors to call him the Chaos Knight, which is where the term "Chaorian" originated. During his tyrannical reign, the residents of the capitol city of Archaea were made to suffer through ridiculous taxes and mauling from the city guards at unpredictable times. Deciding that enough was enough, a baker along with his serpentine assistant took up arms and challenged King Albert's rule. One by one, they decimated Albert's personally chosen assortment of combatants known as the 13 High Order Knights. When they had all been felled by the baker, he and his assistant engaged the king in battle and mercilessly slaughtered him for his crimes against the people. However, without a ruler, Dalmaschior rapidly descended into chaos. The baker was only a revolutionary and was not fit to rule any kingdom. Luckily, there was a noble willing to step up. His name was Edwin Malgrace, and with his exceptional scholastics and extraordinary rapport with the citizens, he ascended to the throne with ease based on the decision of a council of advisors from varying noble families. Thus, the Archaean Era began, so named by King Edwin's wish to name the era after the capitol city. After three years of ruling, the new king brought great prosperity and tranquility to his new kingdom. And the people could not have been happier.

But what of those three years?

The Reconstruction Period. By the time King Edwin was crowned, Dalmaschior was a manifestation of crime and self-destruction. People would be murdered flagrantly, yet the authorities would do nothing in fear of their own lives. Stores were looted and many turned towards joining gangs of bandits. However, amidst these tribulations rested a small port town on the southeastern coast of Dalmaschior known as Aurona. The worst this town faced in the trying times of the Reconstruction Period was poverty, homelessness, pirate attacks, and the fact that there were many orphans living in the streets. It was during this time that change was occurring in the town. The old mayor was aging at an incredible rate due to some unknown poison, and a new successor would have to be chosen. An educator known as Professor Crosier volunteered to take over the position and promised to work towards ridding the town of its problems and focusing on improving education so that future generations could take care of themselves. The people were won over immediately and plans for the transfer in leadership were beginning to be set into motion.

A group of four orphans. In Aurona, living alone on the streets as an orphan was nearly impossible. One person had weaknesses and strengths, but a group has myriad strengths that cover all weaknesses. Thus, a certain group of four gathered together to take care of each other. For years they have lived on the streets using their myriad talents to gain spare coins to buy food with and the like. They took up arms to defend themselves against the bandits that roam at night, seeking to unleash their frustration upon supposedly helpless kids. But a new danger has arrived on the scene, and it will take some adjusting in order to get used to it unless it turns out that what seems to be the best may not always exist as such in reality.

And that is where our story begins....
I've decided that we each should control two characters. Here is the Character Profile info:
Name:
Age:
Gender:
Weapon: (optional)
Special Talent:
Appearance:
Personality:
Background:
I think that should be sufficient. Here are my characters:
Name:
Cecille Camellia Lovecraft
Age:
14
Gender:
Female
Weapon:
Two antique Restocasian pistols that were given to her by her father from an excursion that he took to the ancient city.
Special Talent:
From time to time, she will sit peacefully down on a street corner and play her viola which aids in getting income for the group.
Appearance:
At 15, Cecille is surprisingly tall at 5'4". Her golden blonde hair, amazingly untouched by the filth of the streets, flows down to the middle of her back. Her dazzling emerald eyes radiate unmatched authority and possess a certain rationality exhibited by leaders. Unlike her hair, numerous smudges and streaks of dirt cover her skin, but underneath the grime lies pale, silky skin. At most times, she wears the black pants and snow white dress shirt with a crimson overcoat with large golden buttons that goes down to a little past her waist. Though tattered and covered in muck now, the outfit at one time looked respectable and glorious. Her matching black heels were stolen by another orphan outside of the group. Holding up her pants is a brown hide belt that appeared to be roughly constructed, but its only purpose was to hold the pistols that served as her means of self-defense. Black fingerless gloves adorn her hands and a solitary pendant dangles from her neck--a golden one with an inset ruby--that was a keepsake of her mother's.
Personality:
Cecille takes on the leader role of the group and tends to try to make all the decisions in finality. She listens to what her friends have to say, but in critical situations, may neglect them and formulate her own plan of action that often results in perilous consequences. She tends to be a thinker, seeing as she always has to think about what is best for the group, and loves to meditate in silence away from everything. Sometimes, she evokes tranquility by finding a silent spot to play her viola. Her personality also tends to be overbearing at times, but only because of her intense desire to take on the role of caretaker of her friends. Overall, her protective nature transforms the atmosphere into one of comfort and safety, regardless of what lurks on the streets in the dead of night. When speaking casually with her friends, a nonchalant smile is commonplace. She loves to be cheered up when she's down and has come to enjoy humorous situations immensely, though she does prefer ones derived from intelligence.
Background:
Cecille became an orphan 5 years ago. When she was 10 years old, she was a noble in the city of Aqueorlitus, the City of Knowledge. Her father was an architect by the name of Jonathan Lovecraft while her mother, Angeline Lovecraft, was a an Aqueorlite knight. Jonathan Lovecraft was regarded highly by the Aqua King, the leader of Aqueorlitus, which gained him a spot in nobility. Of course, whoever he chose to be his wife would also be accepted. On an escort mission into the mystical wood, Foretsbord, in search of the Spring of Life, Jonathan and Angeline fell in love. With marriage on the mind, Jonathan proposed and Angeline instantly started planning an extravagant wedding. The two seemed a match made in heaven--every time Jonathan set out on a commission, Angeline would travel with him as a bodyguard, at least until Angeline became pregnant and could no longer leave the city.
Nine months later, Cecille Camellia Lovecraft was born. It became obvious that she was going to be an intelligent young woman one day, for she picked up on walking, speech, and just concepts of basic life fairly quickly. However, despite spending her time learning, she still yearned for her parents who continued to go out on excursions leaving her alone with the family nanny. At the age of 7, Cecille began to take viola lessons and she quickly found solace in the soothing music. It was that same year that Jonathan returned from Restocasia, an enigmatic city inhabited by an ancient race that has complete control over Alidaire's magic, and presented his daughter with the two antique pistols that use mana to fire bullets instead of gunpowder. Not receiving many gifts from her parents, Cecille gratefully accepted and began marksmanship lessons alongside those of her viola. The next year, her studies in both subjects had become evident as her skill was amazing even though it had only been a short amount of time. It was also the same year that her father died. Angeline had been assigned to a top secret mission by the Aqua King and could not go with Jonathan on a commission to the Desert of Dreams in Elendia which was the farthest he had ever traveled for one. Unfortunately, fate struck mercilessly as he was killed by roaming nightmares that inhabited the arid sands. When Angeline learned of his fate from the commissioner, she nearly committed suicide by jumping off of a cliff into the sea below, but she was reminded of her loving Cecille and quickly regained her rationality. She immediately returned home to bestow the horrid news to her daughter. To Angeline's surprise, Cecille coped fairly well with it and continued her daily routine without much interruption. Yet, every night, Angeline could hear the sobs of her daughter from her room. Cecille would cry every night, just before going to sleep. She was grieving slowly--a few tears every night in honor of her courageous father.
Thus, life did not change much, for Angeline still had missions from the Aqua King to undertake, though she did stay at home more often. Cecille continued practicing her marksmanship and viola playing until she became quite adequate at it at the age of 9. She also became slightly interested in the world of words. Noticing this, Angeline bought Cecille a journal and said, "In these pages, your life will reside. This book will be your heart and soul. Never lose it, for you will be losing the essence of yourself." Cecille treasured the book and wrote word upon word in it everyday...until her 10th birthday, that is. On that day, Angeline bestowed a golden pendant inset with a ruby upon her daughter as a present. Later that day, Angeline bid her daughter farewell and set off on a mission to the port town of Aurona which was under attack by pirates.
Several weeks went by with no word from Angeline. News had reached Aqueorlitus that the pirates had been vanquished a while ago, so why hadn't Angeline made it back yet? With bold intent, Cecille took some gold she has stashed away and departed from Aqueorlitus by means of coach. Cecille arrived on a scene of utter dismay. The town of Aurona was in complete disrepair and the citizens that were able to were out in the streets trying to clean up the mess. Gaining some info from the townspeople, Cecille located the mayor's house and questioned him about the whereabouts of her mother. The mayor told her that countless knights had perished and that her mother was probably amongst the fallen. At that moment, Cecille's life began to descend into the depths of abysmal darkness. She had lost both her parents and had nothing left. However, a glimmer of hope remained. Her mother's body had not been found which may have suggested that she could still be alive somewhere. With the remainder of her gold, she sent for two things: her viola and her journal, for the pendant she already had around her neck. She had to leave everything behind--it would have been taken from her anyways, and if her mother was truly alive, she did not deign to be adopted by another family. Thus, she made the decision to stay in Aurona and live as an orphan on the streets in hopes that one day, her mother would return.
Name:
Armando Esterra Ramore
Age:
10
Gender:
Male
Weapon:
None
Special Talent:
Oftentimes, he puts on little comedy shows. The more laughs he gets the more money he obtains, though it is never much regardless.
Appearance:
At 4' 8", Armando has a complete mess of chaotic dirty blonde hair and sparkling green eyes, similar to those that Cecille possesses. She always picks on him by saying that he could be her long lost brother or some nonsense. His skin is fair and constantly covered in grime from the streets. He wears a pair of discarded trousers with several patches and a makeshift shirt constructed from a burlap sack. He was not lucky enough to come across any shoes, and thus he goes barefoot. Because of his youthfulness, he fails to truly grasp the situation he is in and oftentimes goes about with a smile upon his face. Even in the worst of times, that graceful grin shines light into the hearts of his companions. His slim little body makes him very agile and qualified as an exceptional runner.
Personality:
He is the beacon of hope that fuels the machine that is the orphan group. When he sees that his friends are feeling down, he does not hesitate to try and cheer them up. He is generally warm-hearted and is rarely selfish or arrogant. Cecille envies his innocence and his flawless character and tends to learn a lot from the little fellow. Although very kind and sweet, Armando tends to be much less intelligent than the others, only from a lack of proper education. However, with the help of the older orphans, he learns more and more everyday. In the meantime, he often thinks rashly and allows his excitement and imagination drive his decisions which can also have grave consequences. Being alone frightens him and he rather be with his friends. When he is not with them, however, he worries about them more than he worries about himself, despite the fear that grips his little heart.
Background:
Armando has been an orphan longer than Cecille has with an impressive 8 years under his belt. Armando was born to a couple of rich nobles who inhabited Aurona and gained their vast wealth through aiding pirates in getting required materials for their raids. At the age of 2, Armando was left on a street corner alone, for his parents knew that their lifestyle would not last for long--pirates were very underhanded and it would not have surprised them if they lost their lives. They deserved to perish, but not their son. Thus, they packed up as many belongings as they had and departed on a ship headed for Elendia where they met their awful fate out on the open seas as they expected.
A fabled homeless man named Rags found the child and took care of him. Though he had no shelter to provide for Armando, he did have clothes, scraps of food, and plenty of love. For three years, Rags looked after Armando and taught him how to walk and speak, though Rags himself was not very educated, he tried his best. When Armando turned 5, Rags disappeared one day which just so happened to be the day that Cecille arrived in Aurona and decided to live on the streets. In secret, Rags thought that he knew how to take care of himself, but the new orphan girl and Armando would be better suited to be together. They could take care of each other and watch each other's backs. Thus, Armando became acquainted with the studious Cecille and an instant connection was made. For the next 5 years of his orphan life, Armando spent his time scavenging for food and performing little comedy acts for passersby for spare change in order to contribute to the well-being of his friends. Never once did he think that it was bad to be an orphan, for he loved his friends as if they were his own family.
Last edited by Masquerade on Mon Nov 16, 2009 9:07 pm; edited 3 times in total
_________________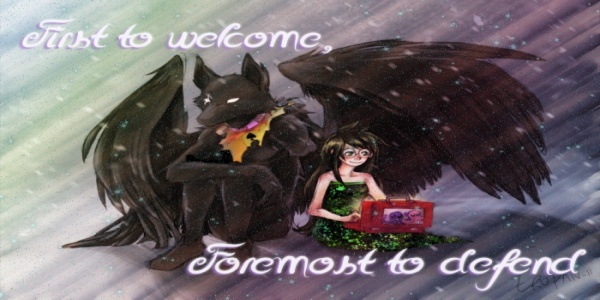 *Thanks to Mayari for the wonderful avatar/signature combo
WhippedCreame wrote:oh god yes eat my spaghetti confetti
Eternal Dreamer





Posts

: 16376


Join date

: 2009-10-28


Age

: 26


Location

: Home or work. Or some post-apocalyptic dream.



Name: Leon Greta Aczonte

Age: 12

Gender: Male

Weapon: None

Special Talent: Leon has the ability to do numerous stunts just by using his hands and feet. He uses these to help Cecille retrieve money and rations.

Appearance: Leon has short, messy black hair that always seems to have a layer of brown dirt in it. No matter what he does, the hair stays messy. Ragged and holey tan pants cover up most of his legs, held up by a crudely tied rope. He also wears a green cloth shirt, of which the left sleeve had been torn off to cover up a wound on his right hand. His left hand turned brown from lack of washing. His feet are covered in torn leather shoes that are missing soles. His fiery blue eyes show determination and most of the time, joy, even with how little he and the family has. At all times, he keeps a broken pocket watch on his body, a token from his father.

Personality: Leon is a calm individual, he never gets angry, at least, it takes a lot to provoke him. A cunning mind and wily movements, Leon's silent movement is often the reason why he's called the 'fox' of the family. If he ever needed to, he would steal from stores to keep him and his family alive and well. With the mind of a great General, Leon is often considered the "plan master" seeing as his plans never fail.

Background: Born in the slums just out of the Aurona city, Leon's parents, although broke and starving, made certain that Leon received every ounce of love they could give. Due to being smothered by this unconditional love, Leon grew up as a plump and happy child, never knowing pain. At least, until his parents became ill, and could no longer care for Leon as they had previously. One after the other, Leon's parents died right in front of him, Leon, who had just reached the age of 7.

Devastated by this sudden event, Leon ran away from the slums, running into someone who would eventually become his little sister. The young girl was collapsed on the ground, unable to move because of the pain through hunger. Leon, remembering his parents acting in a similar way, knew exactly what to do. He grabbed a small loaf of bread and fed it to the child, despite it being the last ration from his parents. The child, unable to speak properly, simply thanked him with her eyes and fell asleep.

Leon took the child back to his home, his parent's corpses had already been pulled out by someone else, to his dismay. However, in their place, was the golden pocket watch that Leon knew was his father's, for the old man had always had it around his neck. The watch was broken, but Leon took it anyway, hanging it around his own neck.

From that point forward, Leon began to steal from stores, with uncanny success. He told nothing to his new little sister, nothing about his stealing or cheating in order for him to help them survive. He did begin to teach the child how to speak properly, and in three years, the young girl had mastered the language as much as Leon had.

That year, Leon turned 12, the girl turned 9. Together they established a strong bond together, and were free to explore the slums together, even if there wasn't much to explore. Leon remembered the day the girl had turned 9, that she had no name at all. So, as his gift for her, Leon named the girl, "Celestia Naomi Aczonte." Leon also gave her a small ribbon that he had stolen, with which Celestia tied her hair back behind her left ear, with help from Leon, of course.

One day, they decided to visit the city of Aurona, only to find it destroyed. Bodies lay all over the ground, if you walked, you stepped on a body. Many survivors of this catastrophe were walking around, not knowing what they should be doing. No one seemed to be alive anymore, no one seemed to want to lead anything.


Name: Celestia Naomi Aczonte

Age: 9

Gender: Female

Appearance: Celestia's short, brown hair, yet longer than Leon's, always seem to feel and look like silk. No matter how much mud she plays in, Celestia's hair remains beautiful. Blazing brown eyes, wide and innocent keep a constant watch on everything that happens around Celestia. Her brown cloth, tied together with a small rope, is all she wears, seeing as it is rare to have any clothing nowadays. Like Armando, Celestia is barefoot.

Personality: Happy-go-lucky Celestia will have a fit if anyone around her is feeling down. She is the type that will lecture a depressed person with such innocence that only children have. Either that, or she will attack the person's arm with a tight hug and won't let go until they cheer up.

Background: Celestia grew up in the slums of Aurona, she never had any contact with her parents at all. They would just spend their money on drugs and alcohol, leaving Celestia alone to starve. Celestia never knew love until Leon came along and saved her from that living hell.

Ever since then, Celestia has been a beacon of hope and promise. It seems that Leon's act of compassion opened her heart, and she just kept on pouring out her own love. Now she has no memories of being depressed, only those of happiness.

Not much else is known about Celestia, other than Leon was the one who named her.

*In other words, I'm too lazy to write more.*
The golden rays of luminous sun caressed the radiant town that was precariously perched upon a cliff by the tranquil seaside. Clear blue sky reigned over the area and was nearly devoid of the white cumulus that typically inhabit the expanse. Sparkling sands composed a beach at the base to the side of the prominent cliff and stretched a ways towards a section of rocky crags. Wind tickled the crisp blades of bright green grass and caused it to sway without care, dancing the world away in a magnificent waltz of whimsy. To the north of the town, a seemingly everlasting expanse of plains spread outwards to oblivion, the tall, windswept grass and scarce trees looming visibly with deformities from the brutal onslaughts of constant gusts. The sounds of the waves striking the cliff wall and the sloshing of the water gently against the shoreline amplified the calm that hovered lazily over the town in the heat of the summer.

This town that rested on the periphery of reality nearly fading into the realm of dreams was known as Aurona. Within the town, numerous people bustled about with myriad tasks at hand whether they be shopping, appointments, social gatherings, or just relaxing, everyone had something to do. The buildings of the town were constructed from stone of an aquatic hue to reflect the brilliance of the waters below. Each building appeared to have exposed windows as outgoing as the people who dwelled within and intricate carvings in the walls further added vividness to the town. Several balloons drifted listlessly through the sky, free from the frantic grasp of various toddlers. It was just a typical day like any other in this beautiful haven by the sea--one of peace, one of comfort.

Footsteps pounded against the cobblestone street, personifying the surging adrenaline through the sound waves that echoed against nearby buildings. Fear clutched mercilessly at Armando's heart as he carried a warm loaf of golden brown bread in his arms. What a rare catch! he thought excitedly. I can't believe it was just lying in the street. But I can't let these punks lay their grubby paws on it. This one is for the family. He sped up his pace twofold and nearly tripped on a scrap of garbage in the street.

"Clumsy little oaf, get back here with that bread!" another boy shouted. His clothing was nothing but dirty rags and his bare feet were covered in dark sludge causing a constant squishing to sound out through the air distinctly amongst the small crowd of people tending to their business. He only appeared a couple of years older, and a horrid grimace plagued his visage. Determination set his fierce blue eyes ablaze. He pursued Armando with a growling stomach that ultimately led to his downfall. A detestable flurry of cramps set upon him and he fell to the street in hysterics as he cringed and clutched his belly. "Ahhh! I really need....that bread," he uttered through imperfect, gritted teeth.

The ordeal was now guaranteed to bring attention, and Armando knew that the authorities could not get involved. Thus, with a calculated dive, he tumbled into a nearby alleyway. Breath ragged, he hugged the loaf, his treasure, close. "One bite for the trouble, eh?" he asked himself, a triumphant grin on his face. He pulled off a piece, crispy on the outside but decadently soft on the inside. He was about to take a bite when...

"HEY! You are going to share that, are you not?"

Armando looked up from his bread to see Cecille's icy emerald glare bore into his soul. Her golden blonde hair was gleaming in the sparse sunlight that deigned to grace the alley. In response, the little boy just rubbed the back of his head, his chaotic locks becoming further steeped in disarray.
_________________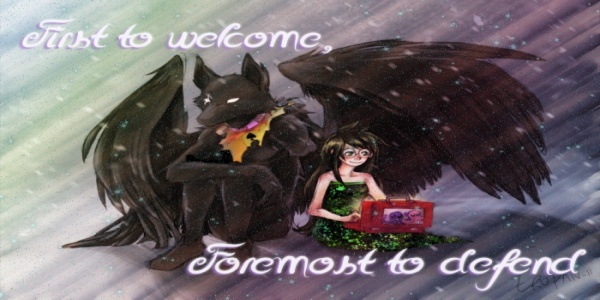 *Thanks to Mayari for the wonderful avatar/signature combo
WhippedCreame wrote:oh god yes eat my spaghetti confetti
Eternal Dreamer





Posts

: 16376


Join date

: 2009-10-28


Age

: 26


Location

: Home or work. Or some post-apocalyptic dream.



A stream of golden sunlight invaded the small, dark room. This small little stream of light illuminated the entirety of the room, wiping out the darkness. Little Celestia scrunched up her eyes, rolling over in her peaceful slumber. Leon, a figure who's face shone brighter than the sun, approached the small girl, shaking her shoulders lightly. He whispered to the girl, then left the room afterwards. Celestia rose from her sleep, a dreamy look on her face.

Their small gang of four lived in what they called their, "hideout." Every group of orphans have one, Celestia would say to herself with a smile. Her family would just laugh and smile back.

The hideout was actually an old, dirty building that survived what the family called "The Aurona Holocaust." It originally had 5 stories, but after the tragic event, left only two floors and the floor of the third floor, or in their minds, the roof. The original paint had been blasted off by a fire, and the building was a mix of brown, black, and gray. The windows were all cracked and covered with a black cloth, to prevent anyone from looking in and finding them.

The first floor, or the base level, was not too different from a large waiting room, like for a hospital or other office building. They had found a wooden banner half-hanging from the wall, with the symbols "EUNC" printed on it. Everything else was illegible, due to a fire that had blasted away the rest of the print.

The base level also held another room, where Leon and Cecille would often go inside to talk about family matters, while Armando and Celestia would play together in the main room. There was plenty of room to run about without worrying about knocking over any valuables. Not that they had valuables. This room was also the place where the family would eat together, seeing as it was a perfectly enclosed room. A candle Leon snatched from a store sat in the middle of the room, giving light to the darkness, a pack of matches not too far away from it.

The second floor was split up into a multitude of rooms. Going up the stairs would lead you to what was once a hallway. The rooms branched off from the hall. In all, there were about 3 or 4 intact rooms, while the others were open to the outside world. To preserve room, the two females had their own room, while the two males had a different room. The other two rooms were not currently in use, but Leon wanted to take precautions, just in case the rooms were needed. And besides, the smaller children needed to be protected and watched over. It was better to stick together rather than split up.

Celestia yawned loudly, ever since she me her brother, they stuck to each other like glue. None of them were blood siblings, but everyone in the gang called each other the 'family' anyway.

Celestia put a smile on her face and jumped out of the room into the hallway, darting through the rectangular room and practically flying down the steps. Seeing her brother Leon, Celestia walked up to him, already knowing what he would say to her is she ran. "Don't run, you might trip and hurt yourself." Was what he would say.

"Big brother!" Celestia announced her presence with a smile, "Is big sister and brother back yet?"

Leon smiled down at Celestia, shaking her head, "Not yet, they should be here soon. Don't worry, we'll eat in a bit."

"'Kay!"
Pain coursed through Armando's ear as he was dragged roughly against the cobblestone alleyways of Aurona. Unlike the main streets scoured with the golden delight of the sun, the alleyways remained shrouded in darkness with scarce solar rays penetrating the shadows. Cecille had a tight grip on her fellow orphan's ear as punishment. "You know better than to eat food without letting your family know that you have it so we can all share," she had said to him. A blush had plagued his face and the little boy gingerly offered the piece he had torn off to his "older sister." And that is when the pain began.

Even now he grimaced, the reflections of the shadows on his face further amplifying his contempt at being reprimanded; he was just like any other kid, after all, found discipline absolutely deplorable and the such. The myriad alleyways that traversed the city were nearly as labyrinthine as the main streets. However, Cecille's vast knowledge of the city's layout allowed her to mysteriously pop up right next to the broken down building that served as their hideout. The broken stones and burnt frames of the destroyed construct provided more than enough shelter for Cecille and her orphan family. It was great that it was unoccupied by another orphan group when it was discovered.

Gently, Cecille opened the door, a loud creak resonating throughout the eerily quiet hideout which remained still, except some activity near the staircase. She released her grip on Armando's ear and a smile crawled across her face, her emerald eyes radiating joy. She was home. "Hey, you two! I found our little rat scampering through the streets with some food!" she called out to them.

Armando scrambled across the dirty, stone floor and clambered back onto his feet with an angry glare directed at Cecille. "I'm not a rat, big sis!" he exclaimed, his green eyes desperately trying to pierce Cecille's calm endeavor. "Plus, I found us food, so I shouldn't be punished, but rewarded." He held up the slowly cooling bread. The golden brown crust still remained a beacon to their hungry stomachs.

Cecille threw him a mocking glance. "How about it, siblings?" she questioned Leon and Celestia. "Hungry?"
_________________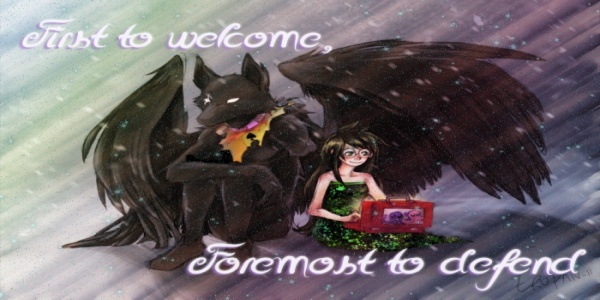 *Thanks to Mayari for the wonderful avatar/signature combo
WhippedCreame wrote:oh god yes eat my spaghetti confetti
Eternal Dreamer





Posts

: 16376


Join date

: 2009-10-28


Age

: 26


Location

: Home or work. Or some post-apocalyptic dream.



Leon looked up, just in time to see his beloved sister, Cecille walk into their home, followed closely by Armando. They had brought food with them, just as Leon had hoped. Swelling with joy, Leon walked over and hugged Cecille, then Armando. "Welcome home you two." He said with a smile.

"Food! That means we can eat now, right!?" Celestia beamed, running over, giving her hugs to the siblings that had returned.

It was custom that the orphan family would hug each other as a greeting. This provided a much more closer relationship with all the orphans, allowing them to remain happy together.

The family then feasted on the warm bread Armando had brought back. There was no greed between the four orphans. Everyone had their own share of food, Leon and Cecille did their best to keep it fair, as to protect the peace.

After the meal, Armando and Celestia left the room to go play together outside. Leon and Cecille, however, stayed in the room. They needed to plan ahead for their next meal, and to get better clothing for themselves.

"We can't go on like this for much longer," Leon commented, his voice grave. "We need a better supply of food." Receiving no response, Leon continued. Cecille probably knew Leon had already made a plan to fix this. Leon rarely brought a problem up without having his own, unique, solution to the problem. "You know the meat shop near Gretel's Bread Store? Where you got that bread? We need to go there. We can raid that place pretty easily. It's owned by a lazy butcher. I watched him for a day, and he spent most of his time sleeping. You can go in and grab them better than me, I'm not the most graceful creature. Don't worry about a cooking fire, I'll handle that."

Leon paused, "What do you say?"
Cecille thought about it. It was true that meat was a commodity that the orphans were not able to enjoy often. If there was a lazy butcher as Leon had said, however, then there would be a special treat for tomorrow. "I say that a plan is a plan and that meat would be great at this point in time. Bread is good and all, but my feral instincts crave flesh," she added with a mock-serious look upon her face, though a smile broke through the facade and she chuckled as she held up her hands as if they were claws. "We'd best wait until tomorrow though when things have died down, though. That bread was definitely Gretel's; it tasted sooo good. It was not much of a supper, but we have lived without anything for days a few times so we will be okay." She glanced towards the door to the hideout and listened as Armando and Celestia played. "I'm more worried about them than us. We will have to use our cunning to the utmost tomorrow to ensure they get a good meal, right?"

Outside, Armando rubbed his stomach. It had grumbled again. "Ouch, that bread only made my tummy want more of it," he said while wincing. He shook his head hoping the stomach pains would go with it. "So what do you wanna play, Celestia??" Being an only child, Armando had never really had the privilege to play with another kid before. Rags played with him from time to time, but it wasn't the same as having someone else his age to have fun with. A bird called out overhead, and Armando took a peek. The sky was beginning to turn colors, taking on the burden of evening; its majestic oranges and violets permeating the bright blue from earlier in the day.
_________________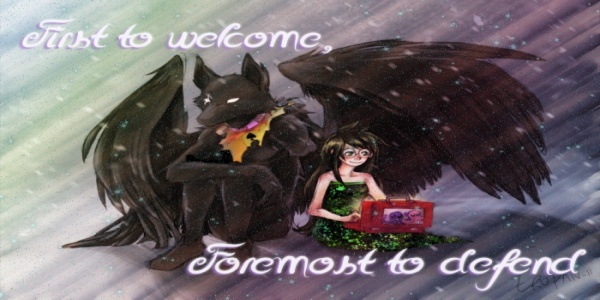 *Thanks to Mayari for the wonderful avatar/signature combo
WhippedCreame wrote:oh god yes eat my spaghetti confetti
Eternal Dreamer





Posts

: 16376


Join date

: 2009-10-28


Age

: 26


Location

: Home or work. Or some post-apocalyptic dream.




---
Permissions in this forum:
You
cannot
reply to topics in this forum