Page 17 of 17 •

1 ... 10 ... 15, 16, 17

"Very well. This may be the last time we encounter each other for a while to come based on what I know to be in store for you, so you have my well wishes, brave souls," the High Seraph commented calmly as he waved a hand causing a square platform of light to appear next to him, a glowing golden diamond in the very center. It was meant to be a lift of sorts, and a radiant light shone down from above upon it. "Climb aboard this lift and you will be taken to Torcrea's throne. He is particularly eager to see you again, Alyssia." He nodded his head at the angel and watched patiently as the group traversed the top of the tower to reach the lift. As soon as each of them rested soundly upon it, they were gone, and so was any trace of the lift itself.

Alyssia was used to the lift's functionality. All around her was blinding light but she did not close her eyes. This was a sight she was used to seeing, and it didn't even last that long. Her feet were planted on solid ground before long, and gazing ahead she caught sight of the familiar marble throne where Torcrea often sat, but today he was standing in the center of the area with arms open, a wide grin on his face. Even though she wasn't in the best of moods, she couldn't help but smile when she saw him, his beautiful blue eyes shooing away the darkness that lingered about her form. She felt clean and safe and without another moment's hesitation, she rushed forward through the air with tears in her eyes and crashed into him, but he caught her and swung her around as he hugged her.

"My child, how happy it makes me for you to return to me unscathed," Torcrea said gently, setting the girl safely upon the cloud-covered floor. "The role of gatekeeper is such a dangerous task, and even though you have been at it for quite some time, I still never cease to worry about you." His eyes found themselves resting upon Lightning and Terra; these were the souls he was also eager to meet. He bowed to them humbly despite being the god of all gods. "Lightning, the wayward soul of a powerful and courageous warrior, completely unbound by the writs of fate. Terra, the unyielding servant of light, possessing of a heart so kind that it kindles a fire within me the likes of which I have never felt before. I could ask for no better companions for Alyssia."

"Ugh, I'm sorry for that guys," Alyssia stated through stifled sobs as she wiped away her tears with her sleeves. She didn't realize how badly she wanted to see Torcrea again. So much time in Hell had had a bad effect on her. How had the Gatekeepers of the past dealt with such a strain? "This is Torcrea, God of Creation and the God of All Gods. The Gatekeeper is a keeper of the boundary between Amoria and Hell, but I am no denizen of Hell, nor am I a neutral party. The Gatekeepers are true angels given life by Torcrea himself. Though I am sure you pieced everything together yourselves, both of you being as sharp as you are." She found herself giving Terra a quaint smile. The throne room was always so peaceful. She felt at home--a feeling she had not felt in many a decade.
_________________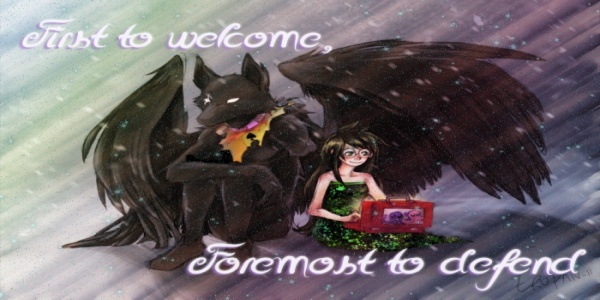 *Thanks to Mayari for the wonderful avatar/signature combo
WhippedCreame wrote:oh god yes eat my spaghetti confetti
Eternal Dreamer





Posts

: 16376


Join date

: 2009-10-28


Age

: 26


Location

: Home or work. Or some post-apocalyptic dream.



As the light suddenly smote all existence around them, Lightning shut her eyes. The feeling of the lift moving did not startle her; quite the opposite, actually, for she felt content as the light transported them to the God of all Gods. Peace, at last. When she opened her eyes once more, she smiled. She could not help it. As battle-hardened as she was, even she couldn't help the utter delight that resonated from this man––this deity. Her smile did not last very long, however, for it were the Gods themselves that had taken her away from her home. As moved as she was, Lightning could not forget, whether Torcrea had been involved or not, that his kind was responsible for separating her from Serah.

Serah. . .

Lightning's jaw tensed as her sister's name came to mind. In the journey to reach this far she had almost forgotten about her life before all this. About her life before the end of her world––before her time in Valhalla. Cocoon. Serah and Snow and Sazh and Vanille and Fang and...

"Hope," the wayward warrior whispered, eyes absentmindedly landing on Terra. The poor child seemed overtaken with... some strange mixture of despair and awe. Were those tears of happiness? Did he find bliss in the purest light before hime or had he finally realized just where he was? Lost, like her, in a land for the dead––so far from home and definitively torn from everyone. Alone.

She could not tell, but she didn't need to. Terra, it seemed, gravitated toward the God of Creation, collapsing to his knees on the floor before him. His expression remained caught in the constant struggle of utter doom and unbelievable euphoria.

Although the others could not see it, in the child's eyes, not Torcrea stood before them, but a woman. A beautiful maiden swathed in white silks, her perfect sea glass-colored hair adorned with wild eglantine. Her eyes, brilliant blue in hue, shimmered invitingly, her arms extended outward in such a manner to beckon the young soul toward her. She smiled warmly at Terra.

Come to me, my child.

Moving so swift even the sharpest eye would have missed him, Terra suddenly threw himself at Torcrea, sobbing into his robes. The woman in his mind seemed to wrap her arms around him, murmuring his name soothingly.

"Mama," the boy cried, muffled by the cloth and man he had attached himself too. The word almost sounded like 'Papa.'

Lightning remained as still as stone.
_________________
Prince of Dreams





Posts

: 9517


Join date

: 2009-11-29


Age

: 22


Location

: I stand at a crossroads and stare at a question.



A large, warm, comforting hand found itself upon the weeping Terra's shoulder. Torcrea could see into the boy's mind and view the illusion that took root within. The effects of the throne on the various souls that resided within Amoria were unpredictable. Souls would see what their hearts desired most, and some would have averse side effects such as seeing their greatest fears come to life, a typical side effect for one that experienced great trauma in their life on Alidaire. Torcrea choked at the thought; there had been too many souls like that. It wasn't just for security reasons that the throne was so restricted--it was just for everyone's sake. "My son, cease your crying for what you see is not real, granted it can be," he said gently, his deep voice causing the clouds to resonate. "Being so close to the seat of power will cause such a thing but you must be vigilant, and I know you are capable of it, Terra. You are a powerful soul, and I am in dire need of your assistance." He looked up from the boy and found his blue eyes gazing into Lightning's. "And your aid as well, brave warrior. And do not think for a moment that your efforts will go unrewarded! For those who aid the God of All Gods will be granted a wish--any one of your deepest most impossible desires will be brought to life, if only you ask. There will be light at your mission's end; use that as motivation along with the fact that..." his voice trailed off and he could meet the warrior's gaze no longer. How could he get sentimental at a time like this? Had the years done this to him? Well he had his own mission to prevent the impending tragedy.

"Alyssia, I need you and your friends to venture back to Hell," he said quickly and bluntly, feeling the words burn his lips as they tumbled over them. It was too much to ask but for what was at stake... "Once there, you will go to speak with Nihdestra, God of Destruction at the Inner Sanctum. You will deliver my message," he continued explaining, holding out his free hand to conjure a scroll of parchment wrapped in glimmering golden ribbon. "It is a proclamation of peace. I grow weary of this war of souls that will eventually lead to a battle of bloodshed--one that will end with the destruction of the mortal world, Alidaire. It has been predicted that mine and Nihdestra's conflict will result in Amoria being dragged down from the sky, crashing into the planet and destroying it along with our humble abode here. All of us will be no more. Nihdestra will have won at the cost of the world and even his own existence. He needs to see the folly in our struggle and put down his arms." The god sighed in what appeared to be stressed. Who would have thought a deity would be capable of such a thing?

"Do you all see how imperative this mission is? And I need the strongest of souls to take care of it."
_________________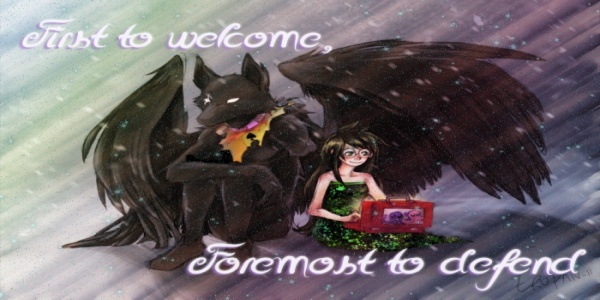 *Thanks to Mayari for the wonderful avatar/signature combo
WhippedCreame wrote:oh god yes eat my spaghetti confetti
Eternal Dreamer





Posts

: 16376


Join date

: 2009-10-28


Age

: 26


Location

: Home or work. Or some post-apocalyptic dream.



As Torcrea's comforting hand gently landed on his shoulder, the illusion in Terra's mind shattered. Not Eden. Not his... who was she? He had said mama, but that could not possibly be right. Stifling his sobs and drying the last of his tears, he murmured an apology to the God of All Gods and shuffled away from the man. There was the slightest hint of red to his cheeks.

Lightning shook her head slightly, but did not comment on the boy's breakdown. The poor kid had been very strong up until this point––not everyone was like her. He had hit his breaking point and he deserved to throw a fit for a bit. The fact, however, that he stopped quickly was respectful. He understood that he had to keep being strong. And he was able to do it. That made all the difference.

"Okay."
_________________
Prince of Dreams





Posts

: 9517


Join date

: 2009-11-29


Age

: 22


Location

: I stand at a crossroads and stare at a question.



"As much as I detest the idea of going back to that place, I will honor your request, Your Grace," Alyssia replied and bowed her head slightly.  She had spent a lot of time in Hell and came to understand what sort of creatures and demons inhabited the place.  She also had an idea of the terrain and what manner of obstacles they would come to face.  That is why she was the only viable option in this task.  She would be an invaluable asset to this mission if only for that sole fact.

"Trust me, it breaks my heart to ask this of you, Alyssia, but I am eternally grateful for your cooperation, and just as the others will get their wishes, so too will you have yours," Torcrea told her, giving her a warm smile.  That seemed to soften her a bit even if she was already determined to carry out this task.  He walked up to Alyssia and handed her a medallion.  "There are a great many demons that can weaken your state of existence in Hell, and Nihdestra certainly has the power to outright destroy you, but that medallion has my blessing and will nullify all powers that aim to melt your resolve.  Be warned that if you doubt yourself, however, the medallion will not save your resolve and you will tear yourself apart making you easy pickings for the denizens of that domain."

The Party receives the Creator's Medallion! [Added to Inventory]

"It is here that we part ways, I am sad to say."  Torcrea waved his hands through the air and the clouds beneath the group's feet cleared revealing open air.  "Be safe, my brave warriors, and return to me unharmed."  With that, he waved his hand once more and they fell.

* * *

Forest of Thorns, First Circle, Hell

Alyssia knew the falling sensation all too well for that was the original way she had made it to Hell.  As she fell she closed her eyes.  She knew all around her the scenery would melt to darkness.  Instead of heat, she would feel cold, and that frosty sensation coated her skin just as she thought about it.  She knew her consciousness would fade, and soon too, it was gone.

Alyssia was the first to awake in a clearing.  The soil was arid and gray, almost as lifeless as the strange forest she and the others found themselves in.  All of the trees surrounding them were composed of ashen wood and twisted around melding with each other, wooden thorns protruding where they could.  There were a couple of cleared paths leading from their current location.  It seemed that they would have to pick one to take to get out of there.  The others were still out cold and Alyssia shivered.  Yes, they were definitely close to the Second Circle if it was this cold.  Warmth would have returned to them had they arrived closer to the gates, but no.  This would not do.

Walking to one of the trees, Alyssia brought out her sword and sliced some of the thorns off, bringing them to the center of the clearing and putting them into a heap before using her magic to set them ablaze.  She dragged Lightning and Terra's bodies closer to the fire so that they could warm up.  They would need that warmth to awaken.  Alyssia herself sat down upon the ground and put her hands to the fire.  She didn't want to be here.  She had terrible memories of this place.  She had witnessed so much depravity and torment while she acted as the Gatekeeper.  It was too much.

"We've got a long mission ahead of us though..."
_________________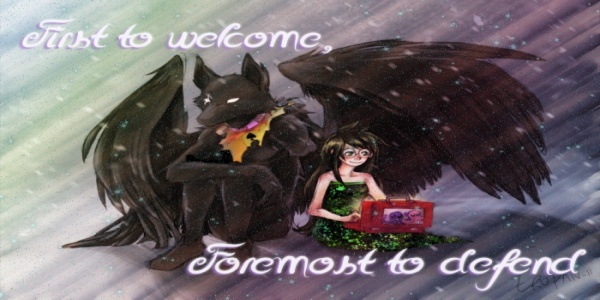 *Thanks to Mayari for the wonderful avatar/signature combo
WhippedCreame wrote:oh god yes eat my spaghetti confetti
Eternal Dreamer





Posts

: 16376


Join date

: 2009-10-28


Age

: 26


Location

: Home or work. Or some post-apocalyptic dream.



The fall felt cold. Colder than the frozen Lake Bresha, yet just as numbing as Valhalla that Odin had spoken of. Lightning did not struggle. If the fall was not meant to feel this way, Torcrea would have done something – although she did not feel for Gods, she knew that his requiring their aid meant he depended on them. Not God would throw his tools away carelessly.

When the warmth returned she felt assured that the God of Creation had done his duty properly. Her eyes opened, however, and seeing a fire started in the middle of the dead forest made the soldier realize otherwise. Torcrea had not returned warmth. He had sent them to the right place, but Alyssia was responsible for tending to them. "Thank you," the soldier whispered, forcing herself up but staying close to the fire.

Back in Hell, she thought as she stared at the flames, hopefully homeward bound.

Terra's tears had not fully dried when Torcrea waved them down to Hell. He too felt the cold wash over him and saw the darkness overtake the bleary world. For a moment, he felt compelled to shine a light, but he did not. As the icy sensation washed over him, he fell unconscious. He knew he would have to try his best to maintain his strength in the trials to come.

He awoke last. He did not move. "So this is Hell," he murmured, skin drinking in the warmth of the fire. "It's so dead, Alyssia..." Dead, dreary, and filled with pain. He closed his eyes a moment and took a deep breath. His entire body shook but he would not let his surroundings get the better of him. "Where do we go?" he questioned, forcing himself up and to his feet. "And which path is safest?"
_________________
Prince of Dreams





Posts

: 9517


Join date

: 2009-11-29


Age

: 22


Location

: I stand at a crossroads and stare at a question.



"You're welcome, Lightning. And what else would one expect of a place like Hell, Terra?" Alyssia replied to the two who had found their consciousness after a very short bit. The fire had done its work, and Alyssia poked at it a bit to keep it going. They would need it to keep them alive, little did the others know. It was something Torcrea forgot to mention but he knew Alyssia possessed that knowledge. Surviving in Hell was definitely a challenge.

"We're heading for the Second Circle," Alyssia finally continued after mulling over her previous thoughts. "We're currently in the Forest of Thorns near the village of Turo. Turo is pretty much the gateway to the Second Circle. To put things in perspective, the Throne of Depravity is found in the Palace of Destruction in the Ninth Circle. We have a long way to go. I pray we are quick enough to avoid Amoria's fall. As for which path is the safest, it does not matter. All paths in Hell are equally dangerous. There is no path that is safer than another, unfortunately. I mean, I hate to be so bleak, Terra, but I'd rather you be prepared than oblivious and filled with sugar-coated lies. This is a whole new ball game."
_________________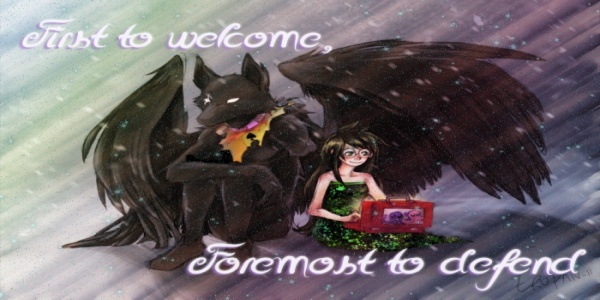 *Thanks to Mayari for the wonderful avatar/signature combo
WhippedCreame wrote:oh god yes eat my spaghetti confetti
Eternal Dreamer





Posts

: 16376


Join date

: 2009-10-28


Age

: 26


Location

: Home or work. Or some post-apocalyptic dream.



Terra swallowed harshly and nodded. His mouth felt so dry now that he actually had a chance to notice. "It's for the best," he responded at a normal volume. His voice had a gravel-like quality to it. He tried to swallow again but it did little to help him. "If there's no safe path then I suppose the quickest route is the one to take. Unless there are no quick ways through Hell..."

"It's called eternal damnation for a reason," Lightning stated, pushing herself to her feet. She immediately drew her gunblade and adjusted her stance. "Regardless, Turo is our destination and we won't get there unless we start moving." Her gaze shifted to Alyssia. Icy eyes remained stalwart and a fierce determination shot sparks between the gatekeeper and the soldier. It spoke silently of one thing and one thing only: the mission at hand. "Is there anything else we should know or can we get going?"
_________________
Prince of Dreams





Posts

: 9517


Join date

: 2009-11-29


Age

: 22


Location

: I stand at a crossroads and stare at a question.



Page 17 of 17 •

1 ... 10 ... 15, 16, 17


Similar topics
---
Permissions in this forum:
You
cannot
reply to topics in this forum