Page 5 of 5 •

1, 2, 3, 4, 5

"So I take it that 'dashing knight in black armour' is an unacceptable answer?" he asked with a straight face. "But my name really Knight. Aaron Knight. Nice to meet you. I am the Fifth and will most likely be joining you soon. If all goes well." He smiled at them. "But it's really hard to take you seriously when a jack's hugging your leg."


Shekal nearly smashed his mallet into the things face when he saw it jump into the blade mans arms. "Really? That thing we saw at the street followed you here?" He whistled appreciatively and then looked at the knight. "So then Prince Charming." He cleared his throat of a chuckle coming on. "You shall give us the key, no? Unless you can't find it." He pointed out with a roll of his eyes. Looking at Sunny he grinned, "Amazing work right there." He didn't know much else to say. She was a pretty good fighter, along with Thantos. He was more of a supporter, even Verity was better then he was at a fight! He frowned and decided he may of needed to learn better attacks. Clipping his mallet back he held onto his book and shut his eyes, he was tired and decided all the small rest he could get would be great.
Daydreamer





Posts

: 111


Join date

: 2010-09-18


Age

: 22


Location

: New hotel. I have to pay for internet too. T.T



"About that," Aaron said nervously. He blinked a bit, then looked away. A light brush of color reddened his cheeks. He toyed with his fingers as he continued. "What is I said that I...
never had it in the first place?
"
"And this is why I told her not to give the boy this part," the old man said, shaking his head. He pushed Aaron back towards the porch of the mansion. The doors swung open obediently as he neared and light spilled out from inside. "May as well finish this discussion inside. It's getting a bit chilly out here. The sisters must be preoccupied." Sure enough, the temperature was falling rapidly as a cold wind swept through the yard. "The person you really need to talk to never comes outside anyway."
"Thank you." Sunny replied to Shekal, inclining her head slightly. She then turned her attention towards Knight. "No key, you say?" Sunny was about to say this before watching the boy being pushed back into the old man's hut, albeit a little reluctantly. Sunny sighed, her roots retracting back into her feet, much to the earth's dismay, and began walking silently after them. She was beginning to wonder if this was all worth the trouble.
Totes-Mcgoats





Posts

: 16374


Join date

: 2009-11-01


Age

: 26


Location

: Naletia



Verity had reluctantly swallowed the medicine. She preferred the feeling of being knocked out over the taste in her mouth, but that was her. Besides she wouldn't have needed it, the cold wind that blew would have caused her to get up. Glacia had a way of doing that for he subjects, but never the less, she was back on her feet. Following the plant girl, she hesitated for a second, the pumpkin creature from before had made its way to them. But when she noticed it meant no harm she resumed to following Sunny.
_________________
Prince of Dreams





Posts

: 9517


Join date

: 2009-11-29


Age

: 22


Location

: I stand at a crossroads and stare at a question.



Thanatos glared down at Halloween who was looking around stupidly. "I don't think I'll ever be taken seriously again," he grumbled as he made his way into the house. Halloween shook in joy, for it was a free ride to him. Thanatos felt it and sighed. Starting to wonder why the hell I don't just slice it up, he thought, continuing his odd walk. Guess it wouldn't be worth it at this point. Besides, it'll give the damn thing to irritate anymore enemies should they present themselves. Satisfied with that thought for now, he marched onward.
_________________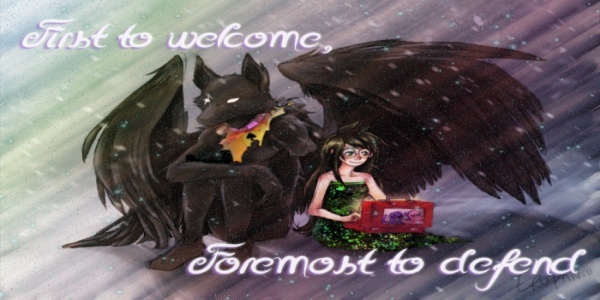 *Thanks to Mayari for the wonderful avatar/signature combo
WhippedCreame wrote:oh god yes eat my spaghetti confetti
Eternal Dreamer





Posts

: 16376


Join date

: 2009-10-28


Age

: 25


Location

: Home or work. Or some post-apocalyptic dream.



The old man and Aaron led through the doorways and into the house proper. A chandelier hung from the ceiling, casting its light on the floor below. The walls were paneled, if somewhat worn, wood and small vases of softly glowing flowers where spaced around the room. But they didn't linger. Instead, they were led between the pair of grand sweeping stairways, through a hall and down a dark concealed passageway. Finally, the old man opened a heavy, carved door and ushered them into the last room.

They room they entered was made from stone and poorly lit by candles in the corners and a pair of torches at the door. Roughly hewn steps fell from the doorway, ending in a smallish cleared space where a cauldron sat squatly. Shelves and cupboards stocked with strange items lined three walls. The other was hung with dark curtains and veils that screened the wall facing the door. A vague form moved within these screens.

"Greetings children," she said softly. A portion of the curtain shifted and her form was more visible. Like the recces she sat in, she was covered by dark veils and clothe. A long dark clothe shielded her head and most of her face and a veil concealed the rest. Her long dress, invoking the image of a burqa, though much more elegant, was her garb. "I have long awaited this/your arrival. I am the/an Oracle."
Thanatos took note of the odd figure. He noted that Halloween had unleashed his leg and was now hiding behind him. He grimaced. "I suppose it's nice to meet you?" he offered halfheartedly, seeing as how he really didn't want to be there in the first place. Then again, where would he be if he wasn't. Probably somewhere bored out of his mind.

"I'm guessing you already know our names," he spoke casually. If this person was who she said she was, then it certainly wouldn't be a surprise.
_________________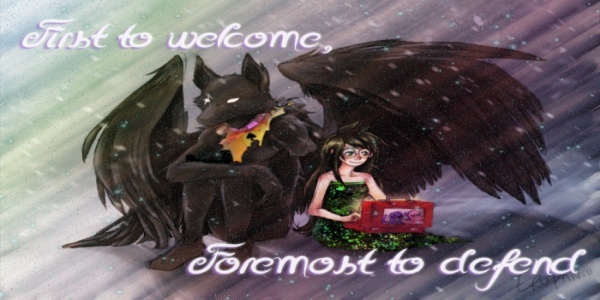 *Thanks to Mayari for the wonderful avatar/signature combo
WhippedCreame wrote:oh god yes eat my spaghetti confetti
Eternal Dreamer





Posts

: 16376


Join date

: 2009-10-28


Age

: 25


Location

: Home or work. Or some post-apocalyptic dream.



Page 5 of 5 •

1, 2, 3, 4, 5

---
Permissions in this forum:
You
cannot
reply to topics in this forum