Page 6 of 6 •

1, 2, 3, 4, 5, 6

Nil stopped in his tracks momentarily as he heard the explosion. It wasn't like there were very many options of what the cause could have been. "It'd probably best for you to keep that thing inside except for when training it or using it in a battle," Nil advised before continuing down the road. Not particularly caring about her health, or even his own for that matter, he found that it would just be a pain if he had to stop every five minutes to listen to the joyous sounds of an explosion, though his tone definitely didn't give anything away.

"Let Pineco out when we're resting or something," he added as he walked farther and farther away. "For now, try not to fall behind." With that, he ended his string of comments and focused on moving forward. His pokemon were probably tuckered out from playing earlier, so he didn't even bother trying to release them at the moment.
_________________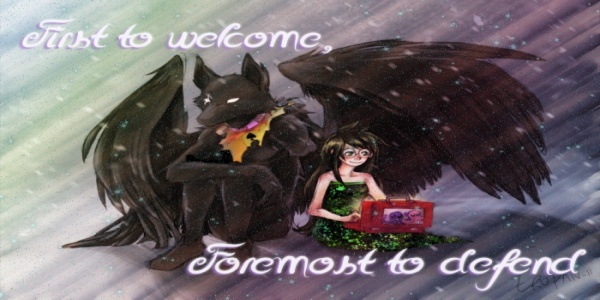 *Thanks to Mayari for the wonderful avatar/signature combo
WhippedCreame wrote:oh god yes eat my spaghetti confetti
Eternal Dreamer





Posts

: 16376


Join date

: 2009-10-28


Age

: 26


Location

: Home or work. Or some post-apocalyptic dream.



Kris smiled, just slightly. He jogged over to the door. Shane scrambled along the back of the sofa and leapt unto his back, clinging to his jacket. Kris snagged his bag from its spot beside the sofa and joined his new companion by the door. He slipped past Serah and held the door for her, working on the whole 'gentleman' thing. "Running is cool if you don't have a ballon," he said, "but can I jog instead?"
"Sure, as long as we get to Petalburg before tonight."

Serah then burst out passing the attempt to be gentlemanly made by Kris. She passed the houses that led to the exit of town and continued to sprint. She nearly tripped as she made it into the forest perfectly. It was the perfect stop for her, as she was able to turn around and wait for Kris. A faint sound of rustling crossing her mind for just a second.
_________________
Prince of Dreams





Posts

: 9517


Join date

: 2009-11-29


Age

: 22


Location

: I stand at a crossroads and stare at a question.



Kris sighed. So much for being a gentleman. And mom said women would dig that stuff. As if! He shook his head and ran after the girl. He could probably match her running with a steady jog (for a while at least) but not with that head start. Before he caught up to her, Shane jumped from his back, bounded a few paces ahead to shimmy up a tree. As soon as Kris caught up to Serah, Shane leapt unto her shoulder.
"You like running, don't you?" Kris asked as he stretched his back, still a bit stiff from sleep.
"Not usually, but this is awesome. I guess I got a little out of hand there."

Serah smiled slightly at the little monkey that had jumped onto her shoulder. She wished she had a pokemon like Shane. Piplup was so uptight and stubborn she doubted it would listen to her ever. Petting the Chimchar's head slightly, she believed she heard rustling again, but she wasn't too sure.
_________________
Prince of Dreams





Posts

: 9517


Join date

: 2009-11-29


Age

: 22


Location

: I stand at a crossroads and stare at a question.



"Come here you," Kris said as he plucked Shane from Serah's shoulder. He held the pokemon close to his chest in hug to prevent him from escaping again. "It is. Two people off on a grand adventure to see the world and meet new people
even it we don't have a balloon
. Hey, now I feel like running! And you!" he said suddenly. "Any more trouble and I put you in your pokeball. For a long while." Shane, who up to that moment was squirming insistently, was suddenly the image of obedience. Kris smirked, them notice Serah's odd behavior. "Is something wrong Serah?"
Page 6 of 6 •

1, 2, 3, 4, 5, 6

---
Permissions in this forum:
You
cannot
reply to topics in this forum