Page 3 of 3 •

1, 2, 3

Location: Ribahn River; North Bank
Objective: Route Enemy (10 Remaining)
Defeat: Katarina dies OR Cisna dies
Guinevere hits tiger (J-7) for 7 damage
HP: -1/40
Guinevere kills tiger (J-7)
Guinevere gains 30 EXP [100/100]
Guinevere levels up [0/100]
Guinevere gains 1 HP, STR, SPD, LUK, and DEF
Guinevere's skill in Lances increases by 2 [7/30]
Cisna loses 4 to Gauge [16/20]
Cisna hits tiger (J-9) for 5 damage
HP: 22/40
tiger (J-9) counterattacks for 16 damage
HP: 19/35
Cisna hits tiger (J-9) for 15 damage (Crit)
HP: 7/40
Cisna gains 10 EXP [10/100]
Cisna's skill in Strike increases by 2 [2/30]
Cisna loses 1 to Gauge [15/20]
Damion hits tiger (J-9) for 20 damage (Effective)
HP: -13/40
Damion kills tiger (J-9)
Damion gains 30 EXP [60/100]
Damion's skill in Anima increases by 1 [4/30]
( ) ( ) ( ) ( ) (r) ( ) ( ) ( ) ( ) ( ) (r) ( ) ( ) ( ) ( ) A
( ) ( ) ( ) ( ) (r) ( ) ( ) ( ) ( ) ( ) (r) ( ) ( ) ( ) ( ) B
( ) ( ) ( ) ( ) (r) ( ) ( ) ( ) ( ) ( ) (r) ( ) ( ) ( ) ( ) C
( ) ( ) ( ) ( ) (r) ( ) ( ) ( ) ( ) ( ) (r) ( ) ( ) ( ) ( ) D
( ) ( ) ( ) ( ) (r) ( ) ( ) ( ) ( ) ( ) (r) ( ) ( ) ( ) ( ) E
( ) ( ) ( ) ( ) (r) ( ) ( ) ( ) ( ) ( ) (r) ( ) ( ) ( ) ( ) F
( ) ( ) ( ) ( ) (r) ( ) ( ) (S) ( ) ( ) (r) ( ) ( ) ( ) ( ) G
( ) ( ) ( ) ( ) (r) ( ) ( ) (E) (D) ( ) (r) ( ) ( ) (t) ( ) H
( ) (t) ( ) ( ) ( ) (r) (R) ( ) (W) (r) ( ) (t) ( ) (t) ( ) I
(t) (t) ( ) ( ) ( ) (r) ( ) (C) ( ) (r) ( ) ( ) ( ) ( ) (t) J
( ) ( ) (t) ( ) (t) (r) (G) (K) ( ) (r) ( ) ( ) ( ) ( ) ( ) K
( ) ( ) ( ) (t) ( ) (r) ( ) ( ) (M) (r) ( ) ( ) ( ) ( ) ( ) L
( ) ( ) ( ) ( ) ( ) (r) ( ) ( ) ( ) (r) ( ) ( ) ( ) ( ) ( ) M
( ) ( ) ( ) ( ) (r) ( ) ( ) ( ) ( ) ( ) (r) ( ) ( ) ( ) ( ) N
( ) ( ) ( ) ( ) (r) ( ) ( ) ( ) ( ) ( ) (r) ( ) ( ) ( ) ( ) O
( ) ( ) ( ) ( ) (r) ( ) ( ) ( ) ( ) ( ) (r) ( ) ( ) ( ) ( ) P
( ) ( ) ( ) ( ) (r) ( ) (c) (c) (c) ( ) (r) ( ) ( ) ( ) ( ) Q
( ) ( ) ( ) ( ) (r) ( ) ( ) ( ) ( ) ( ) (r) ( ) ( ) ( ) ( ) R
( ) ( ) ( ) ( ) (r) ( ) ( ) ( ) ( ) ( ) (r) ( ) ( ) ( ) ( ) S
( ) ( ) ( ) ( ) (r) ( ) ( ) ( ) ( ) ( ) (r) ( ) ( ) ( ) ( ) T
( ) ( ) ( ) ( ) (r) ( ) ( ) ( ) ( ) ( ) (r) ( ) ( ) ( ) ( ) U
( ) ( ) ( ) ( ) (r) ( ) ( ) ( ) ( ) ( ) (r) ( ) ( ) ( ) ( ) V
( ) ( ) ( ) ( ) (r) ( ) ( ) ( ) ( ) ( ) (r) ( ) ( ) ( ) ( ) W
( ) ( ) ( ) ( ) (r) ( ) ( ) ( ) ( ) ( ) (r) ( ) ( ) ( ) ( ) Y
( ) ( ) ( ) ( ) (r) ( ) ( ) ( ) ( ) ( ) (r) ( ) ( ) ( ) ( ) X
( ) ( ) ( ) ( ) (r) ( ) ( ) ( ) ( ) ( ) (r) ( ) ( ) ( ) ( ) Z
-1---2---3---4---5---6---7---8---9---10--11--12--13--14--15
Neutral Phase
tiger (I-2) loses 8 to Gauge [12/30]
tiger (I-2) attacks tiger (J-2) with Fang
tiger (I-2) hits tiger (J-2) for 10 damage
HP: 0/40
tiger (I-2) kills tiger (J-2)
tiger (I-2) loses 2 to Gauge [10/30]
------------------------------
tiger (J-1) loses 8 to Gauge [12/30]
tiger (J-1) moves to cell K-2
tiger (K-2) attacks tiger (K-3) with Fang
tiger (K-2) hits tiger (K-3) for 10 damage
HP: 10/40
tiger (K-3) counterattacks for 12 damage
HP: 12/36
tiger (J-3) loses 2 to Gauge [10/30]
tiger (K-3) loses 2 to Gauge [14/30]
-------------------------
tiger (H-14) loses 8 to Gauge [12/30]
tiger (H-14) attacks tiger (I-14) with Fang
tiger (H-14) hits tiger (I-14) for 10 damage
HP: 20/40
tiger (J-2) counterattacks for 12 damage
HP: 12/36
tiger (I-2) loses 2 to Gauge [10/30]
tiger (J-2) loses 2 to Gauge [18/30]
( ) ( ) ( ) ( ) (r) ( ) ( ) ( ) ( ) ( ) (r) ( ) ( ) ( ) ( ) A
( ) ( ) ( ) ( ) (r) ( ) ( ) ( ) ( ) ( ) (r) ( ) ( ) ( ) ( ) B
( ) ( ) ( ) ( ) (r) ( ) ( ) ( ) ( ) ( ) (r) ( ) ( ) ( ) ( ) C
( ) ( ) ( ) ( ) (r) ( ) ( ) ( ) ( ) ( ) (r) ( ) ( ) ( ) ( ) D
( ) ( ) ( ) ( ) (r) ( ) ( ) ( ) ( ) ( ) (r) ( ) ( ) ( ) ( ) E
( ) ( ) ( ) ( ) (r) ( ) ( ) ( ) ( ) ( ) (r) ( ) ( ) ( ) ( ) F
( ) ( ) ( ) ( ) (r) ( ) ( ) (S) ( ) ( ) (r) ( ) ( ) ( ) ( ) G
( ) ( ) ( ) ( ) (r) ( ) ( ) (E) (D) ( ) (r) ( ) ( ) (t) ( ) H
( ) (t) ( ) ( ) ( ) (r) (R) ( ) (W) (r) ( ) (t) ( ) (t) ( ) I
( ) ( ) ( ) ( ) ( ) (r) ( ) (C) ( ) (r) ( ) ( ) ( ) ( ) (t) J
( ) (t) (t) ( ) (t) (r) (G) (K) ( ) (r) ( ) ( ) ( ) ( ) ( ) K
( ) ( ) ( ) (t) ( ) (r) ( ) ( ) (M) (r) ( ) ( ) ( ) ( ) ( ) L
( ) ( ) ( ) ( ) ( ) (r) ( ) ( ) ( ) (r) ( ) ( ) ( ) ( ) ( ) M
( ) ( ) ( ) ( ) (r) ( ) ( ) ( ) ( ) ( ) (r) ( ) ( ) ( ) ( ) N
( ) ( ) ( ) ( ) (r) ( ) ( ) ( ) ( ) ( ) (r) ( ) ( ) ( ) ( ) O
( ) ( ) ( ) ( ) (r) ( ) ( ) ( ) ( ) ( ) (r) ( ) ( ) ( ) ( ) P
( ) ( ) ( ) ( ) (r) ( ) (c) (c) (c) ( ) (r) ( ) ( ) ( ) ( ) Q
( ) ( ) ( ) ( ) (r) ( ) ( ) ( ) ( ) ( ) (r) ( ) ( ) ( ) ( ) R
( ) ( ) ( ) ( ) (r) ( ) ( ) ( ) ( ) ( ) (r) ( ) ( ) ( ) ( ) S
( ) ( ) ( ) ( ) (r) ( ) ( ) ( ) ( ) ( ) (r) ( ) ( ) ( ) ( ) T
( ) ( ) ( ) ( ) (r) ( ) ( ) ( ) ( ) ( ) (r) ( ) ( ) ( ) ( ) U
( ) ( ) ( ) ( ) (r) ( ) ( ) ( ) ( ) ( ) (r) ( ) ( ) ( ) ( ) V
( ) ( ) ( ) ( ) (r) ( ) ( ) ( ) ( ) ( ) (r) ( ) ( ) ( ) ( ) W
( ) ( ) ( ) ( ) (r) ( ) ( ) ( ) ( ) ( ) (r) ( ) ( ) ( ) ( ) Y
( ) ( ) ( ) ( ) (r) ( ) ( ) ( ) ( ) ( ) (r) ( ) ( ) ( ) ( ) X
( ) ( ) ( ) ( ) (r) ( ) ( ) ( ) ( ) ( ) (r) ( ) ( ) ( ) ( ) Z
-1---2---3---4---5---6---7---8---9---10--11--12--13--14--15
Enemy Phase
tiger (K-3) loses 8 to Gauge [6/30]
tiger (K-3) attacks tiger (K-2) with Fang
tiger (K-3) hits tiger (K-2) for 12 damage
HP: 0/36
tiger (K-2) falls incapitated
tiger (K-2) loses 2 to Gauge [4/30]
-------------------------
tiger (K-5) loses 8 to Gauge [12/30]
tiger (K-5) moves to cell I-3
tiger (I-3) attacks tiger (I-2) with Fang
tiger (I-3) hits tiger (I-2) for 12 damage
HP: 0/36
tiger (I-2) falls incapitated
tiger (I-3) loses 2 to Gauge [10/30]
-------------------------
tiger (L-4) loses 8 to Gauge [12/30]
tiger (L-4) moves to cell L-5
tiger (L-5) waits
-------------------------
tiger (I-12) loses 8 to Gauge [12/30]
tiger (K-12) moves to H-13
tiger (H-13) attacks tiger (H-14) with Fang
tiger (H-13) hits tiger (H-14) for 12 damage
HP: 0/36
tiger (H-14) is incapitated
tiger (H-13) loses 2 to Gauge [10/30]
-------------------------
tiger (I-14) loses 8 to Gauge [12/30]
tiger (I-14) moves to I-11
tiger (I-11) waits
-------------------------
tiger (J-15) loses 8 to Gauge [12/30]
tiger (J-15) moves to J-11
tiger (J-11) waits
-------------------------
cat (Q-7) loses 4 to Gauge [16/20]
cat (Q-7) moves to cell L-7
cat (L-7) attacks Guinevere with Claw
cat (L-7) misses
HP: 20/21
Guinevere counterattacks for 12 damage
HP: 19/31
cat (L-7) hits Guinevere for 4 damage
HP: 16/20
Guinevere gains 10 EXP [10/100]
Guinevere's skill in Lances increasesy by 1 [8/30]
cat (L-7) loses 1 to Gauge [15/20]
-------------------------
cat (Q-8) loses 4 to Gauge [16/20]
cat (Q-8) moves to cell L-8
cat (L-8) attacks Katarina with Claw
cat (L-8) hits Katarina for 3 damage
HP: 18/21
Katarina counterattacks for 42 damage (Crit)
HP: -11/31
Katarina kills cat (L-8)
Katarina gains 30 EXP [77/100]
Katarina's skill in Swords increases by 1 [41/70]
-------------------------
cat (Q-9) loses 4 to Gauge [16/20]
cat (Q-9) moves to cell M-9
cat (M-9) attacks Magnus with Claw
cat (M-9) hits Magnus for 4 damage
HP: 20/24
Magnus counterattacks for 42 damage (Crit)
HP: -11/31
Magnus kills cat (M-9)
Magnus gains 33 EXP [74/100]
Magnus' skill in Lances increases by 1 [34/70]
--------------------------------
Bridge railing in cells J-6, K-6, and L-6 breaks
( ) ( ) ( ) ( ) (r) ( ) ( ) ( ) ( ) ( ) (r) ( ) ( ) ( ) ( ) A
( ) ( ) ( ) ( ) (r) ( ) ( ) ( ) ( ) ( ) (r) ( ) ( ) ( ) ( ) B
( ) ( ) ( ) ( ) (r) ( ) ( ) ( ) ( ) ( ) (r) ( ) ( ) ( ) ( ) C
( ) ( ) ( ) ( ) (r) ( ) ( ) ( ) ( ) ( ) (r) ( ) ( ) ( ) ( ) D
( ) ( ) ( ) ( ) (r) ( ) ( ) ( ) ( ) ( ) (r) ( ) ( ) ( ) ( ) E
( ) ( ) ( ) ( ) (r) ( ) ( ) ( ) ( ) ( ) (r) ( ) ( ) ( ) ( ) F
( ) ( ) ( ) ( ) (r) ( ) ( ) (S) ( ) ( ) (r) ( ) ( ) ( ) ( ) G
( ) ( ) ( ) ( ) (r) ( ) ( ) (E) (D) ( ) (r) ( ) (t) ( ) ( ) H
( ) ( ) (t) ( ) ( ) (r) (R) ( ) (W) (r) (t) ( ) ( ) ( ) ( ) I
( ) ( ) ( ) ( ) ( ) ( ) ( ) (C) ( ) (r) (t) ( ) ( ) ( ) ( ) J
( ) ( ) (t) ( ) ( ) ( ) (G) (K) ( ) (r) ( ) ( ) ( ) ( ) ( ) K
( ) ( ) ( ) ( ) (t) ( ) (c) ( ) (M) (r) ( ) ( ) ( ) ( ) ( ) L
( ) ( ) ( ) ( ) ( ) (r) ( ) ( ) ( ) (r) ( ) ( ) ( ) ( ) ( ) M
( ) ( ) ( ) ( ) (r) ( ) ( ) ( ) ( ) ( ) (r) ( ) ( ) ( ) ( ) N
( ) ( ) ( ) ( ) (r) ( ) ( ) ( ) ( ) ( ) (r) ( ) ( ) ( ) ( ) O
( ) ( ) ( ) ( ) (r) ( ) ( ) ( ) ( ) ( ) (r) ( ) ( ) ( ) ( ) P
( ) ( ) ( ) ( ) (r) ( ) ( ) ( ) ( ) ( ) (r) ( ) ( ) ( ) ( ) Q
( ) ( ) ( ) ( ) (r) ( ) ( ) ( ) ( ) ( ) (r) ( ) ( ) ( ) ( ) R
( ) ( ) ( ) ( ) (r) ( ) ( ) ( ) ( ) ( ) (r) ( ) ( ) ( ) ( ) S
( ) ( ) ( ) ( ) (r) ( ) ( ) ( ) ( ) ( ) (r) ( ) ( ) ( ) ( ) T
( ) ( ) ( ) ( ) (r) ( ) ( ) ( ) ( ) ( ) (r) ( ) ( ) ( ) ( ) U
( ) ( ) ( ) ( ) (r) ( ) ( ) ( ) ( ) ( ) (r) ( ) ( ) ( ) ( ) V
( ) ( ) ( ) ( ) (r) ( ) ( ) ( ) ( ) ( ) (r) ( ) ( ) ( ) ( ) W
( ) ( ) ( ) ( ) (r) ( ) ( ) ( ) ( ) ( ) (r) ( ) ( ) ( ) ( ) Y
( ) ( ) ( ) ( ) (r) ( ) ( ) ( ) ( ) ( ) (r) ( ) ( ) ( ) ( ) X
( ) ( ) ( ) ( ) (r) ( ) ( ) ( ) ( ) ( ) (r) ( ) ( ) ( ) ( ) Z
-1---2---3---4---5---6---7---8---9---10--11--12--13--14--15
Spoiler:

Katarina
Level: 2
HP: 18/21
STR: 8
SKL: 10
SPD: 7
LUC: 5
DEF: 6
RES: 0
MOV: 5
CON: 13
Hit:112
Attack: 16
Avoid: 19
Critical: 15
Attack Speed: 7

Inventory:
+ Claymore[30/40]
+ Vulnerary [3/3]

Guinevere
Level: 1
HP: 16/21
STR: 6
SKL: 6
SPD: 9
LUC: 7
DEF: 5
RES: 0
MOV: 7 Horse
CON: 10 [+7]
Hit: 95
Attack: 14
Avoid: 25
Critical: 3
Attack Speed: 9

Inventory:
+ Iron Lance[37/45]
+ Iron Sword [45/45]
+ Vulnerary [3/3]

Cisna
Level: 1
HP: 19/35
Gauge: 15/20 [Transformed]
STR: 3 [6]
SKL: 4 [8]
SPD: 6 [12]
LUC: 8
DEF: 1 [2]
RES: 1 [2]
MOV: 5 [7]
CON: 8
Hit: 100 [110]
Attack: 8 [11]
Avoid: 16 [32]
Critical: 12 [14]
Attack Speed: 6 [12]

Inventory:
+ Claw
+ Laguz Stone [3/3]

Rhyme
Level: 1
HP: 18/18
STR: 5
SKL: 7
SPD: 11
LUC: 7
DEF: 2
RES: 1
MOV: 6
CON: 6
Hit: 107
Attack: 10
Avoid: 29
Critical: 3
Attack Speed: 11

Inventory:
+ Iron Sword [41/45]

Magnus
Level: 1
HP: 20/24
STR: 9
SKL: 6
SPD: 8
LUC: 2
DEF: 5
RES: 0
MOV: 7 Winged
CON: 11 [+7]
Hit: 93
Attack: 16
Avoid: 18
Critical: 3
Attack Speed: 8

Inventory:
+ Iron Lance [42/45]

Damion
Level: 1
HP: 16/16
MAG: 6
SKL: 7
SPD: 5
LUC: 4
DEF: 1
RES: 5
MOV: 5
CON: 5
Hit: 108
Attack: 11
Avoid: 14
Critical: 3
Attack Speed: 5

Inventory:
+ Fire [41/45]

Will
Level: 1
HP: 22/22
STR: 8
SKL: 6
SPD: 7
LUC: 4
DEF: 3
RES: 1
MOV: 5
CON: 11
Hit: 89
Attack: 16
Avoid: 18
Critical: 3
Attack Speed: 7

Inventory:
+ Iron Axe [42/45]
+ Vulnerary [3/3]

Sandy
Level: 1
HP: 16/16
MAG: 5
SKL: 2
SPD: 5
LUC: 9
DEF: 1
RES: 6
MOV: 5
CON: 5
Hit: --
Attack: --
Avoid: 19
Critical: --
Attack Speed: 5

Inventory:
+ Heal [30/30]

KEnneth
Level: 2
HP: 17/17
MAG: 6
SKL: 6
SPD: 6
LUC: 8
DEF: 1
RES: 7
MOV: 5
CON: 6
Hit: 111
Attack: 10
Avoid: 20
Critical: 8
Attack Speed: 6

Inventory:
+ Lightning [35/35]

tiger (K-3)
Level: 1
HP: 10/40
Gauge: 4/30 [Transformed]
STR: 5 [10]
SKL: 4 [8]
SPD: 2 [4]
LUC: 6
DEF: 3 [6]
RES: 1 [2]
MOV: 5 [6]
CON: 14
Hit: 91 [99]
Attack: 13 [18]
Avoid: 10 [14]
Critical: 2 [4]
Attack Speed: 2 [4]

Inventory:
+ Fang

tiger (I-3)
Level: 1
HP: 40/40
Gauge: 10/30 [Transformed]
STR: 5 [10]
SKL: 4 [8]
SPD: 2 [4]
LUC: 6
DEF: 3 [6]
RES: 1 [2]
MOV: 5 [6]
CON: 14
Hit: 91 [99]
Attack: 13 [18]
Avoid: 10 [14]
Critical: 2 [4]
Attack Speed: 2 [4]

Inventory:
+ Fang

tiger (L-5)
Level: 1
HP: 30/40
Gauge: 12/30 [Transformed]
STR: 5 [10]
SKL: 4 [8]
SPD: 2 [4]
LUC: 6
DEF: 3 [6]
RES: 1 [2]
MOV: 5 [6]
CON: 14
Hit: 91 [99]
Attack: 13 [18]
Avoid: 10 [14]
Critical: 2 [4]
Attack Speed: 2 [4]

Inventory:
+ Fang

tiger (H-13)
Level: 1
HP: 40/40
Gauge: 10/30 [Transformed]
STR: 5 [10]
SKL: 4 [8]
SPD: 2 [4]
LUC: 6
DEF: 3 [6]
RES: 1 [2]
MOV: 5 [6]
CON: 14
Hit: 91 [99]
Attack: 13 [18]
Avoid: 10 [14]
Critical: 2 [4]
Attack Speed: 2 [4]

Inventory:
+ Fang

tiger (I-11)
Level: 1
HP: 20/40
Gauge: 12/30 [Transformed]
STR: 5 [10]
SKL: 4 [8]
SPD: 2 [4]
LUC: 6
DEF: 3 [6]
RES: 1 [2]
MOV: 5 [6]
CON: 14
Hit: 91 [99]
Attack: 13 [18]
Avoid: 10 [14]
Critical: 2 [4]
Attack Speed: 2 [4]

Inventory:
+ Fang

tiger (J-11)
Level: 1
HP: 40/40
Gauge: 12/30 [Transformed]
STR: 5 [10]
SKL: 4 [8]
SPD: 2 [4]
LUC: 6
DEF: 3 [6]
RES: 1 [2]
MOV: 5 [6]
CON: 14
Hit: 91 [99]
Attack: 13 [18]
Avoid: 10 [14]
Critical: 2 [4]
Attack Speed: 2 [4]

Inventory:
+ Fang

cat (L-7)
Level: 2
HP: 19/31
Gauge: 15/20 [Transformed]
STR: 2 [4]
SKL: 4 [8]
SPD: 7 [14]
LUC: 7
DEF: 1 [2]
RES: 1 [2]
MOV: 5 [7]
CON: 8
Hit: 101 [109]
Attack: 7 [9]
Avoid: 21 [35]
Critical: 2 [4]
Attack Speed: 7 [14]

Inventory:
+ Claw

r = bridge railing (ground units cannot pass; cannot occupy)
Ally Phase 3
Katarina moves to cell L-8
Watching as the Laguz princess' guards fell one by one, Katarina was caught by suprise by the cat that leapt for her. She quickly retaliated and felled it in a single blow, but Katarina still worried about the tigers climbing up the bridge. Those railings won't hold the savage beasts forever. Nevertheless Katarina moved up to deliver a blow to the cat that was attacking Guinevere, intending on keeping her comrades safe.
Katarina attacks cat (L-7) with Claymore
Guinevere attacks cat (L-7) with Iron Lance
Katarina's blow had weakened it, along with her earlier counterattack. Now Guinevere twirled her lance in her hand before thrusting it toward the cat's skull attempting for a finishing blow.
Masochistic Kitty Kat Maid





Posts

: 8939


Join date

: 2009-10-30


Age

: 23


Location

: I dunno 3:



Rhyme moves to L6.

There sure were a lot of those bandits. Such a shame. Thinking to herself, Rhyme recalled that she had always been a lone wolf, so to say. She didn't work with other thieves; it was a sign of weakness. These guys had put up a nice fight, but she just smiled and twirled her blade happily as she marched towards one that had been over the railing where she couldn't reach before. She stopped and bowed before it.

"Ahem, I have come to inform you that I want to stick something inside of you," she stated formally and twirled around before thrusting the blade into the Laguz. "And that is all." She winked and ripped the blade out, painting the ground with blood.

Rhyme attacks Tiger (L5) with Iron Sword!

Magnus moves to K4.

Time for action at last. The railing had collapsed on the other side revealing more Laguz that were still itching for a fight. "To put these sorry souls to rest," he said and gently tapped the side of his wyvern with his foot. The mighty beast soared overhead and landed right next to one of the bandits whilst Magnus jabbed at it with his lance.

Magnus attacks Tiger (K3) with Iron Lance!
_________________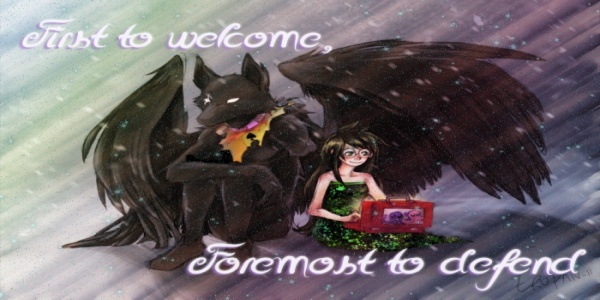 *Thanks to Mayari for the wonderful avatar/signature combo
WhippedCreame wrote:oh god yes eat my spaghetti confetti
Eternal Dreamer





Posts

: 16376


Join date

: 2009-10-28


Age

: 26


Location

: Home or work. Or some post-apocalyptic dream.



Page 3 of 3 •

1, 2, 3


Similar topics
---
Permissions in this forum:
You
cannot
reply to topics in this forum