This is where all characters pertaining to my latest and greatest role play will go. This is a non-statistical UNORIGINAL role play, so the playing thread will be put in the appropriate forum. It will be in the UNORIGINAL because I got this idea off of Fairy Tail, so I have to give the author credit in super tiny print at the bottom of the post.
Here is where my profile(s) will go as well.
~~~~~~~~~~~~~~~~~~~~~~~~~~~~
Xecilla Ggeli
Age: 18
Gender: Female
Appearance:
Spoiler:
Magic: Mermaid - Xecilla has the ability to transform her body into that of a fish's in order to swim and breath underwater. Xecilla can also control water around her with her magic; however she cannot create water, so she always has some with her in a pouch around her waist. Because of her magic, Xecilla is always very thirsty when on land.
Personality: Xecilla is a very calm woman, always kind and caring in both her looks and her actions. She loves her guild and everyone in it, and everyone seems to like her too. But you never know when a fight might break out, and if Xecilla is involved, then you know it's a dangerous situation for her enemy. Xecilla is proficient in Mermaid magic, which allows her to transform her body to a fish-like form to swim and breath underwater. This magic is useful for scouting and surprising. She sometimes gives rides to the local children in the city for their entertainment. Because her magic forces her to always be near or in the water, Xecilla is only seen with some sort of cloth covering her bosom and a midriff wrap on her hip.
~~~~~~~~~~~~~~~~~
Credits to Mashima, Hiro for the idea of mage guilds. Taken from Fairy Tail. Some rights reserved.
Last edited by Zeri~Zeri on Wed Jan 26, 2011 9:25 pm; edited 1 time in total
Totes-Mcgoats





Posts

: 16374


Join date

: 2009-11-01


Age

: 26


Location

: Naletia



Name: Krasi Antares
Age: 16
Gender: Female
Appearance: A short, spunky girl with beautiful white hair that cascades down her back, two long strands resting gently on her shoulders. Her eyes are a startling crystalline blue, witty and smart. Her skin is pale, but compared to her hair, it's barely noticeable. White button-up, collared shirt and a blue skirt that goes down to just above her knees makes up most of the complement that is her outfit. When going on missions, she likes to wear a light blue tie--a keepsake of her father that she left behind to join a guild. She often commands her brother to polish her black dress shoes and she wears knee high socks, either blue or white depending on whatever she feels like wearing at the time she puts them on. Her nails are usually coated in a glimmering blue polish as well. Her image is...pristine, so to speak.

Magic: Wield - Has the ability to use magic in order to wield various objects as weapons and armor effectively, even if that wasn't the object's original purpose.

Personality: Though not outwardly arrogant or selfish, she likes to feel important in the presence of others. She has constant hopes to become stronger so that more people can depend on her. Disliking it when she fails, she feels disgusted with herself for not being able to hold up her own weight of the guild. Success makes her smile, along with being with her brother whom she works extremely well with. She knows of his personality and thus isn't overly bossy; she doesn't have to be. That has made her quite and easy person to work with. She'll refuse to do something that goes against her principles unless something major is at stake; she always sticks to what she believes in. Be rational with your reasoning and she's easily persuaded. She hates liars. She hates people that joke around too much; after a certain point, it just gets annoying. Otherwise, she enjoys getting a laugh or two every once in a while.

~ | ~ | ~

Name: Kuro Antares
Age: 16
Gender: Male
Appearance: A young, strapping lad only a few inches taller than his twin sister, he, too, has white hair, cut short and spiked, the spikes sort of flowing back a bit while the hair on the back of his head is more feathery and typically unstyled. His blue eyes are less crystalline and a bit darker than his sister's; they express deep sorrow most of the time. He frowns a lot, but it's not like he's not able to smile, so it's not surprising to people who know him well enough when he does. He wears a white button-up collared shirt like his sister does along with long blue dress pants and black dress shoes. White socks are his socks of choice. Like his sister, he has a keepsake of his parents, mother specifically, in the form of a gold chain necklace he wears around his neck all the time. When it's cold, or when he feels like lookin' cool, he wears his black long-sleeved coat over his dress shirt. He hates ties though and constantly wonders about his sister's choice to wear one.

Magic: Contort - Has the ability to use magic that allows him to break and bend into any shape he so desires.

Personality: He is definitely less outgoing than his sister, but it's not like he has a poor social disposition or anything. He talks fine with people and loves to hear jokes as often as whoever's telling them likes, unlike his sister who can only stand it to a certain limit. He gets uneasy when people start performing certain behaviours that he knows are his sister's pet peeves, but he tends to like it when she gets angry; it's quite funny, though he would never tell her that. A quiet and gentle soul, he keeps a lot of things to himself and doesn't like to talk about himself a lot. He loves to listen to stories, especially firsthand experiences with the wild and dangerous, even if his sister teases him about it making it seem like he's a little kid or something. Internally, his dreams soar even higher than his sister's, and he takes a more noble route. Not wanting too much responsibility or attention, he just dreams of getting stronger to protect the people he loves, and all the members that join the guild. With the kindness in his heart motivating him, he knows deep down he can accomplish his goal.
_________________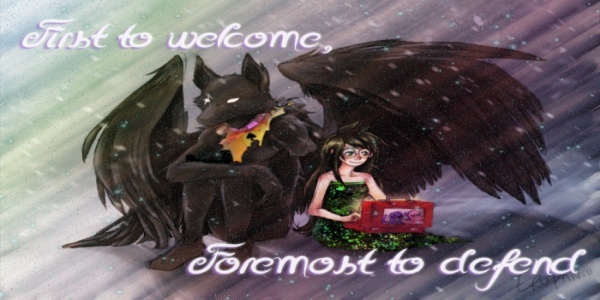 *Thanks to Mayari for the wonderful avatar/signature combo
WhippedCreame wrote:oh god yes eat my spaghetti confetti
Eternal Dreamer





Posts

: 16376


Join date

: 2009-10-28


Age

: 25


Location

: Home or work. Or some post-apocalyptic dream.



Name
: Ichiro Neiles
Age
: 15
Gender
: Male
Appearance
:
Spoiler:
Magic
:
Static Earth
- Able to form various rocks and minerals using his powers, a Static Earth Mage can conjure various weapons and formations that can be used in battle, ranging from granite gauntlets to a large, spheroidal boulder. In addition, a Static Earth Mage's strength is nearly tripled when attempting to carry or throw one of his own creations, aiding the validity of pillar-swinging and other barbaric acts.
Personality
: Standing at a rather pathetic height of 4 feet 7 inches, Ichiro's small stature causes many strangers to mistake him for a small child. Due to his vertically challenged predicament, Ichiro has developed a standard case of "short man syndrome": grumpy, stubborn, and boastfully intelligent. Although he may appear to be a rather irritable, angst-ridden teenager on the outside, he acts like an innocent child when the situation calls for it. Subconsciously, he also retains many old habits from his childhood, such as gently chewing on his scarf, wearing latched shoes, and being unable to resist his love for sweets and desserts. He always wears a set of long, baggy shorts - which are approximately four sizes too large - along with a t-shirt and undershirt, which both share the same sizing issue that his pants have. Although one may think that wearing such baggy clothing would hamper his movement severely, he has grown used to the heavy clothing, and modifying his usual garb in any way would greatly tamper with his developed balance.
Hermit Sage





Posts

: 9671


Join date

: 2009-10-30


Age

: 58


Location

: I do not approve of double entendres.



Name:
Amie Petit
Age:
7
Gender:
Female
Appearance:
Spoiler:
Magic:
Plantae-
Amie has the ability to alter the growth and aspects of nearly any plant species known to mankind. Although, she is inexperienced for her young age and so, she can hardly do the basics of Plantae magic such as vine growth and age acceleration.
Personality:
Amie is very much a friendly little girl who is for the most part oblivious. She is very much naive and hardly ever notices something is wrong with the world, much less those around her. She is also not one to come to with tasks, no matter how small, nor is she the one to come to for an opinion or advice. This is not just because of her age, but because she tends to take a silly view on things and then talk to her best friend. This friend, is none other than her stuffed rabbit named Fru-Fru, which she carries around all of the time. It is easily seen that during these talks Fru-Fru manages to change her opinion, and she actually listens and follows his ideas, much like a human puppet or underling. She does have a habit of twisting what he says though to make it a strange perspective taken from both of their minds.
Name:
Fru-Fru
Age:
3 (Should one count how long he has been owned.)
Gender:
Male (At least... that's what he refers to himself as...)
Appearance:
Spoiler:

The stuffed rabbit she is holding.
Magic:
Talk-
Fru-Fru has been animated by magic so that he can speak in any of the human languages.
Personality:
Fru-Fru is very much a manipulative, puppet master esque thing. However, he is completely unable to do anything besides talk, so he has an amazing amount of difficulty in manipulating people. He is, however, lucky enough to have been gifted to a small child, one who is very easily manipulated for his purposes. Not only that, but she is a mage, which means his goal of having a mage army can be complete. If only Amie, the child he is forced to be around, would actually take him perfectly seriously.
_________________
Prince of Dreams





Posts

: 9517


Join date

: 2009-11-29


Age

: 22


Location

: I stand at a crossroads and stare at a question.



Name: Nikko Ragna
Age: 17
Gender: Male
Appearance: Around 5'10 in height, skinny, though lacking in the typical male physical stature and strength. A pair of goggles rest just above the forehead, and below that forehead lies light, amber eyes that seem to sparkle in the sun. His hair is covered in soft, windswept curls that seem to go in all directions, but is cut below the ears. In an attempt to fix this wild hairdo, many hairpins are placed all about his peachy-tinted hair, though it still seems just as messy. Usually seen wearing a thin, dull brown poncho that looks like it's been well worn, but he refuses to throw it away. Baggy black pants are worn as bottoms for comfort and mobility. Mainly comfort. A few butterflies often rest on his head, sometimes mistaken as a girly hair adornment, but they're real, as they fly away if you touch them. Even the only "jewelry" he wears are the cocoon and chrysalis "earrings" that seem to change, appear, and reappear everyday. Nikko often carries a jar of honey, constantly licking the sweet substance off his fingers and face.

Magic: Insect Manipulation - Nikko is able to summon bugs and insects to do his bidding. Be it one tiny ant or an army of thousands, to giant spiders or swarms of wasps. Nikko often goes through what he calls "bug-bonding" with his more frequently summoned, favorite insects. He'll talk to them and will have discussions like you would a regular person, so people who don't understand might think he's... a bit 'out there'.

Personality: A seemingly innocent young man, Nikko never really has ever been the sort of person with something really significant to say. Or does he? Does anyone but himself and his bugs know what's going in that mind of his? He rarely tries to make a point, argue, or sway anyone; too much work to do for someone who might not even attempt to listen. Though, he will state an opinion or speak if prompted or asked. Not a typically silent character, he doesn't mind having a conversation with someone who just happens not to be a bug, but he does quite enjoy talking about his little (sometimes big) friends. He could ramble about insects for hours. Nikko is willing to do work that might interest him, happy to be set to work. Like bees, he absolutely adores honey. Anytime he's without honey for a while, he becomes a ill-tempered, quick to openly mumble his swears and negative opinions. Albeit, this doesn't happen very much. There's always a few large beehives in woods and forests, he can coax the local bees into giving him a few or ten ounces. He hates the coldness of Winter or any snowy tundra, feeling sluggish and unwilling to do anything, like a creature approaching hibernation. His docile demeanor gives others the appearance that he's innocent, but...

REM Dweller





Posts

: 1889


Join date

: 2009-12-19


Age

: 74


Location

: Freaky cake frosting sex.



You can call me...
Roselyn 'Rosie' Winterfall
I am...
Twenty three years old.
When I go to the bathroom, I use...
The ladies room, duh.
What I look like...
Spoiler:
What sort of shit can I do...
Runic Magic
- Runic magic is an interesting art of magic; it allows the user to absorb and redirect mana with the use of a specially crafted runeblade. Once mana has been absorbed, it may then be redirected how Roselyn sees fit; usually in the manner of explosions or physical augmentations.
Runic magic has two major downsides, however. The first is that Rosie is completely unable to use magic; she can only redirect the magic of others.
The biggest downfall, however, is what happens if Rosie absorbs too much mana. Runic magic is not omnipotent, nor is Rosie able to contain an infinite amount of mana within herself. When she absorbs too much mana, she suffers from 'mana poisoning' as she calls it- a crippling, sometimes fatal syndrome, where her little body is unable to cope with all the mana she takes in.
Get to know me...
Rosie is best described as, uh, a 'firecracker'. She's foul mouthed, loud, and opinionated. You don't need to be psychic to know what's on her mind, because fuck it, she tells it like it is. She's often called 'one of the guys', because of her no nonsense, no shit taking, drunken, shit-getting-real demeanor, and she drinks like a fish. Did she mention she likes to drink? Rosie is a big fan of the booze. People often say the only time she is tolerable is when she's been associating with her good friends, Gin and Rummy.
Sleep-Deprived Zombie





Posts

: 17


Join date

: 2011-02-02


Age

: 26


Location

: Virgininninininina.




---
Permissions in this forum:
You
cannot
reply to topics in this forum