Name: King Justice Diamond Mortem
Story: Justice, born May 2nd of sound mind and body and made pure in this world. His parents, Destiny and Azrael were two of the mightiest people of all the lands. The day Justice was born, three assassins were sent to kill him by three other nations. The story as it was said that as his family defended the front gates the assassins entered the room, little is known how, but Justice managed to vanquish them. His caring mother realized that this would be troublesome for Justice's future and decided to bind his powers. He was raised by his loving family as a normal human child and taught how to be wise, but corrupted due to the outside beings in it. He tended to keep to himself, only speaking out when it concerned his loved ones. After Justice married his love, Izzi and raised his first born, Claire though her childhood, he traveled the earth trying to learn about the creatures around him, to better understand himself. He seeks wisdom and integrity while observing others, offering a helping hand in situations that may need an extra hand, ear, or eye. He follows the path of his mother and father as best as he can, trying not to stumble along the way. After his next set of twins, Leon and Ray were raised, Justice offered his hand in a war that left him from his family for four years. Upon his return, he came to learn that Ray went into a battle of his own, killing dozens of innocents. Justice punished his son with death and with that, he lost a piece of himself. The King decided to send Damian away so he could cope, learning about his twin's death. Justice then had two more children, Roseanna and Damian. Both children were put into schools and brought up to be a bit more civil, yet that meant that they were away for a while. A few years later, Justice witnessed his parents divorce and felt devistated, almost as if he was to blame. His mother remarried into the Dalmasca Dynasty and his father kept the rest of the Mortem name. Though Justice re-named himself into a combination of the two, DalmascaMortem, he was ignored by his father and kept to himself and his wife and kids. Izzi and Justice had another set of twins shortly after, Libra and Lucifer and he attempted to raise them to take care of others over themselves. Now Justice continues trying to better himself and his children being there for them as much as possible, he could've not been any more proud of them, for he loved them all to death.
Age: 63 but looks 36 due to the inhuman ability that he was born with
Height: 5'11"
Race(s): Unlocked: Human / Locked: Death, Angel
Abilities: Master Swordsman, Expert in foreign affairs
Armor/Weapons: Two scimitars formed together with hidden features including the abilities to: Split into two swords, hold a vial of any liquid***, and force collide due to a super magnet located inside both blades
***(luquids include but are not limited to: a healing potion, poisen, a liquid black hole, the essence of a soul, teleportation potion)
(new): his mother unknowingly gave him the power to sometimes know what others feel and think, he has yet to master this power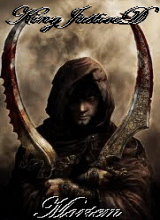 Void Sleeper





Posts

: 418


Join date

: 2010-04-14


Age

: 26


Location

: <------you are here




---
Permissions in this forum:
You
cannot
reply to topics in this forum