Page 8 of 8 •

1, 2, 3, 4, 5, 6, 7, 8

Daniel walked up next to Aria. He had ignored the words of the rose's manifestation. Happiness should have seized his soul, but was the world really in need of revolution? Then again, if not protected, the king would have it. Something about his commader's mistrust for the king unnerved him. Perhaps she did have wise judgement. He'd prefer the rose just being hidden away again, but something in the depths of his mind told him that it wouldn't be that easy. "We should...get going," he said to Aria, pointing back to the doorway with his thumb. "I do believe things at the capitol are bound to get interesting now."

It wasn't like explaining the results of the mission to the king would be difficult, but there was no telling what would come of this. Probably more efforts at finding the rose, Daniel figured. Of course, he had felt it. The power behind the object. Who couldn't have? There was no reason for the king to abstain from his search if the object he searched for could change the world in his favor. Daniel shook his head and started to head towards the doorway hoping Aria would be follow suit. He didn't have any words for the so-called Blue Knight.

_________________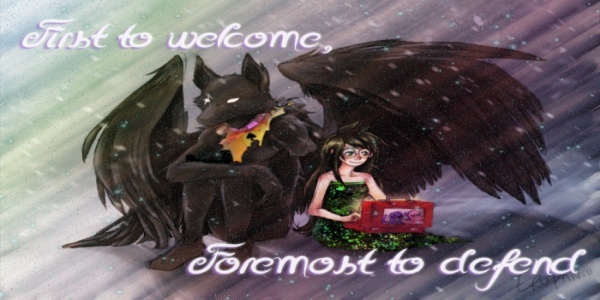 *Thanks to Mayari for the wonderful avatar/signature combo
WhippedCreame wrote:oh god yes eat my spaghetti confetti
Eternal Dreamer





Posts

: 16376


Join date

: 2009-10-28


Age

: 25


Location

: Home or work. Or some post-apocalyptic dream.



Lacie held the delicate rose in her hands. She did not shake under the weight of being tasked with such a glorious mission. In fact, her heart was set, her mind was clear, and her armor was light. She felt a new arrival of emotions that lifted her back onto her feet. Lacie, full of reverence, hid the rose within her dress, behind one of the armor pads, where it would stay safe, as long as she held onto it.

Lacie turned around and faced the group, her new allies. It would appear that the woman had tasked them to follow her on this quest as well. Though whether they would or not remained a mystery that needed to be solved as soon as possible. But for now, Lacie directed her attention towards Aria.

"If you do not mind, before this quest begins," Lacie spoke politely, her angelic voice finally returning to compliment her appearance. "I have something that I would like to take care of, in Szolhas. You do not need to join me, but if you do, I will accept you as my ally."
Aria nodded in agreement with Daniel, "But now that you understand, I feel obligated to tell you..." She swallowed reluctantly, averting her eyes from the young priest and beginning to walk toward Lacie, however, her voice - muffled and nearly inaudible - remained focused on him, "... Capital is not safe for us anymore." She choked on her words, "We cannot stay for long. Perhaps the all-seeing legion Invidia commands has already informed him of our progress. When we return, pack your belongings. We'll be heading out after their-" She paused, "funeral service. Probably tomorrow."
Approaching the emerald-eyed heroine with a grave, yet respectable stature, Aria spoke, "I believe we have no choice but to join you, miss Lacie." She declared, "It's as the lavender-eyed woman told us," She hummed monotonously and matter-of-factly, twirling slowly as she quickly examined each of her accomplices, "Should our hearts remain compassionate, fate has bonded us all until we reach the ends of the earth. I'm not too sure if I understand it entirely myself, but..." She paused, flashing an innocent smile, "I guess that means I need to keep watch on that precious rose of yours immediately. I'd happily tag along, should I not hamper your performance if I do." It seemed Aria's tone had lightened, "I won't force the others to, though. That's their own decision to make."
Grasping the handle of the fragile door, Aria concluded, "I'm not sure where this passage will take us, but you're welcome to rest in Capital with us, should you find yourself capable of evading the Royal Army." She smiled a second time, and with that smile, she unhinged the door's lock and swung it open. With its release, its archway eroded into a phantasm of light, which expanded in a way similarly to how the party had arrived in the foreign land to begin with.
-~-
Hermit Sage





Posts

: 9671


Join date

: 2009-10-30


Age

: 57


Location

: I do not approve of double entendres.



"We shall be accompanying you."

Ashe looked over at the others, the storm colored hues meeting with the Blue Knight and the Royal Army unit. She had moved over to her companion while they began to talk of what to do now, a disappointment. They left the unrelated members out until they put themselves into the equation. Or at least, Ashe had put them both into the equation. If she hadn't the others would likely have just moved on without them, despite what the Rose had told them.

"However, I must report back to my Guildmaster first."
_________________
Prince of Dreams





Posts

: 9517


Join date

: 2009-11-29


Age

: 22


Location

: I stand at a crossroads and stare at a question.



And as the light unfolded amidst the party, Aria cringed just as she had done upon entering the strange land. Intense lights blinded her vision, and the radiant power, which emanated superfluously from the light, skewed her other senses. Despite the immense disruption she felt, all of it was cured within the matter of seconds. As her unclear vision slowly recovered, a fresh, appealing smell entered her nostrils. It was a sweet scent – one of white carnations, or another flower of the sort. A clean, yet wild burst of chilled winds caused her garments, now merely a black dress to flutter. The gale nearly caused Aria to topple out of her black, high-heeled shoes due to her petit figure; however, the narrowly evaded stumble only awakened her senses further.

"What is this?" Aria murmured amidst the torrents of the gale, analyzing the massive plains surrounding not only her, but also another group of individuals (approximately thirty or so) dressed in dark colors. However, among the peoples' dark clothing, and the harsh, almost neon, luscious plains, three sets of neatly organized, delicate flowers became the focus of Aria's eyes. "It must be…" Her eyes lay wide in disbelief, accented by her mouth, which was paralyzed with thoughts of realization. "Daniel..." She looked to her side and tugged at her final subordinate's dark sleeve, "Are we where I think we are?"

There was no doubting it. Despite the party's existence in the plains of The Folkvangr only minutes earlier, in the dead of night, Aria awoke from the surreal world with the sun shining directly above her head, attending a funeral amidst the farmland of Keras, the homeland of Aria's deceased trio of accomplices. The thought then dawned on her - where might have Lacie and the others gone? Perhaps Anemone and Ashe existed among the people present at the funeral; however, Aria assumed not, as Ashe spoke of meeting with her guild master upon her arrival in the real world. Similarly, the inexplicable lapse in time might have placed Lacie within the Helheimr Wastelands, amidst the barren outskirts of Szolhas.

After the funeral... Aria pondered, Daniel and I must take a trip to the heart of Capital and confront the king regarding the status of our mission. Perhaps we could take a trip to the bustling marketplace of the central district, too- She shook her head aggressively, though calming herself as she remembered where she was, I mustn't think about that for now.

There was too much to think about.
Hermit Sage





Posts

: 9671


Join date

: 2009-10-30


Age

: 57


Location

: I do not approve of double entendres.



"Szolhas," Lacie whispered under her breath as she gazed up at the enormous walls of the fortress city that loomed ominously over her. The city was built on a mountain, so the walls did not completely obscure the houses from view. Only the poorer, lower sections of the city could not be seen. The higher section of the city belonged to those who could afford it, and the great castle that stood on the peak of the mountain belonged to the noble that resided in and ruled over the city.

In front of the large, iron gates stood two guards, fully dressed in steel armor plates with large lances at their sides. Lacie watched them for a little while, trying to discern any special ticks or behaviors. She found none, the two guards stood perfectly still. Above the gate sat a tower, where no doubt three to five archers were stationed, in case anything with the two guards went awry. A violent break in would end up with Lacie's death or capture, sneaking in would be difficult and dangerous, and a neutral confrontation would be the safest route if the guards did not recognize Lacie, which was doubtful.

"It's hit or miss with this one," Lacie muttered to herself. There was no harm in attempting to bypass the two guards and enter the city, as the gates were open. With heavy footsteps, Lacie walked forward, keeping her head forward and her back straight. She almost felt like a king walking back into her city. Though those sentiments were soon lost as she got closer and closer to the guards.

Her heart pounded against her chest. Every step seemed to take a year to complete. The blood in her head pounded, giving her a massive headache. But Lacie ignored all of that, she marched right past the two guards, without even having them give her a second look. A step forward followed by another. The distance between Lacie and the two guards widened, and as it did, Lacie's heartbeat and the pounding of her head slowed, and soon returned to normal. Lacie had made it. She had entered the great fortress city of Szolhas without discovery.

"I'm coming, Ayes," Lacie whispered, her breath too silent for even her own ears to catch. Where her footsteps would take her next, Lacie already had a clue. To the great castle at the peak of the mountain. Lacie would save her friend, even if she had to do it alone.
The feeling of momentary loss as the door was opened was...a familiar feeling for Daniel. He hadn't the faintest idea of where he had felt such a thing before, but he pushed the thought out of his mind as the light faded and he blinked his eyes, standing in place as if he were merely shaking himself out of a pleasant daydream. But this was no daydream. What he saw astonished him. They had traversed so many areas in so little time it seemed. No longer in the plains of The Folkvangr, they now found themselves in Keras. A funeral. Daniel blinked, looking from each person to the next, all dressed in black. Mourning. The thought of his mangled companions nearly caused tears to form in his eyes, but...he wouldn't let such a thing happen now. Feeling Aria's tug, he promptly responded.

"Yes, Commander. We are exactly where you think we are," he responded solemnly. "To...to be honest, it feels right to be here. I do have a feeling that you...know what I mean." His voice trailed off and he became deathly silent. "It feels like a trade-off," he said after a few moments. "Lacie, Ashe, and Anemone. Seems like they're replacing the ones that have fallen. This new mission that we have...it's greater than the silly politics in the capitol, isn't it?" It was a rhetorical question. Still resistant to this unsettling change of life, he had to realize that things weren't as they seemed. His life was finally stable, and getting uprooted again wasn't great, but he'd get over it in time.

"Commander...I....I know I can go off on my own. I could escape, but...I'm not letting you out of my sight," he explained uneasily at first, but his words became more firm near the end. There was a resolve to his tone. "I do hope you don't mind."
_________________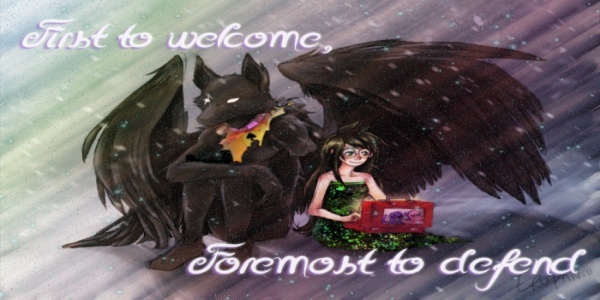 *Thanks to Mayari for the wonderful avatar/signature combo
WhippedCreame wrote:oh god yes eat my spaghetti confetti
Eternal Dreamer





Posts

: 16376


Join date

: 2009-10-28


Age

: 25


Location

: Home or work. Or some post-apocalyptic dream.



Ashe simply closed her eyes once more as the light enveloped her and her newfound allies, the silence they had given her soon replaced with loud city noise. She opened her eyes with a nod of satisfaction, looking at the capital around them. Just outside the guild, Elementi. Both she and Anemone were back in the city, as they had planned to be. Looking over to her friend for only a brief moment she smiled before looking back to the guild building.

It was taller than most other buildings in the capital, and in Ashe's opinion better kept. Pristine walls made of shining marble acted as the mere foundation for the true radiance it held. Aria Slade, the Guildmaster, had taken it upon herself to make it much more than a just a marble building. Statues, depictions, symbols, and more, all forged from elemental mana adorned the building nicely. One might call it a waste of such a precious substance, but for Aria it was a matter of appearance. To hold a standard of elegance, a symbol of power, and a state of well being allowed for the guild to be held to a much higher standard in the general populace's view. Ashe agreed with this mentality, as did many other members of Elementi. They all worked harder because of both the visual appeal and the comforts given.

Ushering her friend along, the Spellblade made her way into the large building, in response arrays of light mana flashed brilliantly. A nice touch to welcome guild members home from their dangerous quest, and a sign for the city that the guild was once again victorious. Ashe's smile widened as she instantly felt refreshed upon entering. Another small use of mana, healing this time, as a normal precaution for weary soldiers. But the duo didn't stay to enjoy the feelings, at least, Ashe didn't. She made her way towards the center of the marvelous building, where their commander could be found at all times.

Ashe breathed in slightly at this. She wasn't intimidated by Aria in the slightest, but rather impressed. Despite how hard she worked, she always maintained a look much like the guild building. Radiant and magnificent. Always surrounded by a glow of some sort, it was almost heavenly in a way. And her posture, ever perfect, always remained the same. Inviting, yet it seemed she held some sort of other quality with it. Finally making her way over to the commander, her smile faded into one of total seriousness.

"Mission complete, Commander."

"Excellent. I have another one-"

"Actually, I have something I need to take care of."

At this, the woman in authority turned, a questioning gaze falling on the Spellblade. The latter straightened herself, and kept her aura the same.

"While on our previous mission, Anemone and I-"

"Anemone? I don't believe I know who you are talking about."

At this Ashe faltered for but a brief moment. However, she quickly regained composure nodded in the direction of her friend.

"The one other unit under my command. We ran into a complication on our mission, and while it was a success we must be allowed to continue further. I request your permission to take leave for both Anemone and myself until the complication is resolved."

Aria looked over to Anemone for a long time, Ashe holding her breath as if her life depended on it. Though she had not ever been intimidated by Aria, she had also never given her a reason to be disappointed with her work. This could very well be asking too much, and the duo would have no choice but to leave anyway. Aria looked back over to Ashe with a nod, closing her eyes for a moment. When she opened them, she smiled.

"Get your work done and report back immediately afterwards."

"Yes ma'am."

Ashe turned to leave, however Aria's voice rang out once more. This time in the direction of the Spellblade's friend.

"Oh... and Anemone; Keep Ashe safe. Welcome to Elementi."

Ashe began to walk off, knowing Ane would follow her.
_________________
Prince of Dreams





Posts

: 9517


Join date

: 2009-11-29


Age

: 22


Location

: I stand at a crossroads and stare at a question.



As soon as Anemone took a step into the guild, she felt instantly at home. Even though she had been in the guild for no more than a week, it was already proving to be more like a home than anywhere she had ever been. Not to mention the place itself was absolutely gorgeous, the magnificent and regal appearance made Anemone that much more proud of having been able to join this guild.

But at the same time, part of Anemone felt empty inside, as if she didn't belong here. This was her home, and she loved the look of it. But at the same time, the fancy and regal appearance of the guild also repulsed Anemone. Perhaps it was because she was the only on in the entire guild without any affinity to the elements, and that made her feel like an outcast. But there was another reason why Anemone didn't feel entirely comfortable here, even when her best friend Ashe was right beside her.

Of course, Anemone being well, Anemone, was quickly distracted during her friend and their guildmaster's conversation. She allowed her curiosity to take over, marveling at the beautiful interior design of the building. She was so engrossed in the appearance of the place that she barely heard Ashe addressing her. Only when her friend was turning to leave did Anemone finally snap out of the trance caused by her childish curiosity.

"Of course Aria~" Anemone replied to their guildmaster as she turned to follow Ashe out, "I won't let anything hurt Ashe~"

"This place is really pretty~" Anemone said as soon as she caught up to her friend.
Masochistic Kitty Kat Maid





Posts

: 8939


Join date

: 2009-10-30


Age

: 22


Location

: I dunno 3:



The city was exactly as Lacie remembered. Not much had changed in the time that she was gone. Of course, she only saw the city from her positioning at the window of her room, and had only walked the streets a few times. But it felt like home to her. This was the place Lacie was meant to return to. Even if the noble, her father, was a corrupt villain who aimed to steal everything from her as a child. And he succeeded. Lacie never knew the joys of being a child, a little girl. She envied the poor for their freedom, and they envied her for her wealth and her upbringing.

"A flower never chooses where it grows," Lacie murmured, watching two children run past her, their screams like music to her ears. "For fate is a fickle thing." Lacie smiled, watching the children play. It was a boy and a girl, both of them wearing ragged clothing, both rather thin and small. Signs of starvation, though they seemed to be okay for today. Lacie turned her head away, looking at all of that around her.

She walked down a narrow, cobblestone road, small houses littered the sides. Every now and again she would see a small family resting in between one of these houses. Occasionally a family would look up at Lacie, only to dismiss her a few moments later. No one seemed to recognize her. Though Lacie did not blame them, she did not remember ever walking down this particular street before.

She began to think back, at the time when she first met Ayes in the streets. It felt like it was such a long time ago. Lacie couldn't count how many years, they all seemed to meld together. It seemed so long since Lacie met the boy in the alley, attempting to steal food from the market. She caught him before then, though, and through a short period of time, Lacie managed to calm the boy down and run back to the castle.

Lacie came back to the boy, her arms filled with food, a huge grin on her face. The weight that sat on her shoulders for so long as a kid lifted when she saw the boy's eyes light up at the sight of all the food she brought him.

Lacie smiled, reveling in the memory from the past. There was no stopping it now, so Lacie simply allowed the memories to flood through her being as she walked up the street to areas more familiar to her. It wasn't until she was stopped on the streets by a stray guard, who seemed to recognize her.

"Hey, are you-" the guard didn't even get the chance to finish his sentence before Lacie held her steel sword at his throat, malice glinting in her unforgiving eyes. Retribution would be taken out on those who dared disturbed her peaceful thoughts and memories. "Oi! What are you-"

"Stop," Lacie commanded, her eyes flashing dangerously. "Utter another word and your head will be rolling by my feet." The guard got the message, he held his gloved hands up, away from his weapon, in a sign of surrender. "You did not see me walk through here, understand? I will not have my father...no. I will not have Ashnard know of my presence here in the city." Lacie growled, pushing the tip of her blade just enough to begin drawing blood from the guard's bare throat.

"You have my word, My Lady," the guard replied formally, his voice strained as if not to puncture his neck with Lacie's sword any more than it already was. Lacie paused for a moment, peering through the visor in the guard's helm and into his eyes.

"Who...what is your name, soldier?" Lacie inquired, befuddled by how the guard addressed her. She almost recognized his voice. Almost.

"My name? It is Ignarius, My Lady, I was your personal guard...well, before His Majesty replaced me with two others."

"Sir Ignarius!" Lacie's eyes widened slightly, and she immediately removed her sword from his throat, "I thought I recognized your voice! You survived this long? I would have thought you were slain by Ayes when he....when I escaped."

The guard appeared uncomfortable, shifting in his armor, causing the iron to scrape and ring at it moved. "I'm afraid I cannot stop to talk about the past times, My Lady," Ignarius spoke, looking to his sides, nervous. Lacie took note of this and gestured him over to an alley, out of the street. When they were safely in between two of the houses, Ignarius spoke again. "I'm going to make this quick, My Lady, the truth is, I was sent here to betray you by your father." Lacie hissed, startling Ignarius and making him jump.

"That man is no father of mine," Lacie insisted, her eyes blazing with anger. "Why would Ashnard send you to betray me? How does he know I'm even here? No. I should have guessed he knew of my presence, I did walk right through the front doors after all. Here's a better question, why are you telling me that you are going to betray me?"

"Because I do not want to betray you, My Lady," Ignarius explained, holding out his hands in compromise. "I do not wish to take part in this. I owe Ashnard my life, my body, and I owe you my soul, my sanity."

"You owe me no such thing," Lacie frowned, crossing her arms. Her eyes drifted to the side, away from Ignarius.

"If it was not for you, I would have become cynical, like the other soldiers, a long time ago," Ignarius offered. Lacie rolled her shoulders, becoming uncomfortable. Ignarius understood the gesture. "I'm going to go back to Ashnard, and I will tell him that Lacie of Szolhas will not trust any guard or soldier."

"He's not going to like that excuse."

"The body is merely a container for the soul, nothing more, nothing less. But I will not die, for I will pledge my loyalty to you, when you become King."

"Queen." Lacie's eyes swiveled back to Ignarius as she corrected him, but he shook his head.

"You are more suited to the role of King, My Lady."

"You couldn't possibly mean...'King' as in the King of Seria?" Lacie forced herself to keep her jaw closed as she stared at Ignarius with wide, uncomprehending eyes.

"There is no other worthy man," Ignarius confirmed with a mighty grin, hidden beneath his heavy iron helm. And leaving Lacie in her thoughts, the soldier marched out of the alley and disappeared down the street, heading back to the castle where he would give his report. Lacie, however, remained in the alley and frowned deeply.

"You are mistaken, my friend," Lacie murmuered, looking down at the ground. "I am not fit to be King. I anger. I hate. I wish to exact revenge on my own father. Such a person could never become a King."
Page 8 of 8 •

1, 2, 3, 4, 5, 6, 7, 8

---
Permissions in this forum:
You
cannot
reply to topics in this forum