~ Introduction ~

The world of Alidaire. It is a world of magic and fantasy, brave heroes and ferocious monsters. The very lifeblood of the planet is the essence of all creation, Mana, which can be utilized by the inhabitants of the world to cast spells and perform extraordinary feats. On this world exists several continents, one of which is named Dalmaschior which can be translated to 'take flight' in the ancient language. Dalmaschior is famous for the innumerable power struggles that take place and the all-consuming chaos that ensues from the rebellions or ravaging of the government. A small organization, like many others that sprung up under the guise of guilds, called Eternia arose from the many ashes that were scattered over the land as tyrant after tyrant, beneficent ruler after beneficent ruler was taken down in their prime. Started by a brave young man named Clarence Heartsong, the organization endeavored to bring peace to the people of the land where the government could not. This group took requests from the citizens of the country, from simple tasks such as deliveries ranging to defeating powerful monsters that posed a threat to entire cities. Of course, in this case, all of this is typical. There are many others who form similar groups and perform similar tasks, for the people who can fight united can better serve and protect the country. This, Clarence knew well.

As the organization expanded, Eternia gained members and as such increased astronomically in power and influence, though that had never posed a problem for the modest, caring Clarence. However, he developed in his mind a goal. Studying up on the great lore of alchemy, Clarence discovered that something was amiss with one of the alchemic dimensions, Forlana. Telling Eternia that there was something that needed to be sought greatly. He split his organization into several groups and set off to scour the world, even going as far as to seek out new lands just to find what he was looking for.

The alchemic dimension of Forlana itself.

It is important to realize that one does not stumble into such a place so often that it would be commonplace to pose a search as Clarence did; however, it had been proven that there are points of the world where reality and the alchemic dimensions coincide with one another. One such place would be the town of Lunaria in Dalmaschior which bears strong influence forced upon it by the alchemic dimension of Dream, and likewise, the desert in Elendia also is a powerful area heavily influenced by Dream. At these spots, it is possible to enter the alchemic dimension itself, though few could say what lies on the other side other than Grand Summoners who bring creatures from the alchemic dimensions to fight for them. Even the alchemists themselves hardly ever endeavor to travel to the dimensions, despite their prolonged study of such things to master their science. Forlana, however, has no known hotspot, so to say, hence why it must be searched out. That specific section of alchemy is forbidden, and the use of Forlana in alchemy practices itself is also forbidden, though not in law, but merely ethics. Usually, basic alchemists will stray from this powerful branch of alchemy, but prodigies in the art are more likely to take advantage of their genius to delve further into the subject.

As such, many discouraged Clarence from his search seeing as how dangerous this subject was, yet, he would not back down. He was proud of his organization members--his, what he claimed to be at least, family. He knew of their strength firsthand, and he was confident in it along with his own. Together, they could conquer anything. Or so they thought...
Last edited by Masquerade on Tue May 29, 2012 1:21 pm; edited 2 times in total
_________________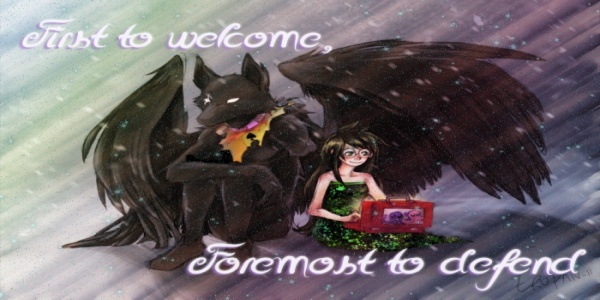 *Thanks to Mayari for the wonderful avatar/signature combo
WhippedCreame wrote:oh god yes eat my spaghetti confetti
Eternal Dreamer





Posts

: 16376


Join date

: 2009-10-28


Age

: 26


Location

: Home or work. Or some post-apocalyptic dream.



~ Chapter 1: Jungle Arrival ~

"Ven, watch yourself!" a gruff voice resounded through the area as a bulky man dressed in thick, heavy white robes with a blue stole emblazoned with an intricate silver symbol--words written in the ancient language arranged so that they could not be discerned. The man dived out of the way as large moving palm tree scuttled forth upon its very roots as if they were legs and fell forward with intent to crush the man. His beady black eyes squinted for a second before tumbling out of the way, his gaze set at what appeared to be another he was accompanying. She was a beautiful woman which was but a great understatement. She stood there not too far from the robed man, posture prim and perfect--stunning. Her gaze was that of a predator at this instant, normally sugary sweet, but the situation did not call for that, no. They were the color of honey, but all she could see was the imminent color of monster blood staining the rather dry earth of the clearing. Her skin was dark and flawless, and she was dressed from head to toe in loose black garments covering armor she wore beneath. The garments added a sort of mystique to her appearance, the bottom half of the clothing revealing her smooth, long legs, for she was tall, even taller than her robed ally. Naturally white hair cascaded down her back like a waterfall, glorious and untouched by the taint of battle. Sweat was forming on her brow, and she shot a look back to the one that called to her.

"As if I would so deign to let even one of these abominations lay a finger on me," she remarked harshly, though the sound of her voice was light and sweet, despite the dangerous tone. Her form seemed to waver but for just a second as a living tree reached down to smack her with one of its thick branches, but it missed. A light enveloped the woman and she disappeared, only to reappear next to the monster. "Have a bit more faith, Leamond? Doesn't your profession call for that or something?" In but a mere fraction of a second, the monster that had just attacked her was cleaved in half, the two parts falling to the ground in a spray of green liquid that must have been the creature's blood.

"Well...excuse me for warning you, my dear," the robed man, Leamond, retorted sarcastically before turning quickly and leaping into the air, He thrust one hand downwards pointing at the living tree that had nearly fallen on him and unleashed a fierce blast of light. When it cleared, the tree was lying on the ground, cringing in pain, burnt to a crisp. It continued to twitch for a few seconds, its roots twisting and curling before it knew of movement no longer. Performing a flip, Leamond landed gracefully on the ground. He was wearing gloves on his hands with sharp points. They needed desperate cleaning after the battle, for they were covered in bark and sap and other liquids from the monsters. He took them off and stashed them away in a burlap sack on his back before brushing off his robes.

The woman sheathed a well-crafted katana, now evident and most likely the weapon she used to end the monster she was fighting, in its place at her side. She hadn't even thought to bring out her rectangular shield resting on her back, blue and white in hue with block patterns filling the great space of the thing like a canvas. She ran a hand through her hair and walked prominently closer towards Leamond. "You...should really do something about your attire," she said drearily.

"It was made for traveling, not fighting, Ven," Leamond replied with a curt nod, satisfied with his cleanliness after brushing himself off a few more times. It was up to monks to be not only pure in mentality and spirit, but also in physical appearance, for they were representing something that was greater than themselves, and to look ragged would do their lords no justification.

"Would it kill you to call me by my whole name? It's Venase. Not. That. Difficult." Venase turned her back to Leamond and placed a finger to her chin in thought. "And before you say anything, yes. I did not enjoy the boat ride over here. Nor do I enjoy this continent. Nor do I enjoy the fact that the second we enter this accursed jungle, we are set upon by monsters. Why the hell are we in Selva anyway?"

"A mission, Venase. A mission. You know what Clarence is after," Leamond explained with a sigh as if he had spoken the same thing many a time before to this woman. "And think. Once we find it, we go home and get rewarded. Big time."

"Yes, but the thing I have a problem with is that it might not even be here," Venase stated simply, crossing her arms and glaring upwards towards the jungle canopy. "Clarence should have gathered Michelle and Dan and went off to search for it."

"But they did."

"Ah. Yes. Went to some place called Berbatu, was it? I thought that land was supposed to be naught but a myth. Hoped they got a good sailor leading them along." Venase sighed and finally turned back to face Leamond, gesturing for them to start walking again. She trundled along the dirt path happy to leave behind the beaten monsters. As they walked, she continued to speak. "I miss Vitor and Cedi....and...well, Sophia of course."

"Aye, so do I, girl. You forget: we're all a close-knit team," Leamond agreed solemnly, a frown setting upon his face. "I remember the days when our little organization wasn't so big and we went 'round with Clarence on important quests....well, some important and others not so, but they were all interesting nonetheless, eh?" He laughed, remembering some of the ridiculous tasks they were forced to face.

"Yeah. Just surprised Clarence split us up so readily knowing all of this, even if it is only for one mission."

"But what you seem to fail to understand is that it's a massive search, Venase. That's why we're here, Vitor and the others are in Elendia, Clarence and the other higher ups are heading to that rumored land Berbatu, and some of the other operatives are heading to Punito while others still are on boats searching for new lands!" he exclaimed, his voice suddenly spilling out loudly into the otherwise silent air, except the din of bugs and such along with the calls of animals and monsters in the distance. "This is massive. Not sure if the new lands are something Clarence will have Eternia reveal to the government, but we'll always know they're out there." Bowing his head, his jovial expression became solemn again. "My thoughts are with those who have no idea what they're getting themselves into."

Venase moved a hand to her mouth and laughed, her eyes closing in delight. "And we do?"

Leamond's mouth twitched in response before he burst out laughing as well causing Venase to laugh harder. "I guess we don't, girl. I guess we don't."
_________________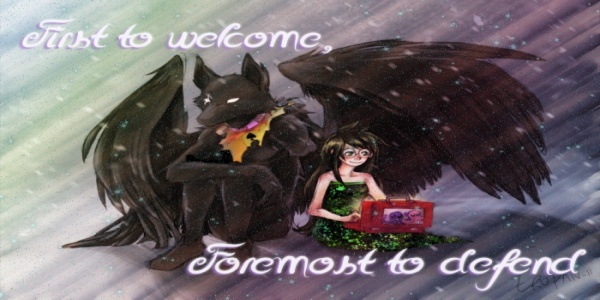 *Thanks to Mayari for the wonderful avatar/signature combo
WhippedCreame wrote:oh god yes eat my spaghetti confetti
Eternal Dreamer





Posts

: 16376


Join date

: 2009-10-28


Age

: 26


Location

: Home or work. Or some post-apocalyptic dream.



~ Chapter 2: The First Night ~

A cold breeze blew through the cemetery as owls called out to the night air. A thin fog had appeared in the area, but the sky above was oddly lacking clouds, a perfect view of the twinkling stars available for all. The moon was nearly full, in a state of waxing. A young woman sat on the shoulder of a marvelous angel statue carved from gray stone. The woman had blue hair that went down to her shoulders down her back and on both sides of her head. She wore a yellowish hat with floppy ears with brown tips that went down both sides of her head as well. She had two small horns protruding from her hair, but they were covered up with her hat. A pair of small, blue dragon wings could be found on her back. Her attire consisted of a jacket to match her hat and a green shirt. Her short skirt matched her jacket and hat. No shoes graced her feet at the moment revealing sharp claws at the tips of her toes. Crimson eyes glared down at a piece of paper she was writing, her cute tongue poking out as she tried to scrawl in the moonlight:

My dearest Venase,

Well...I know it hasn't been long since we've separated to perform this odd search Clarence felt was so necessary, but...well, you know. I...miss you already. And Leamond too, of course. Hee hee. It just doesn't feel right that our group was split up. We work best when we work together. I'm doing just fine, and so is Vitor and Cedi. That little Vitor can be quite the upstart sometimes, as you know, but we're handling everything that's being thrown at us...which has been nothing so far. We just set out tonight for Benevolentia. I heard it was a rather lively town; I can't wait to get there. If there is something I enjoy about this particular mission, it's the fact that I get to see so many new places...though...I'd rather see them with you...and everyone else. Yes. Well, that's our next destination. I hope you and Leamond make it to Visterre all right. I would have chosen to go to Selva, but it would hurt too much to return to my homeland. You know how it is; you've met my family. Anyway, write back when you get a chance, yes? I want know that you're okay. And Leamond. Give him my regards, have I mentioned that?

Sincerely,

Sophia

The woman writing the letter, Sophia, let out a sigh of relief, but at hearing someone clearing their throat, was startled and nearly fell off her perch on the statue's shoulder. She glared down and saw a little kid with messy blonde hair and a grimy face. The skin beneath was beautiful and smooth, but the dirt really offset his visage. However, the smudges allowed for his brilliant baby blue eyes to shine, the color amplified by the moonlight. He crossed his arms, looking like a little gentlemen with his fancy, small dark blue waistcoat and black dress pants with shoes to match. He was short, even for his age, but he never let that bother him. A quirky grin beset his face as he glanced up and waved at Sophia who merely glared at him in return.

"It isn't polite to sneak up on people, you little snot," she growled and folded the letter, placing it safely in an envelope. She put her fingers to her lips and whistled, the sound of flapping filling the air as a raven descended from the sky and landed on her shoulder. She tied the envelope to one of its legs with a ribbon and whispered something in its ear. As soon as she was done, the bird took the skies and disappeared into the darkness of the night sky.

"A love letter to Ven, eh, Sophie?" the kid continued to grin, laughter now permeating the area.

Sophia jumped down from the statue and landed firmly on the ground in front of the kid, towering over him as she stood. "It was a status report to Venase and Leamond. Nothing else," she replied flatly, roughly pushing past him. She noticed him following her. "Did you need something or...what?"

"Nah, I was just wonderin' what you were up to, Sophia," he explained innocently. "Cedi fell asleep and I got kinda bored."

"That fool went to sleep now? How? Feels like the dead could wake at any moment despite this being a royal cemetery..." Sophia shivered and crossed her own arms as she noticed a fire in the distance with a large mass resting on the ground next to it. "That him?" she asked, pointing to the mass.

"Yeah...he must've just dozed off knowing you were still awake, but you were far away from us. What if I were attacked?!"

"Then you'd whip out your gun and blow their brains out," Sophia answered lightheartedly, shrugging her shoulders as if to dismiss the kid's hypothetical situation completely. As she drew near the fire, she enjoyed the warmth and looked down disappointedly at her other companion. He wasn't human either. Covered in gray fur, the mass of the creature was covered in heavy yellow robes with a white stole and white lining with a yellow hood on the back which was down at the moment showing his pointed, canine ears, like those of a wolf. And that he was. Sophia aimed a kick at the creature's chest with the sole of her foot. It was hard and muscular.

"Oi, what's the big deal, eh? Tryin' ta get a bit o' shuteye," the creature groaned wearily, sitting up and rubbing his chest. "Bleh, these robes be ever tiresome. Tempted to take 'em off."

"Sorry, Cedi. Even though it wouldn't really matter, I'd like for you to keep your clothes on," Sophia spoke whimsically, smacking the side of the wolf's muzzle gently a couple of times earning her a roll of the eyes from the one she was 'assaulting'. "I don't think anyone authorized a snooze for you, mister."

"Bah. I thought you were the one that was gonna take first watch with all yer late night writin' and whatnot," Cedi retorted, opening his gray muzzle to yawn, his sharp fangs prominently standing out. "If ya want me ta take first watch, lemme know now or forever hold yer peace, eh?" Sophia brought her open palm to her face and sighed, waving her hand. "Aye." With that, Cedi collapsed back down onto the ground, taking one last pitiful glance at Sophia before closing his bright yellow eyes.

Sophia pointed to the ground next to the fire. "Get some sleep, Vitor. We'll only need two watches tonight, but we're getting up early in the morning. It should only take us a few days to get to Benevolentia from here, but we want to make it as quickly as we can. Are you going to be all right?"

The little kid, Vitor, curled up into a ball next to the fire opposite Cedi. "Y-yeah. Thanks, Sophie. It won't be a problem," he replied with a slight smile before closing his eyes as well, trying to get as comfortable as he could.

"That's my boy...," Sophia whispered, tilting her head to look up at the stars. I hope things turn out all right from this crazy search. It wouldn't hurt to see everyone again. But I keep telling myself...we've still got a long way to go.
_________________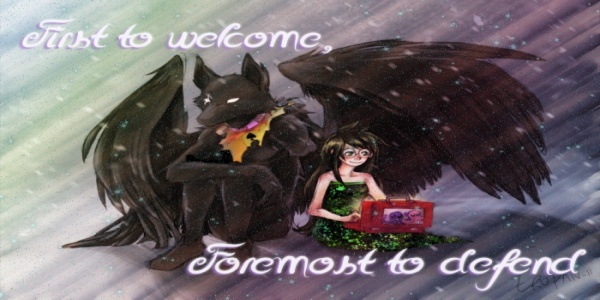 *Thanks to Mayari for the wonderful avatar/signature combo
WhippedCreame wrote:oh god yes eat my spaghetti confetti
Eternal Dreamer





Posts

: 16376


Join date

: 2009-10-28


Age

: 26


Location

: Home or work. Or some post-apocalyptic dream.



~ Chapter 3: Rough Waters ~

The S.S. Distance traversed the gentle waters with great ease, the captain out on the deck standing by the capstan with a huge, merry, nearly toothless grin on his face. A few deckhands were swabbing away under the blazing sun, one in particular gazing up at the fluffy white clouds, yearning for daydreams. A crack of a mop against a skull knocked him out of his reverie and he continued his duty with great focus and a slight headache. He shot a glance at the special passenger at the front of the boat, a beautiful siren with long black hair and skin so pale...she looked like a ghost. Her eyes were unique, sharp and violet in hue. She wore a black dress, covered in shells and starfish, a bit of seaweed hanging over a shoulder. She was barefoot and her legs were dripping with water. A master of transformation, she looked just like she were a human. The deckhand stopped again to ogle her, but after a threatening glance from one of his colleagues, he set about his work, not to look up again.

"I don't like working with humans," the siren practically sang, her voice that of an angel, delicate and soft. Hearing the sweet tones might as well melt an ear off. She had spoken so suddenly, her comment directed towards a young man with brown hair, the top messy and the rest that went down to his shoulders a bit splayed out. His bangs were flipped upwards and he wore a floppy red cap. He wore a green shirt over some light armor, and a red cloth vest over that. His pants were...roomy, and yellow in hue. His shoes were enormous and red just like his cap and vest. The siren avoided gazing into his blue eyes, and preferred to look out over the sea.

"Sonata, please...I've heard that you've traveled the seas at great length...and know that Berbatu exists," the man finished walking up to her, standing next to her. He avoided looking at the side of her head and instead looked out over the sea as she did. "We'll...definitely need help when we get there. I'm not even sure how the denizens of the land will treat us. Please. Not to mention we could definitely use another sword arm."

"You ask me to fight as well...," she stated, not as a question however. "To lend you my saber and song, and for what? You're delving into things that need not be delved into, Mr. Heartsong." Her statement was whimsical almost, and at that, she turned to gaze into his eyes causing him to shrink back a bit. They were abysmal...easy to get lost in.

"M-Miss Sonata, I know my intentions are...bold, but I don't want to lead my people into danger without being aptly prepared, and...we really need you," he replied, his voice desperate. The worry for his allies was very evident.

"This, I know all too well." She said nothing more.

The man was none other than Clarence Heartsong, leader of the organization known as Eternia. He shook his head sadly and moved towards the cabin, opening the door and entering. A woman was waiting for him. She had to be a few inches shorter than Clarence, and her long black hair was tied up into a ponytail that went down to the middle of her back. Her skin was lightly tanned and her eyes were dark, lips gentle, her mouth forming a disconcerted smile. She wore armor just like Clarence did, only under a purple shirt with the cute head of a black cat on the front of it, nose pink, and eyes yellow with a dazzling look. She preferred to wear shorts as well, like Clarence, and were purple in color as well, lined with a solid yellow pattern. Her shoes weren't as large as Clarence's, but they were purple with white shoelaces tied up real tight.

"Judging from that look, I'd say it didn't go well," the woman said sadly, getting up from her place on a bench placed next to a long wooden table. She walked to a stove against the wall and took a kettle off one of the burners and poured a liquid from inside the kettle into a cup. Dumping a bit of sugar into the cup and stirring, she walked over to Clarence who had taken a seat at the table and handed the cup to him.

"Thanks Michelle," he said to her, disheartened. "Yeah, that Sonata is a stone cold vixen. Heart of ice, that one."

"Clarence, please. First off, she's a siren. Second, YOU can't force her to do something she just doesn't want to do. Don't hold it against her...," Michelle explained. Her patience with Clarence was great, but sometimes, he really didn't take a lot of time to think things over.

"I...I know, Michelle. It's just a bit frustrating."

"Sheesh, try being a bit more diplomatic. She might actually respect that." Michelle stood up and walked over to the counter next to the stove, reaching into a fruit basket to grab an apple. She plopped herself up on the counter to sit and took a big bite of the red fruit, a bit of juice dribbling out of the corner of her mouth. She stifled a giggle and wiped it away with her hand. "They have the best apples, I swear it."

"Perfect for making messes," Clarence said, shaking his head. "Come on, girl. We're talking about a serious problem here."

"Calm down, fussy. We still have a couple of days before we reach land. You have plenty of time to woo the siren," she shot back at him nonchalantly.

"By the gods, wooing a siren is probably one of the most difficult things to do...or at least this one. If I had a siren's song, I'd just lure her to Eternia with it!" he exclaimed and stood up suddenly. There was yelling coming from the deck and the boat was rocking dangerously. He glanced at Michelle. "Think we're under attack?" Without waiting for a response, he rushed down the stairs at the back of the cabin and came back up with a large sword with a black hilt and an enormous blade, light brown in hue and very lustrous. He nodded to Michelle who decided to stay back for the time being and burst out the door.

The scene he chanced upon was chaotic. Fishmen were on the deck, jabbing at the deckhands and sailors with pointy spears and tridents. Those with mops and brooms tried to fight back, whacking at the invading fishmen, but they were no fighters. Blood spilt upon the deck as the fishmen overwhelmed them. The captain drew his cutlass and leapt away from the capstan, lashing out at a couple of fishmen, his attacks ferocious and easily driving the creatures back towards the edge of the boat. Clarence shot a glance at Sonata who merely held up a hand. A fine saber appeared in an instant, the blade shimmering like an illusion, her hand grasping the obsidian hilt. She was set upon by a large group of fishmen, but she remained still. She closed her eyes and opened her mouth. And began to sing.

All sound was drowned out by her voice. Clarence couldn't move. Looking around, he noticed nothing could. The atmosphere seemed to get dark as her sweet tones filled all of existence. It was...frightening, yet beautiful at the same time. The fishmen around her blinked several times, their eyes growing heavy. In a matter of seconds, they collapsed to the deck in a deep slumber. She stopped singing, and Clarence found he could move again. He watched as she began slicing off the limbs of the fishmen she had put to sleep, killing them. A fishman lunged at him, eyes lucid and toothless maw snapping angrily, but he swiped his large sword through the air, cleaving the creature in half, its internal organs flopping downwards and hitting the deck with a splat. He felt something sharp get him in the back of the leg and turned to see a fishman looking at the tip of his spear covered in blood. A rage beset Clarence for a mere moment and he turned, blade outstretched, and cleaved his attacker in half as he had done the other with great ease. Seeing that the boat was filled with competent fighters, the remainder of the fishmen started to back off. One let out a clacking noise into the air, and they all dove overboard, the splashing of the sea filling the air.

"All clear!" the captain shouted. "Anyone with healing knowledge, tend to the injured!" The captain rushed around, checking pulses of wounded sailors and deckhands. It seemed as though most were merely wounded, and only a couple had been unfortunate enough to die.

Clarence was in a stupor, but he couldn't let his talents go to waste. When the captain signaled that someone was injured and not dead, he rushed to that person's aid, bending down and chanting a quick healing spell, directing the light magic towards the person's most critical wounds. Michelle burst out of the cabin with first aid supplies and started tending to others, cleaning and bandaging their injuries. She wasn't adept at magic, but she wasn't about to sit back and not help. Even Sonata, the siren with a supposed icy heart, went around and knelt beside some of the wounded, singing in their ears. When she stopped her song and looked at the bodies of those she treated, it was as if they were never hurt at all. Clarence stood up and looked around. Quite a few minutes had gone by, but they had managed to treat everyone. He watched as the captain took Sonata's hand graciously and shook it, the siren's expression emotionless throughout. He patted her on the shoulder and called for some of the sailors below deck to haul the others to their rooms. He took this moment to approach her.

"That was quite an attack those fishmen planned," Clarence said to her, trying to sound casual. She appeared unfazed.

"They didn't plan that. It was quite impromptu," Sonata replied flatly as if Clarence were an idiot. "They were a mess. Not to mention that they were all warriors. If they intended to take this ship for their own, they would have brought their sages to cast magic on us and prophets to heal their injured during the fight." Her vacant violet eyes shot down to look at Clarence's leg which was covered in blood. "You healed the others before you healed yourself. Why?"

"W-well, I don't know. Everyone else seemed to be in worse condition than me, and I kind of forgot about it any--" he explained, but didn't get to finish. Sonata had leaned in close, taking ahold of his arms and placing her mouth next to his ear. She began to sing. It was a song with no words, just like her sleeping song before that she used on the fishmen. It was a song of the purest sound. Clarence felt his body grow light, and it was as if he could float away if Sonata let him go. All thoughts vanished from his mind, and he felt true peace, something you could only hope to feel once, if at all, in a single lifetime. When she stopped and went to draw back, he gripped her arm, tears flowing from his eyes, a desperate look upon his face. "P-please...don't stop."

Sonata didn't react harshly, but gave the man a gentle smile and removed his hand from her arm noticing that he put up no resistance. "Your leg is healed. That is all I had to accomplish." She backed away from him. "To listen to the siren's song for too long does nothing but turn men into mindless dummies for the siren to command. I wished not that fate upon you."

With that, she walked away leaving Clarence to fall to his knees, tears continuously flowing from his eyes. He put his hands over his face and cried.
_________________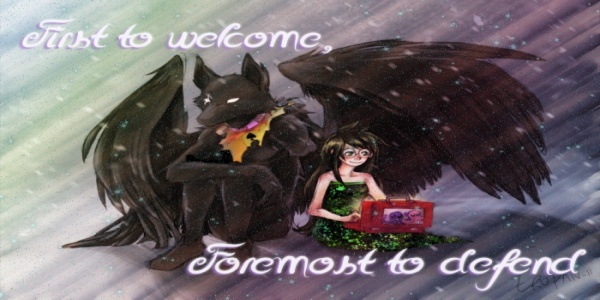 *Thanks to Mayari for the wonderful avatar/signature combo
WhippedCreame wrote:oh god yes eat my spaghetti confetti
Eternal Dreamer





Posts

: 16376


Join date

: 2009-10-28


Age

: 26


Location

: Home or work. Or some post-apocalyptic dream.



~ Chapter 4: The Rumored Land ~

A day and a half passed after the fishman attack. The starry sky was clear, no clouds daring to obstruct the view of the passengers. The moon was bright, nearly full. It would take but a few nights for it to reach that point. The boat rocked gently as it rested in a harbor, for it had reached land just not too long ago. Michelle stood on the docks overlooking the water. Lampposts were lit on each side of the dock and evenly spaced, so the harbor wasn't as dark as it could be. A man stood next to her. He was no shorter nor taller than she was. His skin was very dark which reminded Michelle of Venase. His facial features were sharp and prominent, cheekbones high, brow and chin standing out so greatly. He was almost majestic in appearance. His green eyes were reminiscent of the foliage of trees in the forests back at their homeland. Even though they had just departed a few days prior, it still made Michelle nostalgic. Heavy steel mail covered his casual attire, along with matching greaves, bracers, and boots. His blonde hair was so fluidic despite being covered by a helm most of the time.

"And so the mighty Dan dons his armor in preparation for conquering this new found land," Michelle exclaimed excitedly, thrusting her fist into the air triumphantly, her face contorted in a way that made the man standing next to her, Dan, let out a gruff chuckle.

"You never know what's out there. When do you ever see me in casual attire anyway, eh?" he replied, his voice deep and strangely smooth.

"That's true. For both your statements, that is. This was just supposed to be some land of myth and yet here we are, standing at one of its very harbors," Michelle said, her voice dreamy. It was all very surreal to her. Of course, she remembered her childhood when her parents talked about Selva being nothing but a myth, yet they found it right across the sea. It only proved to show that you do never really know what's out there.

"Mhm. Berbatu. Have you been to the town yet, or?"

"No...I've been a bit apprehensive. The moonlight on the water was enchanting, so it kind of caught my attention. You know how easily distracted I am," she explained, ending her sentence with a giggle.

"I see." Dan backed away from the edge of the dock and started to walk towards the town. "I'm going to find Clarence to see what kind of info he's gathered about this place. Care to come with?"

"I'll...I'll pass," Michelle answered, keeping her gaze set out over the sea, almost as intently as Sonata had so many times before throughout the duration of the trip.

Dan started to walk off, but noticed something out of the corner of his eye and turned to nod at it. "Sonata, nice to see you," he stated politely before turning back around to walk off and find Clarence as he had said.

Sonata remained silent and took Dan's place beside Michelle. "There is no place for fear in your heart." Her words were piercing and cold, yet gentle at the same time. Despite her gaze being focused on the waters, she could tell that Michelle had jumped upon hearing them. It was as if she had read the girl's mind.

"I'm...well, yes. I suppose I'm a bit afraid," Michelle admitted nervously. She wasn't afraid of much, but this new land was getting to her. She didn't want to venture out until Clarence came back to tell her that everything was okay--that no harm would come of it. But she knew. Even if the natives were kind and hospitable, there was no telling what harsh monsters rested deep within the wilderness of this continent. No telling. Not until they got there, anyway.

"I've been here before. The people are nice. The monsters are no more ferocious than they are anywhere else," Sonata explained, raising an arm and pointing towards the nearby town. "Titik Masuk. Go. Explore. Besides, I need someone to tell Mr. Heartsong that I will be joining him and his entourage for this search." She did not crack a smile. As a matter of fact, her expression was rather...solemn if anything.

"You really mean it?!" Michelle exclaimed, jumping up and down in place. "To Titik Masuk then!" With that, she turned around and rushed towards the small harbor town.

* * *

The fireplace was lit in the lobby of the inn, and Clarence had found himself a nice comfortable armchair in which to sit down. One of the roomkeepers came out and offered him a mug of cool ale which he took graciously. He took a sip and let out a refreshed sigh, setting the mug on a nearby wooden table, polished to perfection. The receptionist had a sketchbook out with a pencil in her hand, drawing some sort of picture or another. She glanced up and gave him a cheerful smile which he responded with a smile of his own. It was such a friendly environment; he was happy that the natives were so docile--so at peace. It seemed so different from Dalmaschior. The sound of the front door of the inn opening caught Clarence's attention and his grin didn't fade when he saw Dan walk in. Clarence waved at him and Dan walked over, taking a seat in the loveseat opposite the armchair.

"I see you've made yourself rather comfortable," Dan stated simply, though in a merry manner.

"That I have, good friend. Already got our lodgings taken care of," Clarence replied, taking another sip of ale.

"And the town?"

"Friendly as can be. They don't have anything against foreigners."

"Do you think we'll find what we're looking for here?"

"From what I've heard, I have no idea." Clarence's expression melted into a grimace. "It doesn't seem as though alchemy is very big on this continent. So, to be honest, there's no telling how things are going to turn out. I figured it would be an interesting journey regardless."

The door of the inn opened once more and Michelle came bursting in panting as if she had been running all over the place. She pointed excitedly to the two men that were talking who waved back nervously. She ran over to them with a look of clear astonishment on her face. "Clarence, Clarence! We've got her, we've got her!" Michelle exclaimed, clapping her hands together.

"Do you mean...?" Clarence started to ask, a light in his eyes forming and glowing brighter and brighter with realization.

"YES!! Sonata said she would be joining us on our little venture," she answered hastily, turning about while jumping in place. "Talk about hitting the jackpot. She's so strong and smart. We're lucky to have her with us."

"Oh trust me, Michelle. We won't be taking her for granted, that's for sure," Clarence agreed. He didn't know what had changed the siren's mind. He had tried talking to her quite a bit after the attack of the fishmen, but she seemed resolute to decline his offer time and time again. It was beginning to grow quite frustrating, and then when they landed, he had given up all hope concerning her joining them. He now thought that the siren was merely toying with him all along, but he found that it would probably be safest for him not to confront her about it. All that mattered was that they had viable help at last, not like they were completely incompetent, but it would be great to have someone who knew the land along for the ride.

Dan stood up and stretched. "Well, I think I'll call it a night if that's all settled. I assume we shall be heading out tomorrow?"

Clarence nodded. "Michelle, can you go and tell Sonata that we're all at the inn and we'll be staying here. Let her know everything's paid for as well."

"Sure thing," Michelle said and turned around, rushing out of the inn with a skip in her step.

"Like I said, I don't know if we'll find anything here, but if we do...be prepared," Clarence said as some sort of warning, but Dan just shrugged it off and meandered up the stairs to go to one of the rooms Clarence had purchased.

Draining the rest of his ale, Clarence sat back and became lost in his thoughts.
_________________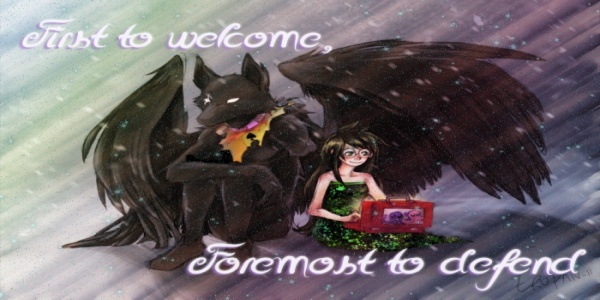 *Thanks to Mayari for the wonderful avatar/signature combo
WhippedCreame wrote:oh god yes eat my spaghetti confetti
Eternal Dreamer





Posts

: 16376


Join date

: 2009-10-28


Age

: 26


Location

: Home or work. Or some post-apocalyptic dream.



~ Chapter 5: Obvious Destination ~

After a decent night's sleep at the inn located in the capitol city of Visterre, Venase and Leamond found themselves resting their knees on soft cushions in the living space of the Elder's home. Lacking a true government, the land of Selva was ruled by no one, but it was known continent-wide that the Elder possessed great power and wisdom beyond any, and they deemed him the Jungle Overlord, the informal leader of Selva. In his youth, his feats were famous. He would scour the jungles in search of rare and powerful monsters and defeat them unaided save for his tame wild cat which traveled with him wherever he went. Back then he used the power of geomancy to cast magic based on terrain and weather, and as he grew ever stronger, his powers expanded and he began manipulating nature and earth as if it were a part of him. When he finally retired from his adventures and settled down in Visterre at the pinnacle of his strength, druids, sages, and geomancers from all around the continent would come to see him and hear of his tricks to the magic of nature and earth. He took them all under his wing and was happy to share his wisdom. A life well spent, he had said once. As he grew older, the city of Visterre bestowed upon him his title and from that point on, he became known as Selva's Elder. Liking the sound of it, he ditched his prior name and preferred to be called simply: The Elder.

Venase and Leamond had no idea where to start their search, but the inn receptionist easily pointed them into the right direction. She informed them that the Elder had been all over the continent and knew the land so well along with its secrets that he was sure to have at least some information for them. It would have been a waste not to ask this great man for aid in their search. Thus, the duo traveled to the largest tree in the city, for Visterre was integrated into nature, the homes and businesses and such built out of the trees themselves. The entire land of Selva was home originally to a race known as the Dragao--a race that was part human and part dragon. The goal of their race was to become one with nature and keep things that way. To destroy nature was to go against all that they believed, and those who committed such heinous acts were executed. With the arrival of humans and other races in Selva, the laws became less severe, though the Dragao were pleased that the other races were willing to do great things for the environment. They worked together to keep Selva as a land, healthy. Of course, with one such as the Elder in a leadership position, he was able to keep things the way they were with an iron fist. His roots of geomancy and sagacity gave him a great sense of nature, and he could not stand to see it defiled. It was with that perspective that he earned the respect of the Dragao.

"Well, now. What can I do for you, my visitors?" the voice of the Elder resounded through his living space. His voice was heavy, as if being weighed down by age. He rested his knees upon a cushion directly opposite Venase and Leamond. He bore a welcoming smile, his eyes closed in delight, though they were often closed anyway. Over time, his eyesight had faded, and now he was forced to see things through the earth which was as much a part of him as his arms and legs were.

"Your Eminence, we have come seeking knowledge," Leamond spoke up diplomatically. He kept his eyes focused on the Elder, though he was tempted to gaze at the myriad trinkets that could be found on shelves and tables around the room. They were quite intriguing, but they were there in a matter of urgency, so it would have to be saved for another time. "We are from an organization known as Eternia based in Dalmaschior. Recently, our leader has become interested in myths surrounding the alchemic dimension of Forlana, and as a result, he has set all of his available organization members out all over the world to find this dimension--one that has not been discovered as of yet, if it even bears ties to this, our world of the living--our world of reality."

The Elder remained stalwart as he thought things over for a moment leaving the room in awkward silence save for the ticking of a clock upon the wall. The air was filled with the pungent aroma of wildflowers; it gave the place a more natural feel. "Your leader...he is interesting to pursue such a thing," the Elder finally responded with a sagely nod. "I will not go into the details of my age, but I have lived for a long time, and in my many years, never have I heard of a way to enter the alchemic dimension of Forlana. As I am sure you know, the art of alchemy is not my specialty."

"Hmm, not very helpful are we?" Venase chided, though it was more lighthearted than venomous. It did earn her a deathly glare from Leamond, but she shrugged it off as it was nothing as she listened to the Elder chuckle deeply.

"Ah, that's where you're wrong, young lady. I might not have the answer ready for you at my fingertips, but at least I can provide you with a place to start your search," he informed them with a sly smile upon his old, wrinkled face. "From here, I advise that you head to the western part of the mighty jungle, Coracao. It is there that you will chance upon the Pixie Dominion. Guarded by the ominous and surely dangerous Fonte Labyrinth, once through, you will have your chance to talk to the pixies about your search. Mischievous and self-serving these pixies are, but they are a race of creature that possess extensive knowledge concerning mystical things, and this alchemic dimension that you seek might be one of them. Pixies aren't known for sharing their knowledge willingly to others, so if they do know where the alchemic dimension of Forlana is, they certainly wouldn't have told anyone."

"Mischievous and self-serving? Who's to say that they'll even help us if we make it through that accursed labyrinth? As you can imagine, it doesn't exactly sound like a leisurely stroll, kind sir," Venase retorted skeptically, her voice laced with a sickly sarcasm. For one, the thought of going through a giant maze absolutely made her cringe, not to mention the possibility of getting lost in it forever. Of course, and then there was the fact that they would have to deal with pixies. They had to be some of the most difficult creatures to deal with. Leamond may be the more diplomatic of the two, but she knew that even he would most likely lose his cool when conversing with the pixies.

Again, the Elder was unfazed by Venase's attitude. "Your fear is actually well-founded. The pixies are....troublesome, to say the least." Here, the old man let out a deep sigh. "However, I can assure you that they respect those that can survive the trials of their great labyrinth. This has been proven at least a few times."

Venase closed her eyes and shrugged her shoulders while Leamond felt like smacking his palm to his forehead. "Thank you, Your Eminence. If that is what we must do to accomplish our goal, then so be it," he said thoughtfully, rising from his cushion and bowing. He pinched Venase's arm and she hissed, her hand going to her sword hilt before relaxing her hand and just rolling her eyes, rising as Leamond had done and bowing her head slightly.

"I wish you two great luck on your search. Remember that the power of nature is strong here in Selva. It will always be there to guide you if you only call upon it," the Elder spoke his last words of wisdom before waving at the two slowly as they departed.

Outside in the streets, Venase threw her arms into the air. "You surely are joking. Really? Traveling to the Pixie Dominion?" the assassin questioned angrily, though her voice still remained rather unthreatening in terms of volume.

"It's our best lead on this continent so far, Ven," Leamond responded. He should have figured she'd act like this; she had every right to. Even he didn't express any actual desire to enter the labyrinth, but they had a duty in need of accomplishing. "Come on, girl. You like a challenge, eh?" he pressed, trying to win her favor--to make it at least a bit more interesting for her. "You know, there's another rumor about Pixie Dominion and the Fonte Labyrinth if I'm not mistaken..." he said, allowing his voice to trail off. The woman raised an eyebrow, and he grinned mischievously. "Those who actually make it through the labyrinth not only gain safe return to the entrance by the pixies, but they are also rewarded with a pixie treasure. And might I add these are pixies we're talking about."

"Leamond, you are a pathetic fool," Venase stated flatly, but smirked. "I think I can indulge you this once though. As if I'd really let you travel to that place all alone, eh?" She jabbed the man in the rib cage roughly with her elbow. "Well, the day is still fresh, so let us get the hell out of here and over to that labyrinth. No doubt we'll have to fight through more garbage on the way through the jungle again." She sighed nonchalantly and started walking away down the dirt path towards the town exit.

"How compliant we are today," Leamond said uneasily to himself in a whisper before following Venase before she got too far ahead.

Leaving the wondrous sight of the capitol of Selva behind, the two Eternia members trekked through the thick foliage of the jungle to the west where the Fonte Labyrinth was rumored to lie. It wasn't so much as a myth, for people knew of its existence, but it wasn't exactly a place plotted on any maps either. It was dangerous, and the pixies liked to keep it that way, playing their tricks and pranks on anyone who would dare to enter their domain. Thus, to discourage people from visiting the dreadful place, it was kept off of maps made available to the public. With not really much to go on but the general direction, Leamond and Venase figured 'nature would guide them' where they needed to go. The clouds in the sky blocked the sun as it reached its pinnacle above after a few hours of exploring the dense jungle, and yet they two could not find the entrance to the labyrinth.

"Well, what a fine mess we've gotten ourselves into," Venase said snidely, coming to a halt between a couple of the tropical trees. The air was thick and humid, and sweat had long since formed upon her brow from the extensive hiking. The mixture of the scents of the soil, wood, and flowers was causing her to become a bit nauseated. "Haven't even made it to the labyrinth yet and we're already lost. This is looking quite promising."

"Ye of little faith, Venase. Come now. We can't be too far from it, eh?" Leamond replied back to her, panting slightly. He brought his canteen to his lips and drained a bit of water from it. He let a smile take hold of his face which wound up being a bit goofy. Venase nearly burst out laughing but managed to keep her cool, coughing into one of her hands.

"Faith, smaith. Let's get a move on. You're holding us back, slug," she prodded jokingly, shrugging her shoulders again before making her way onwards. Leamond laughed and followed along, letting her take the lead this time. Maybe she would have better luck leading them to their present destination.
_________________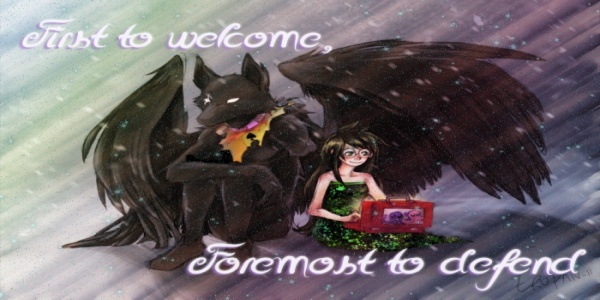 *Thanks to Mayari for the wonderful avatar/signature combo
WhippedCreame wrote:oh god yes eat my spaghetti confetti
Eternal Dreamer





Posts

: 16376


Join date

: 2009-10-28


Age

: 26


Location

: Home or work. Or some post-apocalyptic dream.



~ Chapter 6: The Wanderer ~

It had been a long while since the sun dared to take back the sky from the shadowy veil of night, the brilliant rays piercing through the darkness, hopeful beacons of a wondrous day ahead. The early hours of the morning were chill, and the cemetery was still as quiet as it had been the previous night. A light fog had rolled in, but cleared as time went on. The small group of Eternia members that had sought refuge there had collected their belongings and set off past the myriad graves and elaborate mausoleums seeking out the mountain range that loomed in the near distance. They were called the Dragonscar Mountains based on a myth that a large, otherwordly dragon once pierced its way into Alidaire's dimension in an attempt to wreak havoc. The Restocasians fought back with their extraordinary abilities and brutal magic, but none of it was effect. The dragon razed the land, going as far as to disintegrate entirely the eastern portion of the continent of Elendia turning it into a vast desert. Another byproduct of its destruction happened to be the Dragonscar Mountains. In an attempt to keep the struggling Restocasians separated, the dragon smashed a claw into the land causing enormous jagged peaks to arise from the earth creating a mountain range. In the end, the Restocasians gathered together, and instead of trying to kill the dragon, they sealed it off into another dimension. Regardless, the damage it had wrought was permanent, and thus Elendia was to be as it was from that point onwards.

Trouble arose from this mountain range, however, for it caused trips from Altinor, the capitol city, to the quaint town of Benevolentia to be rather problematic. Those traveling were forced to circumvent the entirety of the mountain range which extended from the western coast to nearly all the way at the central point of the continent. Traveling across the mountains was extremely dangerous because of the monsters and high altitudes. To make things easier, the Restocasians set about forging a tunnel through one of the mountains and succeeded marvelously. It came to be named the Dragonscar Passageway and was the most convenient method of getting from Altinor to Benevolentia or any other town on the opposite side of the Dragonscar Mountains. It was through this passage that Sophia, Vitor, and Cedi would travel.

After a peaceful stroll through the cemetery, the group arrived at the entrance and proceeded into the passage. It was dark within, but no completely so. Those who aimed to make the passage better encrusted gems infused with light mana on both sides of passage to keep the path at least decently lit. It was better than having to fumble around in the darkness. The trio was silent as they progressed, Cedi in the lead. Little Vitor yawned a bit; it hadn't been the most comfortable sleep, but he knew he'd probably get cracked on the head by both of his companions if he complained. Cedi stopped at about the middle of the passageway causing the others to stop short behind him. In the middle of the passage stood an old man with such a crinkled visage that his dark brown eyes could hardly be seen. His skin was darkly tanned which made the stringy white hair on his head and chin stand out quite a bit in the dim light of the crystals. He looked rather solemn, as if something terrible had happened. His arms were obscured by the large sleeves of his robes, a dark green in hue with a large yellow symbol, most likely from the ancient language, on the front. Noticing the group, he smiled revealing that he only had a few teeth still in tact.

"Ah, travelers," he remarked with a light chuckle. He held his ground and bowed to the group. "I'm on the lookout for someone."

"Eh? An' that has ta do with us how?" Cedi questioned back, crossing his furry arms across his chest. The morning had been rather uneventful, so he wasn't completely livid at this obstruction. If anything, he was rather curious, but the situation called for them to be as cautious as they could be.

Sophia took a few steps forward and placed a gently hand on Cedi's right shoulder. "Come now, Cedi. Let's here him out. Maybe it'll be something interesting," Sophia chided, though she didn't really care about the old man's plight at the moment. Normally Eternia would do anything to help, but they were kind of on an important mission at the moment.

"It's not just you, good people," the man explained. "I've been asking everyone I see if they've seen the person I'm keeping an eye out for. Or if they find him, to let me know. He strikes an impressive figure. Jet black hair. Calculating, almost indifferent red eyes. Rather interesting attire. Wields a sword reminiscent of the moon. If you see him, could you please tell me. I'll be in this spot so you know where to find me." He nodded to them vigorously, a simple task for them to be sure.

"Bah, I guess it wouldn't hurt," Cedi gave in. "It's not like it's somethin' difficult or anythin'. We'll let ya know if we find 'im." The beast shrugged his shoulders and watched as the man moved to the side, bowing to them again. "Le's go, group." He waved a claw forwards and marched on, the others moving along as well, sparing one last glimpse at the odd man.

"I wonder what that was all about," Vitor spoke up as they reached the opposite side of the passageway, exiting it and entering the fresh air once more. They were standing upon a small clearing of rock that stretched outwards until the area became grassy and plains encompassed the area. Out in the far distance, a collection of buildings could be seen which must have been Benevolentia. They were still quite a distance from the town, but it was a straight shot with no diversions...at least none that they were aware of.

"Who knows, lad. Maybe he got separated from someone he knew, eh? Or maybe there be some personal vendetta between him and the guy we're keepin' an eye out fer," Cedi responded, gazing out over the area with one claw scratching at his head.

"I wonder if we'll run into him."

"Only time will tell, lad."

Sophia started to take a few steps forward, intent on getting the group moving again. "If we do, we do. If we don't, we don't. It's not like we made this a priority right?" she called back to them nonchalantly, though it would be easy for them to note the lightheartedness in her voice. A contented smile beset her visage has she heard the two trek after her. The plains were as quiet as could be. They did happen to cross a few mandragoras on the way, but the little plant-like creatures kept to themselves, basking in the sun and dancing about through the tall grass. A few made kinds noises to the trio as they passed by, a sound of mixed squealing and shrieking, though soft in volume. Everyone knew that the screech of a mandragora was a deadly thing.

An hour or so passed before they arrived at the entrance to Benevolentia. Two daydreaming guards snapped to attention as the three passed them, waving a friendly greeting. Sophia dismissively waved a hand at them whereas Cedi just growled, tired from the trip. Vitor gave them a smile. It was nearly midday and the dirt streets were busy. Smoke billowed out through the chimneys of the larger brick buildings of the town which must have been businesses of sort. Keeping along the main road, trying hard not to get separated, they eventually reached a large central plaza, the only paved part of the town as far as they knew. All about were different carts and booths with vendors stationed at them selling a variety of goods such as fruits, sweets, and hand-crafted toys. Vitor gazed in awe. Many were calling out good deals and he nearly jumped for joy at the sight of a cart displaying large lollipops. He held his little hands together in front of him as his eyes lit up.

Her arms crossed and stance tense, Sophia surveyed the area with great interest, though she couldn't possibly be happy to visit such an endearing place as this without Ven. Out of the corner of her eye, she noticed Vitor was about to spring out of his socks and she laughed. "Calm down, Vitor...before you wet yourself or something." She reached into her pocket and pulled out a rather dainty burlap sack, dyed a light yellow in hue with little illustrations weaved upon it, mainly the heads of little animals like squirrels and cats. Reaching within, she produced several gold coins and forked them over to the kid. "There you go, you little runt. Stay in the plaza and be careful."

"Oh, thank you so much, Sophie!" Vitor exclaimed, taking the gold. He hugged the woman's leg before rushing off to claim as much as he could with the money he was given.

"Ya think that was a good idea?" Cedi spoke up, a rather snarky grin on his face. "Yer gonna let the kid's teeth rot at that rate. Guess it does get 'im outta our hair for a bit." He unleashed a loud yawn without covering his mouth.

Sophia waved a hand in front of her face. "Bleh, dog breath. So what do we do now anyway? Was there any particular reason we came here, because I really don't recall," she replied letting her arms dangle loosely at her side. Her expression was a bit weary; they had been doing quite a bit of hiking, though it wasn't something she was completely unused to.

"Not really," Cedi responded bluntly, still grinning. "Sounded like a nice place ta visit, and so we be 'ere. Don' really know what we're gonna find 'ere. Prob'ly nothin'." He stretched his limbs before looking off in the distance. "I say we split up. Just talk ta the people around ta see if they've heard anythin'. If not, we'll stay the night 'ere an' head on out tamorrow. Not ta mention we 'ave some mystery guy we're 'upposed ta be lookin' fer, eh?" He chuckled lightly before raising a claw and waving a small farewell to Sophia before she had the chance to respond.

"Hmph. Just leave me here will you? Tch. I wish Ven were here...," Sophia muttered miserably to herself before stalking off through the crowd. She kept her head low, mind filled with thoughts about how they probably weren't going to get any viable information from this place. Gah, we should never have come here then, she thought to herself angrily as she dodged past a rather slow pedestrian. Shaking the thoughts from her mind, she visited several of the vendors at their little carts and stations asking them questions about strange phenomena in the region, alchemy, and the alchemic dimension of Forlana itself. Most of the vendors had no idea what she was talking about on the alchemy subject, though a few suggested for her to visit the Desert of Dreams to the east, for it was a direct entrance to the alchemic dimension of Dream itself. Though not Forlana, it would be possible for them to learn more about alchemy as a whole and might give them some clues to where Forlana might be located. She definitely didn't take the answers she received for granted, even if they weren't exactly what she was after. Regardless, they had a much better lead than they had when they arrived in Elendia.

With all the information she thought necessary gathered, she turned away from her most recently visited cart only to bump into someone by mistake. She shook her head muttering an apology only to blush fiercely when she rested her eyes upon who she bumped into. Sophia found herself gazing into such beautiful red eyes...she almost felt lost in them. They were calm and calculating, almost uncaring...but were they truly readable? They were enigmatic. His hair was slightly a mess, but it worked for him, jet black in hue. It reminded her of the feathers of her raven. His skin was slightly pale and flawless, his garments loose and flowing, his pants billowy. At his side was a large sword with a silver blade that was shaped like a crescent. A couple of other crescent-shaped crystals emerged from the end of the blade, one blue in color and the other a beautiful orange. The man took hold of Sophia's arms gently and gazed into her eyes.

"Are you unharmed? You have no need to apologize. It was my own fault for not watching where I was going," he said, his voice surprisingly stoic, though the worry was evident in his voice. Yet still his countenance remained calm and collected despite the flustering nature of the situation.

Sophia herself was far from that. She blushed even harder, her eyes darting to the side to gaze at another cart nearby; she couldn't stand to make eye contact with the handsome stranger. "I-it was both our faults then. Let's just leave it at that," she spoke up, though her voice was hardly naught more than a squeak. That's when a sudden shock overwhelmed her and she came right out of her shell, breaking free of the man's grasp.

"My apologies again. I forgot I still had a grip on you. I wonder where my mind is today...," the man responded, bowing his head a bit to the woman.

"N-no, it's not that. You look familiar. Some old guy said he was looking for someone that fits your description rather well."

"An old man? Oh, so he made it all the way out here?"

"So you do know him?"

"Sadly, yes. Could you tell me where he is?"

"Y-yeah. He's waiting for you in the Dragonscar Passageway. Well, we were supposed to go tell him when we found you, but if you're willing to go see him, that saves us a lot of trouble," Sophia explained definitely relieved not to have to go back.

"My thanks. I suppose I shall bid you my leave for now," the stranger said, waving his hand through the air. A dark cloud appeared beneath him and he knelt into it, his body rising from the ground.

"W-wait. What's your name?" Sophia blurted out suddenly, surprised by her own words.

"It's Wallace. Wallace Night. Demonologist by profession. And yours?"

"Sophia."

"Well, Sophia. I hope we meet again. I'm a bit of a wanderer, you see. There's not telling where or when I'll show up. Until then, farewell." With those words, he gave her a quaint little smile and hovered off down the dirt path upon his cloud of darkness.

Sophia's heart was beating quickly as he smiled at her. She almost didn't want to see him go. She cringed at the thought of Venase. "Wow, she would definitely kill him...after roughing me up a bit, of course...," she said to herself inaudibly before blushing again. Her cheeks felt like they were on fire by now, and she was getting fed up with that feeling. She gasped suddenly as she felt someone grab her shoulder.

"Woah, lass. It's jus' Cedi 'ere, heh heh," Cedi grumbled playfully, laughing at Sophia's ridiculous reactioin. "Come now, lass. Yer 'upposed ta be a fierce warrior. How're ya gonna let Cedi sneak up on ya like that, eh?" He kept chuckling at her, removing his claw from her shoulder to slap one of his thighs through his yellow robes.

"F-forget it. I was distracted," she snapped back, completely embarrassed.

"Distracted with...?"

"I ran into the guy the old man back at the passageway was looking for. Called himself Wallace Night, a demonologist. Ever heard of him?" Sophia inquired.

"'Fraid not. Sounds like an interestin' profession though," the beast replied after taking a few moments to think. He wanted to think that the name sounded familiar, but he couldn't really recall at all if he knew it or not.

"Ah well. I told him where he could find the old man, so that's one thing taken care of. I also figured out our next destination."

"Heh, obviously that there Desert of Dreams."

"I see we found similar clues then," Sophia said with a mischievous smile. "I wonder where our little Vitor managed to get off to."

"I couldn't care less," Cedi replied, pretending to gaze around as if looking for him, but not putting any effort into it whatsoever. "Methinks I'll head ta the inn and catch mahself a bit o' shuteye." He started to meander off. "Ya know where ta find me if ya need me~" he called back.

"You and your damn naps!" she shouted at the beast as he wandered off leaving her to search for Vitor on her own. "Sheesh, you're not the only one who's tired. Now, to find that runt." She started through the crowd in her search for Vitor, but she still couldn't help but wonder what the deal was between Wallace and that old man...
_________________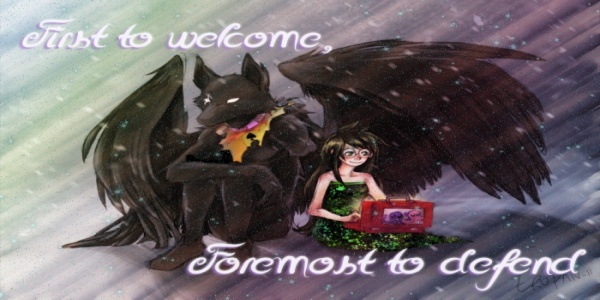 *Thanks to Mayari for the wonderful avatar/signature combo
WhippedCreame wrote:oh god yes eat my spaghetti confetti
Eternal Dreamer





Posts

: 16376


Join date

: 2009-10-28


Age

: 26


Location

: Home or work. Or some post-apocalyptic dream.



~ Chapter 7: Just the Beginning ~

The trees had only served to grow more dense as Venase and Leamond ventured deeper into the depths of Coracao. All had seemed hopeless for a couple of hours, even with Venase leading the duo along through the jungle. However, it came to pass that the two found themselves standing before an entrance into what appeared to be a natural maze with walls composed of tightly compressed trees and foliage forming a compound as solid as stone. The area was unnaturally silent. Before, the chirping of birds and insects alike had filled the duo's ears, but now nothing greeted them. Inside, things seemed to get darker making the entrance that much more foreboding. Within would be possible reward...or possible death. The worst thing about the Fonte Labyrinth was the element of surprise--they could not fathom what to expect from the harsh maze, and if the pixies interfered with their passing as they often liked to do, it would only make things that much more difficult.

"Well, seems I got us here, but I'm having second thoughts. How about you?" Venase stated simply, her foot tapping lightly upon the moist soil beneath her. She wiped her forehead with the back of her forearm to get some of the sweat off. The only good thing about entering the shaded maze would be the cooling relief.

"Too late for second thoughts," Leamond replied promptly. He had his arms crossed as he scrutinized the gap between the walls of trees signifying the entrance to the labyrinth, almost as if trying to find some initial trap they might fall into. "Now that we've found it, if we turn back now we'll regret it."

Venase couldn't argue with that. She started walking towards the entrance and passed the threshold without hesitation. She turned to look at Leamond and waited a moment before waving her hand gesturing for him to follow, and so he did. The two pressed straight on before taking the first turn to the left making the entrance unseen. Leamond's steps faltered just a bit, but Venase was much more confident. To her, the labyrinth was nothing but a mere annoyance--an obstacle on their path of knowledge. When she had the second thoughts at the entrance, it wasn't because she was scared. It was because she knew navigating the thing would be a momentous pain in the ass. The sound of running water could be heard from the left side of the corridor they were walking along. Venase took note of it since their canteens could use some refilling should they find a water source. The path turned sharply right and eventually, they were faced with their first fork: a path heading north and the other heading straight east, the direction they were already walking. Venase pointed to the north path. That seemed to be the general direction the labyrinth was heading anyway, at least from what she saw of the outside. Leamond nodded his affirmation and the went north only run into an obstacle in the form of a solidified violet seal.

"Hmph." Venase turned around sharply and started to walk back to the previous corridor, sharply turning to head east once again. Leamond stayed behind to keep an eye on the seal, something it only took a single exchange of looks on which to agree. However, the assassin groaned as she realized there was another fork: one path going back north with the other heading south. She took the south path and ran into a stone pedestal with a glowing violet button on the top. Not even wasting a thought, she pressed down on it before she heard Leamond's voice.

"It's gone!" the man shouted from his spot near the seal. "Gah!" Venase had appeared right in front of him in a flash of light.

"Did I startle you? Don't tell me you forgot I could teleport," Venase scoffed, keeping her expression cool despite it merely being a joke. Before he could speak, she waved a hand dismissively at him and continued on with the monk on her heels. Turned out that the path led to a single chamber with a small pool of water in it. Venase took both of their canteens and filled them. It was cooler in the labyrinth and less humid as well, but they still had no idea how much walking they'd have to do to reach the end, and water would be essential regardless. As Venase fastened her canteen to her belt, she noticed something on the west wall. A crack in the wall of trees.

"What're you staring at there, eh?" Leamond asked, trying to peer through the dimness of the labyrinth chamber to desperately see what she was seeing.

"I'm looking at our first trap." At that moment, the trees burst outwards, the remnants crashing into the opposing wall and falling to the floor. Water began to seep into the chamber rather quickly. An even deeper pool must have been located on the opposite side of the broken wall. Leamond took off quickly back south along the corridor with Venase behind him. The water wasn't gushing, but there was no doubt that it would continuously fill until they were drowned, especially if the pixies were behind it. Slamming into something hard, Leamond fell back and landed on his butt. The violet seal Venase had managed to dispel earlier had returned leaving the duo trapped in the corridor with the water continuing to rise.

"Stay here," Venase ordered tersely before dashing along back towards the chamber, the corridor filling with the sound of splashing as her shoes continuously smacked the water with each step. The water from the pool beyond the wall wouldn't be able to fill the chamber, but Venase noticed that the pool that was already in the chamber was bubbling, and suddenly, the water surged upwards like a geyser, spraying upwards and causing the water to fill even more rapidly. "I hate working in such intense situations," Venase whispered to herself nonchalantly as she treaded through the water to the space in the wall. Her eyes widened as she realized there was another pedestal just jutting out of the deeper pool of water with a glowing violet button upon it. The only problem was that the pedestal wasn't on an island. She'd either have to swim across or...

"Waters, I shall still you for but a moment." Venase waved her hand through the air causing time to slow substantially. Gently, she placed a shoe on the water beyond the wall of trees. It was clear and pristine, and yet she could see no bottom. The water seemed like it was about to give way, but it held her weight after parting downwards just a bit. She placed her other foot upon the water, gripping to the tree wall next to her and allowed the water to bend a bit before it supported her. She could feel the strain of the loss of mana as she had to use her magic over such a wide area and employ such control. She took step after painful step, trying to keep her focus. The only thing keeping her going was that the pedestal became closer and closer. Not a thought passed her mind, and eventually, she made it, not hesitating to press the button quickly. She should have seen it coming.

"Ven, the seal is gone!" Leamond had shouted, going ahead and pressing forward expecting Venase to appear next to him at any moment, however, his call had broken her concentration.

"Damn," Venase cursed as she felt her body dunk under the water. She kept her eyes open and her mouth shut, expelling air from out of her nose as she rose upwards, but something was wrong. She felt a tendril slip around her ankle, preventing her from reaching the surface. Gazing down, she could see the water itself was thickening to form the tendril reaching up from the abysmal darkness of the deeper levels of the pool. Venase yanked her leg to try and get away, but the tendril held strong and responded by trying to pull her deeper. She tried to keep her calm; if she panicked, she'd start taking in water and eventually she would drown, yet the water was starting to succeed in pulling her down even deeper, and she made as if to swim up to the surface with all her might, forcing the two at a standstill, but the water had nothing to lose. If Venase was forced to stay under for too much longer, she wouldn't stand a chance. There had to be something she could do.

Mother fuck, think! You might not be a scholar, but being an assassin takes having a keen mind, now improvise, she scolded herself in her mind, trying to get the gears turning. Without even thinking, she waved a hand through the water causing a rain to pour down from above. As the raindrops hit the pristine water of the pool, she felt the grip of the tendril weaken just slightly and gave her leg a mighty yank. It tried to reach out to her, and more tendrils formed from the surrounding water, but their movements were extremely slow. The rain continued to pour and Venase eventually burst out of the water, gulping in the sweet air she so desperately needed. It was taking more mana to keep the rain going over such a large area and for a longer duration than usual, so she wasted no time in scrambling out of the deeper pool, but by now, the water in the chamber was fairly deep. She could touch the floor with her feet, but the water was up to her breasts by now. She focused and disappeared in a flash of light, leaving the chamber behind, her mind focused on the location where the seal used to be. She wondered how far Leamond had gotten. Surely he would have run instead of staying by the seal...

"Wow, it certainly took you long enough." The voice came from a rather nonchalant, yet clearly worried Leamond. Before, he had started running away, but after realizing that Venase hadn't appeared next to him, he returned to the seal. The water in the corridor was up to his thighs. Venase had appeared in front of him, completely soaked, her hair a matted mess. "You all right?"

"Yeah. Sorry for the delay, but the water was touching me inappropriately. It had to be dealt with," she shot back at him, still trying to catch her breath. She brushed passed the monk and walked away from the chamber, intent on getting back to the other corridor. Leamond followed, and as soon as both had cleared a few feet, the violet seal appeared behind them, sealing off the water that was steadily filling the chamber and corridor.

"At least we don't have to worry about that any longer," Leamond commented, taking one last glance at the water that had threatened to drown them.

"True enough."

"Do you need a break?"

"No. Let's keep moving. Don't know how long it'll take us to reach the end. We'll save the rests for intense bleeding and broken limbs," Venase replied easily, waving a hand as if to dismiss the entire ordeal she went through. Many times had she gripped an enemy's throat, watching as they tried to get air only to fail futilely. Eventually, their eyes widened in fear and their bodies grew limp, the life suffocated right out of them. So that's what they feel like, Venase thought as she remembered how greatly her desire for air had been while she was trapped beneath the water.

"We shouldn't split up anymore," Leamond spoke up as they turned east down the next corridor, and then headed down the northern corridor once they reached the fork Venase had reached earlier.

"Fine, can't argue with that," Venase affirmed. There was no doubt in her mind that the traps the labyrinth held would only serve to grow more and more severe the closer they drew to the dwelling place of the pixies. Nearly drowning was only the beginning.
_________________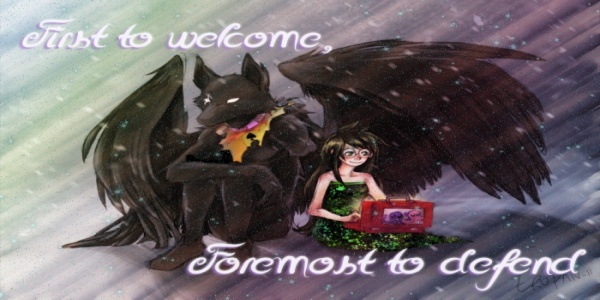 *Thanks to Mayari for the wonderful avatar/signature combo
WhippedCreame wrote:oh god yes eat my spaghetti confetti
Eternal Dreamer





Posts

: 16376


Join date

: 2009-10-28


Age

: 26


Location

: Home or work. Or some post-apocalyptic dream.





Similar topics
---
Permissions in this forum:
You
cannot
reply to topics in this forum