Campus Map:
http://i.imgur.com/WDvLA.png
Key:
AC
- Abandoned Church. This is Star's hideout spot.
Aud
- Auditorium. This is where the freshman orientation is being held, as well as a few other events are held. There is a massive underground area that can be accessed from the Auditorium, where K-Day is celebrated. K-Day will be explained in the freshman orientation.
BD
- Boy's Dormitory, 1-3. The 1st and 2nd dorms are for freshman and sophomores, respectively. The 3rd is for upperclassmen.
CP
- Central Plaza. Not really a building so much as a place to hang out and cut deals, make alliances, or just buy a hot dog with dining dollars.
GD
- Girl's Dormitory, 1-3. The 1st and 2nd dorms are for freshman and sophomores, respectively. The 3rd is for upperclassmen.
Mess Hall
- Obviously, the cafeteria. They have a good assortment of foods, but there is a danger of the food being poisoned. Freshmen don't have to worry about poisoned food until after their first Poisons lesson.
Platform
- The platform is where the freshman arrive on the train, and students leave by train in case of expulsion or family issues like death of a loved one. Needless to say, students don't leave much.
SB
- School Buildings, 1-3.
Professors:
Name:
Cyril Zimmerman
Age:
54
Gender:
Male
Position:
Headmaster/President
Short Entry:
N/A
~
Name:
Clara Zimmerman
Age:
28
Gender:
Female
Position:
Head Secretary and Professor of Martial Arts
Short Entry:
N/A
~
Name:
Atremis Realms
Age:
72
Gender:
Male
Position:
Professor of Deception and Psychologial Torture
Short Entry:
"The speaker was Atremis Realms, a master of deception and psychological torture. He had retired from the assassination game about a decade ago and decided to teach. Before that, he had worked for the government, luring secrets out of most wanted fugitives in big criminal organizations with his expertise. Outside of that, he also set about gaining trust and luring secrets out of more important people via deception. That was what he taught at the school now--deception. He also had a higher level advanced class for psych torture, but rumor had it that the curriculum was intense and you might even lose your own mind in the course."
~
Name:
Florentius Ackermann
Age:
34
Gender:
Male
Position:
Professor of Poisons and Acids
Short Entry:
N/A
~
Name:
Flora Allaway
Age:
34
Gender:
Female
Position:
Professor of Edged Weaponry
Short Entry:
N/A
~
Name:
Sebastian Allaway
Age:
37
Gender:
Male
Position:
Professor of Firearms and Traps
Short Entry:
N/A
~
Name:
Marilyn Foxglove
Age:
28
Gender:
Female
Position:
Professor of Disguises
Short Entry:
"Not one to talk to herself, rumors of her humble beginnings as a waitress were spread around back when she was around 20 or so. It was then that she started using the waitress cover in assassinations, for she had quite the skill with knives and traps as well. After a couple of years, it was said she traveled the world studying anthropology and sociology, along with some general cosmetology and fashion subjects. Everyone thought she was normal, but when she returned to the US, she had gained enough knowledge to be anyone she wanted. There was no running from her, for if you trusted just a single person, there was a nine out of ten chance that it would be her, disguised as that person and just waiting to kill you. Well, those were the rumors anyway. Stuff overheard from outside the teacher's lounge in passing. Regardless of how she got to where she was now, Marilyn was definitely great at what she did, granted it was hard to admire her because she was kind of...well, mean."
~
Name:
Robert Finley
Age:
31
Gender:
Male
Position:
School Doctor/Professor of First-Aid and Emergency Medical Care
Short Entry:
N/A
~
Name:
Jane Amelia Doe
Age:
27
Gender:
Female
Position:
Professor of Spy Gear
Short Entry:
N/A
~
Name:
Butch
Age:
33
Gender:
Male
Position:
Head Janitor and Professor of Cleaning
Short Entry:
N/A
~
More to be added soon...
Available Classes:
Freshmen Year:
(All Required Courses)
Cleaning 101, 102
Martial Arts 131, 132
Deception 101, 105
Poisons 101, 102 OR 201
First Aid/EMC 101, 102
Stealth 101, 102
Traps 101, 102
Spy Gear/Utilities 101
Disguises 151
Sophomore Year:
(All Required Courses)
Martial Arts 231, 232
Deception 205, 206
Poisons 201, 202
Disguises 251, 252
Stealth 205
Traps 208
Reconnaissance 201, 202
Survival Techniques 201, 202
+2 Electives
Junior Year:
(All Required Courses)
Martial Arts 331
Poisons 341, 342
Deception 307, 315
Disguises 351, 352
Explosives 307
Stealth 331
Reconnaissance 301, 302
+2 Electives
Senior Year:
(First Semester Required Courses)
Martial Arts 441
Poisons 451
Deception 403 (Writing Intensive)
Disguises 451
Stealth 447
+2 Electives
Senior Year:
(Second Semester Required Courses)
Martial Arts 442
Poisons 452
Deception 404 (Speech Intensive)
Disguises 452
Stealth 448
+3 Electives
All Available Courses:
Martial Arts - 101, 102, 231, 232, 331, 441, 442, 443, 499 (Internship)
Psychological Torture - 449 (Recommended), 451, 506, 607, 799 (Internship)
Deception - 101, 105, 205, 206, 307, 315, 403 (WI), 404 (SI), 451, 452, 599 (Internship)
Poisons - 101, 102, 201, 202, 341, 342, 451, 452, 465, 466, 499 (Internship), 599 (Internship)
Edged Weaponry - 201, 202, 301, 302, 401, 402
Firearms - 201, 202, 208, 303, 304, 401, 402
Traps - 101, 102, 208, 301, 302, 421, 422, 499 (Internship)
First Aid/EMC - 101, 102, 202, 455, 499 (Internship)
Spy Gear/Utilities - 101, 201, 202, 208, 301, 305, 411, 412, 499 (Internship), 599 (Internship)
Disguises - 151, 251, 252, 351, 352, 451, 452, 471, 472
Stealth - 101, 102, 205, 331, 447, 448, 501, 502, 699 (Internship)
Cleaning - 101, 102
Interrogation - 201, 202, 301, 302, 443, 444, 481, 482, 599 (Internship)
Reconnaissance - 201, 202, 301, 302, 315, 316, 421, 422, 467, 499 (Internship)
*Any 300-400 level course that is required can be replaced by a higher level course of the same subject with a professor's approval.
*In order to graduate, you must complete an Internship
Last edited by Zerflah on Mon May 28, 2012 7:53 am; edited 7 times in total
Totes-Mcgoats





Posts

: 16374


Join date

: 2009-11-01


Age

: 26


Location

: Naletia



Name:
Sariska Eternal "Star"
Age:
16
Gender:
Female
Grade:
Sophomore
Appearance:
Spoiler:
Area of Expertise:
Poisons
Short Bio:
Sariska grew up in a harsh environment, with strict parents and even stricter grandparents. Her mother died while she was still young, and her father took to drinking a little too much, so she was sent to live with her grandparents at the early age of 8. She knew from the moment she stepped through that door that her life would become a living hell, so Sariska adapted to her new environment quickly, becoming an impervious iceberg in the surrounding flames. As a result, most people who meet her for the first time mistake her as being unapproachable and cold-hearted.

After some time, Sariska began to learn about how to mix certain ingredients together to create dangerous mixtures. She learns recipes for everything between giving someone a cold to flat out killing them with the option of hours of searing agony. Sariska became even more cynical as her knowledge of poisons grew, and eventually her grandfather sent her off to the school for assassins.

With her freshman year already behind her, Sariska seeks to expand her knowledge of poison further with her newest ability, courtesy of the school's highly advanced technology.

Sariska is also a very talented musician.
Special Ability:
Temporary Fluid Control (TFC) -
This ability allows Sariska to temporarily control fluids within a 20 meter radius of her own body. She uses this ability primarily to help get her poisons where they need to be, when they need to be there, but she sometimes can remove the alcohol from beverages her targets are drinking and force it into their lungs. Which is a different kind of poisoning, but it works. Outside of this, she rarely uses it, relying more on physical prowess rather than tricks or magic. Unfortunately, Sariska can only use this ability once per day, and for only around 15 seconds at a time.
Alliances:
None so far.
Totes-Mcgoats





Posts

: 16374


Join date

: 2009-11-01


Age

: 26


Location

: Naletia



Name:
Lawlet "L" Valkenstein
Age:
15
Gender:
Male
Grade:
Freshman
Appearance:
Spoiler:
Area of Expertise:
Guns
Short Bio:
Lawlet was raised in a very dull home, with his only toy as a child being a model gun. His parents forced him to study and he became very intelligent and at the top of his class at a very young age. He was basically a model student, one that had a huge ego. He eventually stopped using his real name at the age of twelve thinking it was too silly, and instead went by the nickname "L".
Of course as he grew older he became more and more rebellious as his parents' expectations grew higher and higher. Studying became more stressful for him as the days went on. To relieve that stress he would always pick up the model gun he had as a child and shoot it a few times, it helped a little but not enough. Instead, L began to shoot his model gun at other people, usually kids younger than him, and he enjoyed doing it. Eventually someone got hurt. And L turned himself in from his parents pressuring him to do so then managing to get away with barely any punishment.
A few days afterwards he received a letter addressed specifically to him from the school of assassins. Apparently they had heard about his little incident and became interested in him, offering to teach him how to use a real gun during his last year of middle school in exchange for him enrolling in their school the year after. L didn't hesitate to accept the proposal.
Special Ability:
N/A
Masochistic Kitty Kat Maid





Posts

: 8939


Join date

: 2009-10-30


Age

: 22


Location

: I dunno 3:



Name:
Reginald Salve
Age
: 15
Gender:
Male
Appearance:
Spoiler:
Area of Expertise:
Acid
Short Bio:
Reginald is the only son of the prestigious head officer (and deceased head founder) of the Salve Syndicate, an elite service in which a private escort is rented for a period of time to guarantee your protection. Which is basically a rent-a-bodyguard, but more expensive. The group's members are also trained in different fields, such as espionage and sleuthing of the sorts. Many of which have survived the school of assassins long enough to graduate.
As her only child, Reginald's mother was reluctant to open the doors to the shadowy work of assassination and deceit, so she refrained from introducing him to the Salve Syndicate until he was about 12. Since then, Reginald has learned much of what the Syndicate does, but was not allowed to join in any of the 'activities' because of his young age. He asked his mother to enroll him in the school of assassination because he aims to work as a Salve Syndicate intelligence operative one day, as well as take over his mother's position as officer, or perhaps even become even better and more skilled than her.
His interest in acids could probably stem from middle school science class, in which Reginald was put into a group and dared to take a drink of their random concoction they had brewed. Because there was a perfectly good sandwich on the line, he accepted, and drank the whole flask before passing out. Thankfully it wasn't acidic enough to burn tissue. It was then, young Reginald thought, if just mixing a bunch of chemicals together could cause you to black out like that, then think of what you could do if you knew what you were doing? Plus, he was able to drool green for about 2 weeks. It was awesome!
In the end, he got the sandwich, as well as a vigorous scolding from his mother. It's unknown where or when his love for eating had developed. He is usually seen walking around with his hand down a bag of chips, or chewing on whatever edible thing he can get his hands on.
Special Ability:
None
Alliances:
None, at the moment, but maybe if you treat him to an all you can eat sushi bar...
REM Dweller





Posts

: 1889


Join date

: 2009-12-19


Age

: 74


Location

: Freaky cake frosting sex.



Name:
Sirius
Age:
16
Gender:
Male
Grade:
Sophomore
Appearance:
Spoiler:

Rather tall, he has a straight stature that seems eerily perfect. He garbs himself in black cloth, layered, from head to toe that not a single part of his body can be seen. A single, short scope jets out of one eye with a red lens, while the other eye is obscured by the cloth that covers his entire head. He wears dark gloves and heavy black boots with adjusted soles for increased stealth qualities. The gloves are extremely thick and perfect for not leaving fingerprints behind. He is known to hide daggers within the cloth that covers his body, usually in random places that he switches up every now and again to keep people on their toes and to keep himself unpredictable.
Area of Expertise:
Reconnaissance
Short Bio:
Ever since Sirius was a small child, he had shown qualities that were rather...intriguing, to say the least. He preferred to be off by himself, just watching the things that went on around him. His parents were always scared; sometimes they would see him just sitting and think he wasn't breathing, but upon closer inspection, he always was. As he grew older, he turned out to be rather curious. His communication skills did increase slightly, but he still preferred to be by himself. Loving to learn, he was able to make friends in early years, but as things progressed, he was ridiculed for being a 'nerd' which he didn't understand. He shrugged off the taunts easily which caused the other kids to hate him even more. Eventually, it came to the point where he didn't want to go to regular school anymore. He spent a lot of his time self-educating himself, not to mention developing his gift which he named Nonexistence. It was perfect for describing how he felt sometimes--like he wasn't there. He noticed he had a knack for stealth and sneaking by people without them noticing. Thus, he found and enrolled himself in the School of Advanced Assassination with ease, for they were extremely pleased with his natural stealth talents...and of course, his magic gift.
Sirius is actually a really nice boy despite the creepy and interesting appearance, and he gets along well enough with others. He can even be kinda snarky sometimes. It just depends. His hobbies include watching...pretty much anything. He likes to watch. He also enjoys reading and keeping his daggers in pristine condition. It's not uncommon for him to play darts with anyone who feels like challenging him to a game. He has deadly aim, so it's a good test of abilities for challengers. Another quirk is that no one has seen what lies beneath the cloth. No one. He arrived at the school garbed as he is one year ago and since then, no one could tell you what he looked like. He refuses to show anyone, and somehow, he manages to elude anyone who tries to sneak up on him while he isn't garbed which led to a rumor being started about what's really under there. Mix in a robotic, monotone voice and the fact that it hardly ever looks like he's breathing and you've one hell of a mystery to investigate.
He also only goes by his first name. No one knows what his last name is either.
Special Ability:
Nonexistence - The ability Sirius was gifted with and trained for many years prior to attending the school for assassins was the ability to make himself completely invisible, but not just that. If someone bumped into him, they would not know. They would go right through him. It would be like he wasn't even there. He is able to use the ability as often as he likes, but while using it, he is unable to do anything such as attack or even move. He is stuck in one position and forced to watch, which is his specialty. He is working on being able to 're-exist' in a different location after using the ability, but he has not even come close to mastering such a complex art. He hopes to manage to do it eventually.
Alliances:
None. People hardly know he exists. lololol Kidding of course. There are the rumors. But yeah. Still no 'formal' alliances.
Last edited by Masquerade on Tue May 22, 2012 9:30 pm; edited 1 time in total
_________________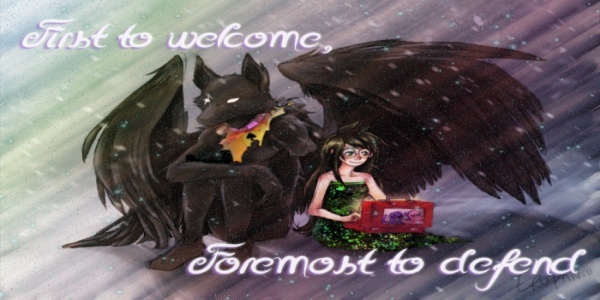 *Thanks to Mayari for the wonderful avatar/signature combo
WhippedCreame wrote:oh god yes eat my spaghetti confetti
Eternal Dreamer





Posts

: 16376


Join date

: 2009-10-28


Age

: 25


Location

: Home or work. Or some post-apocalyptic dream.



Name:
Reihai "Rei" Magatsu
Age:
15
Gender:
Female
Grade:
Freshman
---------------
Appearance:
Spoiler:
---------------
Area of Expertise:
Electronics and Networking
---------------
Short Bio:
Reihai, or Rei as she prefers, was born into the Magatsu family; a wealthy family with lofty connections due to their prosperous Computer and Networking corporation. As the sole heiress of the Magatsu Corp, Rei was raised on a life of utter luxuries. However, unlike most 'cream-crop' future millionaires, Rei was disinterested in the company itself (as the corporate world was something she always thought of as corrupt) but rather the products themselves. It started at a mere liking for the color displays and sounds at a young age and grew into full fledged studies.
By the time Rei had turned seven, she had moved on from figuring out the simple logistics of the devices to actually using them for whatever purpose. At first, Rei used computers and whatever other technologies introduced to her for little more than entertainment (mostly due to her being an only child). However, as she grew older and began to become disinterested with the simple inputs and unnecessary uses of the technology she was gifted with, Rei began to expand her knowledge. When she turned twelve, she successfully realized just what it was she wanted to try: Hacking.
Her first attempt is something no one knows about. She refuses to share any information about it. However, despite what happened it is known that she continued with it as she was contacted by the School for Assassins prior to entering high school not only for her family standing but also for determination and advanced technological understandings. Though she's only a Freshman, she expects that with help from the School she can advance her skills farther and maybe pick up other techniques.
---------------
Special Ability:
None as of yet.
---------------
Relationships:
Sariska Eternal:
None as of yet.
Lawlet Valkenstein:
None as of yet.
Reginald Salve:
None as of yet.
Sirius:
None as of yet.
_________________
Prince of Dreams





Posts

: 9517


Join date

: 2009-11-29


Age

: 22


Location

: I stand at a crossroads and stare at a question.




---
Permissions in this forum:
You
cannot
reply to topics in this forum