Hello all!

The names Lunaethetic, but most call me Evan. I came here with my friend Vergil, who's already introduced himself.

Anyways, I enjoy a good read, and haven't really tried RPing much. Perhaps I could give it a whirl.

Thanks!
Insomniac




Posts

: 2


Join date

: 2012-06-23



Hiiiya~ Two people in one day, that's kinda rare~

If you've read the other introduction, then you probably already know I'm Creame~ Pleased to meet you, too~

If you like reading, you can go to the Vortex of Words. There are all sorts of reads there. (none of which I've posted, hehe) As for RPing, if you want to get a feel of it, you can read any past or ongoing ones in the Role-playing part of the forum. That's how I learned, from example by reading other's posts... If you like to read and have a good imagination, it's not hard at all~

I hope you enjoy yourself here~ :3c
REM Dweller





Posts

: 1889


Join date

: 2009-12-19


Age

: 74


Location

: Freaky cake frosting sex.



Thank you for your hospitality (:
Insomniac




Posts

: 2


Join date

: 2012-06-23



Hey Evan. My name is Masquerade, but you can call me 'Masq' for short. I'm the administrator here on Eternal Dream, and I am happy to welcome you here into my humble realm. We have good reads (Eebit suggests Heart of the World even though it's a statplay) and if you'd like to get into role playing, everyone here is knowledgeable about the general rules for it so feel free to ask questions. Overall, I hope you have a wonderful stay here and I also hope it is a long one. Don't let the craziness of the people scare you away; we're still a friendly bunch. :3
_________________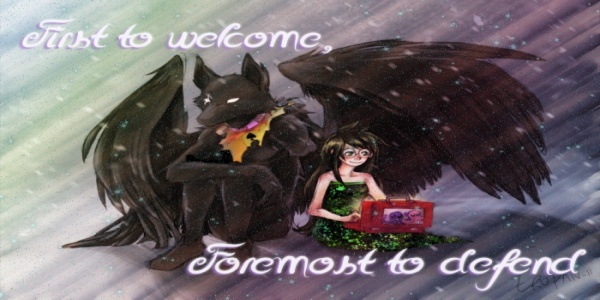 *Thanks to Mayari for the wonderful avatar/signature combo
WhippedCreame wrote:oh god yes eat my spaghetti confetti
Eternal Dreamer





Posts

: 16376


Join date

: 2009-10-28


Age

: 26


Location

: Home or work. Or some post-apocalyptic dream.



Coming in pairs?

...

Sounded dirty...ANYWAY.

Since you did come in pairs, I hope that means the both of you will stay longer than most newcomers.

I'm Zeri (Zerifachias), the God of Vengeance here. You might never learn why that is such a fitting title for me, and that would be a very good thing.

To follow up with Masq, if you ask any of us questions about the forum or role playing, we can answer. It doesn't have to be Masq, although he might be the best person to go to. He's not always available though, so feel free to come to one of the others if he isn't online (by some miracle or unfortunate event).

Welcome to here! \o/
Totes-Mcgoats





Posts

: 16374


Join date

: 2009-11-01


Age

: 26


Location

: Naletia



Late, again. You'll find that's a reoccurring thing with me, but hi there.

. . . Are you still posting? XD

_________________
"We must no more ask whether the soul and body are one than ask whether the wax
       and the figure impressed on it are one."
Right Hand of Destruction





Posts

: 5479


Join date

: 2009-10-29


Age

: 26




---
Permissions in this forum:
You
cannot
reply to topics in this forum