Nationality:
Broetham
Name:
Kilaan the Foreseer
Age:
18
Gender:
Male
Appearance:
He wears a black wayfarers' suit, with a red hood and straps that keeps the cloth stable and tight. The hood is almost always up, especially in places with sunlight. His hair is jet black and well-groomed. His skin is as pale as the moon, and his eyes are a strange silver color. He gives off a cursed aura, and in a way appears hostile towards others.
Theme Song:
Come Little Children
Personality:
If it wasn't enough that this person was one of the cursed, he also has somewhat of a split personality. From time to time, his mannerisms will change from a proper, formal man, to that of a nonsensical fortune teller. His "sights" are frequent, ever more so when approached by someone with multiple "futures." Kilaan thinks of his visions as a sign that he is near someone with a large amount of potential. He cannot always pinpoint the person, but his guesses are pretty spot-on.
Kilaan hates the sunlight. He hates light in general, but sunlight is the worst. He is most comfortable in dark places, like caves or anywhere during the night. The moonlight is the only light that doesn't bother him, so night is about the only time he ever takes off his hood.
Biography:
Unknown...
Pokemon Team:Starter Pokemon:
Haunter (Jasper) - A creepy and dangerous-looking ghost-type that has a talent for trickery and deception. Fighting this pokemon would be the hardest thing you've ever done, of that, I can assure you. Haunter may be fragile, but they are also very scary and tenacious. This Haunter has no problem with playing tricks on people or pokemon.
Moves:
Dark Pulse
Hex
Will-o-wisp
Perish Song
Secondary Pokemon:
Claydol (Seer) - An ominous and powerful pokemon that has no sense of mercy. It takes several coaxing words to get this Claydol to stop attacking an opponent, even if that opponent is already down for the count. Not something anyone would want to fight, not in the slightest.
Moves:
Psychic
Ancient Power
Ice Beam
Earth Power
Last edited by Zerifachias on Sun Nov 04, 2012 8:12 pm; edited 3 times in total
Totes-Mcgoats





Posts

: 16374


Join date

: 2009-11-01


Age

: 26


Location

: Naletia



Nationality:
Loretoudem
Name:
Crystal Aerie
Age:
18
Gender:
Female
Appearance:
Spoiler:

Standing straight and proud, the tall and lean form of this particular female faced the opposite way the wind blew, east, as the sun set across the horizon of the Floating Rock Cities. The wind was strong, up here in the clouds, but not strong enough to blow this particular girl out of the sky. Her long, golden hair was colored bronze in the fading light of the sunset, her electric blue eyes were closed now, and her arms were spread wide, as if absorbing the wind into her very soul. She wore a dusty red Sky Suit, the best casual gear for those who lived in Loretoudem. On other girls, it looked ordinary. Plain. Unattractive, even. But on her...the suit shaped her every curve, hugging her body more than any person ever could. Two long straps fell from her shoulder blades, unclipped at the ends, so they flew just as easily as her hair. Under the jacket she wore a gray wool sweater, with white lines making a simple pattern down her chest. The jacket was supposed to be zipped up, but she didn't care. She was beautiful, and everyone knew it.
Theme Song:
The Singer - Build That Wall
Personality:
The people of the wind are an energetic bunch. They love to fly, they love to talk, but most of all, they love each other. Very rarely would you see a character in Loretoudem that is in the least bit hostile or unfriendly. And usually, it doesn't last long. Crystal is no exception, she is a kind and compassionate soul who cares deeply for the well-being of her family and friends. Crystal is also very kind to people she does not know, which makes friend-making easy for her. As a light-hearted and open-minded person, Crystal excels at consoling others, and making certain bad situations seem not as bad. She doesn't get angry easily, and even if she does, Crystal is quick to fix her anger and blame herself for what happened, no matter what it might be. Because of this, she can get depressed rather easily. But that's what friends are for, right?
Crystal isn't flighty or distracted very easily. In fact, her focus is what makes her such a great pilot. Her humor lets her get along with others very easily, even the travelers who are on their Unfamiliar Journey. She is not naive about the world, and she is not ignorant of humans that are capable of doing evil things. Crystal knows what humans are capable of, but that does not mean she likes it.
In terms of music, Crystal enjoys the acoustic guitar that those in Loretoudem love so dearly. Ballads and lullabies are popular in this country, and Crystal loves them the most. An acoustic player with a beautiful voice is something she could listen to for hours at a time. The bird pokemon like the music of Loretoudem, just as much as the residents do. Crystal thinks it was the birds who influenced the human's taste in music. They would fly away from certain types of music, so the humans stopped playing them.
Biography:
Crystal was born in Aerie's Starry Skies, which was named after her ancestors for their brilliance to use pokemon to help power their flying cities in such a way that it did not make the pokemon feel like they were being used as tools. The electric-type pokemon could have a lot of fun with it, which made the people rest easy. Crystal's parents are now the leaders of the city, and so it is up to them how the city is run. But they keep it exactly as it has been for decades, the way their ancestors wanted it to be, because they, too, show tremendous respect towards the pokemon who help them.
Crystal grew up around birds. She loved to watch the birds soar through the air, always marveling at them from afar. Her parents often joked that she might grow wings one day and fly, and she jumped on that. It was obvious that Crystal was a genius when she started replicating tiny versions of the machines that the Loretoudem people used to fly. It was something she always worked on while in the presence of other birds, and they would sometimes stop by to see what she was doing. There was one bird that never left her, and that was a small Rufflet. Crystal could see that the Rufflet wanted to be with her, and so she named it Pilot. She was right about Pilot, for after years and years, that pokemon never left her side for more than an hour at a time. Eventually, Crystal began training Pilot in her own, unique style that was sitting in the back of her mind for a few years at this point. Pilot responded incredibly well to the training. Rufflet are normally not very good at endurance, and don't have a lot of defense, but Crystal made it so Pilot could take many, many hits from other pokemon before getting tired. Pilot's speed in battle helped tremendously with his endurance too, avoiding attacks was the best and most reliable strategy they used for defeating others.
Around the same time that Crystal started training Pilot, she found a lone Mareep, confused and lost, for it has lost it's parents. Crystal and Pilot took the lone Mareep around the city, going through each corner and crevice, asking nearly everyone in the city to help. It took two days before they had to give up, but Mareep was surprisingly happy about it. It seemed the pokemon enjoyed being with Crystal and Pilot so much, that it didn't want to leave. Crystal accepted this new friendship, happy that she could Mareep feel better, and named the electric-type Ada. For Ada, training was fast-paced and to the point where it would have been overwhleming for Pilot. Ada faced multiple opponents at a time, and she never lost a single battle. Of course, she only faced flying or other electric-types. Eventually, Crystal challenged a traveler from Ferrith, and beat two of his pokemon with just Ada, and another two of his pokemon with Pilot. Crystal's two pokemon were trained to the point that a traveler who already had one Merit of Excellence was not enough to defeat her solid duo, even when outnumbered 2-1.
Crystal trained her pokemon constantly, and was eventually rewarded on her eighteenth birthday when her first friend, Pilot, evolved into something bigger and tougher, and her second friend, Ada, evolved into something quicker and faster. Her team was exceptionally strong now, and it was time to move on to the Unfamiliar Journey.
Pokemon Team:Starter Pokemon:
Braviary (Pilot) - A male Braviary, who's personality can be described as a stubborn mule. When Pilot was still a Rufflet, he was one of the few Rufflet who was brave enough to face birds larger than he, and actually win. Through a strict training regime, Crystal managed to make Pilot's feathers hard as steel, and he could take a beating before ever going down. Rufflet are often seen as weak when it comes to endurance or defensive skills, but Pilot was obviously the best of them all, and even good enough to out-endure a Honchcrow. And then he evolved, making him so much more stronger.
Moves:
(Sheer Force)
Crush Claw
Brave Bird
Hone Claws
Superpower
Secondary Pokemon:
Flaffy (Ada) - An energetic, female Flaffy that always has to be doing something. Ada is a very curious electric-type, because she has only seen the things that Crystal has seen, as the two of them are always together with Pilot. Crystal didn't want to train Ada at first, but soon got over those feelings when Ada insisted on battling Pilot, as well as a few other pokemon. Ada remains the only pokemon to defeat Pilot, but then again, not many electric types are allowed to battle, unless they are with trainers. Crystal circumvented easy training by challenging travelers who came with different pokemon. She's only lost twice when using Ada in a one-on-one battle.
Moves:
(Static)
Electro Ball
Cotton Guard
Light Screen
Fire Punch
Spoiler:

Tertiary Pokemon: Blastoise

Moves: (Torrent)
Aqua Tail
Ice Beam
Iron Defense
Earthquake

Quaternary Pokemon: Mawile

Moves: (Hyper Cutter)
Stockpile
Fire Fang
Iron Head
Crunch

Quinary Pokemon: Ninetales

Moves: (Flash Fire)
Energy Ball
Heat Wave
Calm Mind
Dark Pulse


Senary Pokemon: Absol

Moves: (Super Luck)
Psycho Cutter
Night Slash
Swords Dance
Double Team
Last edited by Zerifachias on Mon Nov 05, 2012 5:51 pm; edited 2 times in total
Totes-Mcgoats





Posts

: 16374


Join date

: 2009-11-01


Age

: 26


Location

: Naletia



Nationality:
Adamites
Name:
Christopher "Cyanide" Feoras
Age:
18
Gender:
Male
Appearance:
Chris, or Cyan as he likes to be called (short for Cyanide), is rather short for a guy his age only reaching a height of 5' 4". He has a slender build and he's quite lightweight, though he likes to wear shirts that are too large for him and baggy pants. He's often seen in his trademark black t-shirt with a creepy white skull on it that has purple ooze dripping from its mouth. For pants, he prefers baggy cargo pants of a black or beige hue; the pocket space is just invaluable. He wears a long sleeve black button-up shirt over his t-shirt and always leaves it unbuttoned. Black and white Converses are his shoe of choice, and he wears a black cap with a white poke ball symbol on the front. Chris has pale, white skin and jet black hair that goes down to about the middle of his neck. His eyes are a brilliant light blue and he sometimes wears eyeliner to bring out their natural color. When it comes to his features, they're somewhat feminine, but he never lets that bother him. He's still not someone you want to fuck with. Around his waist is a black belt that holds his loose pants up. He has a small bag attached to the belt and a black backpack that he uses in order to carry his larger items. There's stuff in his pockets, too; gotta love that extra pocket space, fuck yeah.
Theme Song:
To/Die/For - Liquid Lies
Personality:
Despite the dark appearance, Cyan is actually has no problems being sociable. He prefers to be alone, but he doesn't make a big fuss if there's a lot of people around. Most people don't tend to want to talk to him anyway because of his weird tendencies. He's a closet sadist and sometimes fantasizes about inflicting pain on other people through a variety of means that are most torturous, though he assures what friends he has that he could never
actually
go through with that kind of stuff. He can be a bit of a smooth talker sometimes, and he can be difficult to trust albeit he doesn't make a habit out of breaking promises and betraying other people's confidence. He can come off as insensitive and cold sometimes; he doesn't have a very great sense of empathy. To top it off, he's somewhat cocky to the point where his friends believe he's overconfident. They warn him that it'll lead him into trouble, but he merely brushes them off with a cold shoulder shrug.
Cyan likes poison...or at least the idea of it. Oddly enough, he doesn't have any poison-type pokemon, though he figures in due time he will manage to nab a good one. He also likes reading science fiction sometimes (not like he'd tell anyone that willingly), preferably while listening to techno music. He saves the rock and metal for when he's jamming out or training with his pokemon. Cyan considers himself a carnivore and he loves meat, though when he's not eating something heavy, he usually likes to chew gum or suck on jawbreakers. Soda and energy drinks are his favorite drinks and he sort of relishes, yet despairs the fact that the sugar has practically little to no effect on him. Cyan is a creature of the night and prefers to walk around during the late hours while sleeping for most of the morning and part of the afternoon. He dislikes being woken up early. He also dislikes bossy people and people that are unbelievably happy for no fucking reason. People that bad mouth his pokemon are put on his hit list; he doesn't give a flying shit about what people say about himself, but when they talk shit about his pokemon, shit gets real. He hates things that are too sweet or just too nasty (talking about food here.)
A few odds and ends things:
---His favorite colors are black and blue.
---His favorite instrument is the violin.
---He knows how to play the piano, despite his love for violins.
---He's not half bad at mixing music, but he could use some practice.
---All of his poke balls are marked with a black curved line that looks like a 'C'.
---He adores snake pokemon.
---His favorite types of pokemon are poison, steel, and ghost.
---Dragon types piss him off.
---He's aware of his somewhat feminine appearance and perfectly comfortable with it.
---He like playing video games inspired by music.
Biography:
Born in Starshine Quarry in the Adamites Region, Cyan was a premature baby by a few weeks. There were no major complications, though Cyan's mother and father were told to expect stunted growth. His father was a tall, well-built miner who was allotted ore which he would purify to obtain gems that his wife would use to make dazzling jewelry to sell to retailers. They made an immensely good living that way, even if mining wasn't the safest job around. When Cyan was very young, he liked to play with his father's mining tools, but he wasn't allowed to go to work with him. Instead, he stayed at home all day watching his mother make jewelry. All the shininess of said jewelry always captivated him. When he got a bit holder, his parents would take him out some nights through the town so he could watch the ore in the walls of the quarry shine like stars in the artificial light of the town, hence the name. He would always be astonished by the sight which lured him to favor the night, though his sleeping habits weren't affected to reflect as such until he got older. Eventually, his father died in an accident at work, something his mother had been prepared for...but he had not. For weeks he stayed tucked away from everything in anguish. He was only 8 years old. His mother had been busy trying to take care of financial things. They had plenty of money, but without Cyan's father around to purify the ore that they were allotted, his mother couldn't make jewelry. Luckily, one of her friends volunteered to help. He could purify the ore just as well as her husband could, if not even more so. Not only did he do that, but he offered Cyan a pokemon--a Riolu whom Cyan named Aurux. It completely brought him out of his depression, granted he was sure he'd never feel as happy again.
More years passed and the guy who was helping out Cyan's family offered to teach Cyan how to purify ore himself. Over the years Cyan was focused on training with his Riolu, but he figured that it would be interesting to learn how his dad managed to get things so pure from something that was a garbled mix of different rocks and gems. And so he learned. He got really good at it, and the friend of the family praised him greatly. In his spare time, he also trained his Riolu which eventually evolved into Lucario earning him respect from his friends which only served to boost his ego. He started to take a liking to hard rock and listened to it while he worked on ore--he eventually took over for the friend of the family and was pleased to help his mother out. She didn't care too much for the loud music, but she wasn't going to complain. She was very proud of her son. Cyan often worked deep into the night and went out for nightly walks whenever he felt like he needed a break from work. He'd crack open a couple of energy drinks, giving one to Aurux who seemed to have a taste for them, and then head outside. One night he was unfortunate enough to run into a rather unruly Misdreavus who had an obsession with his hair--mostly pulling it. Cyan wound up challenging it to a battle and capturing it. He named her Edea, and for a while, he had trouble training with her because of her love for pulling at his hair and the hair of people he battled with. It definitely irked Cyan and he had to fiercely discipline her through many scoldings. Eventually, she grew tired of that habit (along with the constant yelling) and so dropped it like a rock. Cyan was pleased at this and finally glad to have two powerful pokemon. He was a beast in battle, and everyone in Starshine Quarry knew not to mess with him. His pokemon were ruthless and he commandeered them with such confidence and resolve such that his sheer number of wins compared to losses was staggering.
On Cyan's 18th birthday, it was time for him to become a Legend. The journey to find himself was something he had looked forward to for at least a little while, and finally it came upon him. His mother assured him that she would be fine during the time that he was gone, so he didn't have any regrets when it was time to set out. The people of Starshine Quarry stuck together; it was a sappy thing to him, but he figured it was better than them all being jackass backstabbers. Packing up only the most necessary of belongings that he could bring with him, Cyan prepared himself for a journey that would take him across the entirety of the four regions, and hopefully, he would become a Legend. Oh, who is anyone kidding? Hopefully? Cyan knew he would become a Legend, and his pokemon were going to back him up the entire way.
Starter Pokemon:
Aurux (Lucario) - A calm and collected male Lucario. Aurux was given to Cyan as a Riolu back when Cyan was much younger. He was Cyan's first pokemon. Being already decently disciplined, Cyan found it very easy to train and work with Aurux, not to mention Aurux shared Cyan's love of the night and energy drinks. When he evolved, he only became more fierce, and his loyalty for Cyan mirrored how much respect his trainer had for him. Together, they were a force to be reckoned with.
Secondary Pokemon:
Edea (Misdreavus) - An easily annoyed and mischievous female Misdreavus. Cyan encountered Edea on a nightly stroll and she took a fascination to pulling the boy's hair. Angered, Cyan battled with Edea and beat her along with winding up managing to capture her as well. The capture definitely didn't do much except give Edea more instances to pull on Cyan's hair whenever she was released, or when she was fortunate enough to be sent out to battle another trainer, she could pull on the opposing trainer's hair as well. Cyan had yelled at her a lot and gave her lots of lectures. She eventually grew weary of hearing him spout bull shit at her and dropped the habit. Despite the harsh discipline, she does have a somewhat decent respect for her trainer and battles with everything she has. She still likes to play tricks on him every now and then, but those have become laughable instances.
Last edited by Masquerade on Wed Oct 31, 2012 6:39 pm; edited 1 time in total
_________________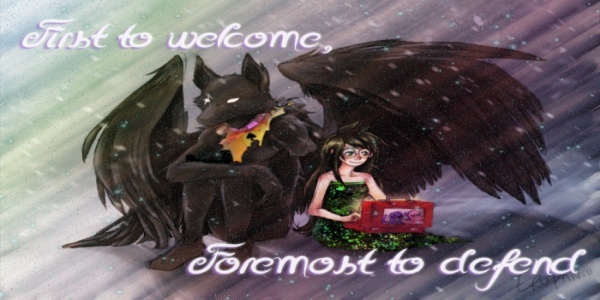 *Thanks to Mayari for the wonderful avatar/signature combo
WhippedCreame wrote:oh god yes eat my spaghetti confetti
Eternal Dreamer





Posts

: 16376


Join date

: 2009-10-28


Age

: 25


Location

: Home or work. Or some post-apocalyptic dream.



Nationality:
Ikai
Name:
Elli Nanette
Age:
18
Gender:
Female
Appearance:
Spoiler:

Full ImageTheme Song: Child of Magic
- - - - - - - - - -
Personality:
Elli is very much a child at heart, and clings to her inner child despite her oncoming adulthood. Owner of a very colorful imagination and bright optimism, everyone who meets Elli find themselves at least a little bit affected by her cheerful (and highly naive) outlook on life. As a free spirited extrovert by nature, she is a girl of simple pleasure and purely likes to have fun with others. It does not matter what the activity is, but the longer she gets to spend time with friends, the better. Many of her elders (or... most everyone in general) believe she needs to grow up and act her age, much to her displeasure. It's not that she doesn't want to be an adult or act her age, it is simply that she enjoys being a little more childish. In her mind being serious or 'realistic' all of the time doesn't allow one to get a kick out of life, as should be everyone's goal. That being said, Elli does know how to behave like a grown up and act her age. Although this side of herself is typically reserved for when the situation requires it of her.
- - - - - - - - - -
Biography:
When Elli was young, she was considered a highly advanced mind and a very gifted child. This fact alone makes her personality and disposition now as a young adult, very much a disappointment to her parents and those that expect 'more' of her. They believed from as early as age three that she would be a brilliant girl who would eventually go on to great things; unfortunately they were not quite as pleased with the life path she chose to walk.
At age five, Elli automatically proved that she would be a handful; brilliant or not. Her imagination ran wild and, although she was well grounded by her authority figures, she retained a fire for life. She was always off exploring her hometown, meeting new friends (in either the shape of pokemon or people), or just evading boredom in general. She was a child that frankly, would never sit still unless told many times, and sometimes even that was not enough. Her parents took this fact with a grain of salt, expecting it was just a phase and by the time she grew a little bit and matured she would be more reserved. They were wrong.
Upon hitting her preteen years, Elli developed little and was still clearly a child at heart. It was hard to contain her spirit and optimism, and it seemed her 'brilliant mind' was gone. Her thoughts were immature and naive, filled with sugar and ideas only young children would have. This was especially clear when she was with or spoke of pokemon. In her younger years and even then, Elli believed that pokemon were magic; they were beyond wildest dreams and everyone was lucky to have them around. Pokemon were... in her own words: "Absolutely incredible! Amazing, wonderful... unbelievable!" She adored pokemon and often spent her time searching for as many kinds of them as was physically possible; it quickly became her lifelong goal to see and make friends with each and every one of them.
Her parents were less than pleased, but as she clearly stated earlier in her life, they could not contain her. They tried everything, whether it was grounding or pushing thoughts into her head, to keep her on a more 'focused' and 'realistic' track, something that could help her survive when she was an adult. Something practical. But Elli would not have it, and after several more years of breaking free from their attempts at controlling her life, Elli finally turned eighteen. With whatever little control they had on her broken permanently, Elli set off on a journey and planned to never leave it. It was the only way she could make her dreams come true.
- - - - - - - - - -
Pokemon:
Yuki-chan
Wish
,
Shadow Ball
,
Icy Wind
,
Hail
- ~ - ~ - ~ -
Woopa-chan
Water Gun
,
Slam
,
Yawn
,
Earthquake
Italics mean that said moves are the more commonly used ones.
Last edited by Silver on Fri Aug 17, 2012 9:25 am; edited 2 times in total
_________________
Prince of Dreams





Posts

: 9517


Join date

: 2009-11-29


Age

: 22


Location

: I stand at a crossroads and stare at a question.



Nationality: Ferrith
Name: Daniel Chen
Age: 18
Gender: Male
Appearance: Daniel's a decently tall man, standing at about six foot three inches. Being raised in Ferrith his skin is a bit dark, though not quite as dark as some of the others who grew up alongside him due to the fact that he doesn't tan or burn very easily. His body isn't quite what you would call buff but it was definitely not frail either. Daniel has straight black hair which he keeps relatively short to prevent them from trapping the heat from the sun while he worked on the field and his brown eyes almost always have a look of childish curiosity. The clothes he wear are usually light colored, most of them are white though he has a few blue or yellow shirts. Furthermore, pretty much every one of his clothes are either short sleeved shirts or shorts. Daniel doesn't have a tendency to wear accessories either, as he feels that most of them tend to get in the way.
Theme Song: (Just for fun. This is optional, though if you do it, it could be your character's theme, or just your favorite song.)

Personality: Daniel's a friendly and cheerful person who would show care and compassion to anyone, even a complete stranger. He seems to have a lot of energy, and due to that he has a tendency to laugh a lot, quite loudly at times too. He believes in the naive ideal that everyone should try to help each other, regardless of background, ethnicity, or wealth. Also due to his upbringing Daniel would put all his effort into any task he had to do. And as friendly as he is Daniel does have his pet peeves, the biggest of which is someone doing a half-assed job at something. Though the man is fairly forgiving as well, so if you get on his bad side he's not going to hold it against you for very long. Maybe just for half a day or so at the very most.

Biography: Daniel's family, like most other families in Ferrith, were farmers. And thus Daniel had to help his family on in the field just like his two older brothers. Not that he minded working all that much, it was something productive for him to do and he was helping out his family. Around the time Daniel turned fourteen another family moved into a neighboring farm. Said family also had a child, a girl by the name of Cosette who Daniel happened to catch sight of on a day when he was working alone. The two quickly became friends, which caused their families to become rather close, helping take care of each other's farm whenever they needed to. Some people thought the two were in love, though Daniel never saw Cosette as anything beside a best friend. And though Daniel began spending a good amount of time with Cosette he never ended up shirking his work, which further disproved the validity of the notion.

When Daniel turned seventeen Cosette had already left her home, as she had reached the age of eighteen and thus set out to the journey that everyone was supposed to go on. Daniel on the other hand had just started to prepare for his journey, borrowing a Pokemon from his parents Daniel left for the forest with two Pokeballs. His first catch was a Pineco, a rather easy catch too. Though further into the forest Daniel didn't manage to find very many Pokemon. However what he did find was a body, one with sting marks all over his body. Feeling rather bad for the unfortunate traveler who must have stumbled upon a nest of Beedrill, Daniel took a moment to give the man a burial. Afterward when he left to continue searching for his second Pokemon Daniel noticed a small light source from where the man's body used to be. A candle-like Pokemon was floating there, Daniel remembered the Pokemon being called Litwick. It seemed rather thankful, possibly because he had the compassion to bury its trainer. With that Daniel captured his second Pokemon and returned.

Now it was finally his eighteenth birthday, when Daniel would set out on his own journey.

Starter Pokemon: Pineco

Secondary Pokemon: Litwick
Masochistic Kitty Kat Maid





Posts

: 8939


Join date

: 2009-10-30


Age

: 22


Location

: I dunno 3:




---
Permissions in this forum:
You
cannot
reply to topics in this forum