Page 2 of 2 •

1, 2

"Edea, execute Shadow Ball!" Cyan exclaimed, jumping back a bit to gain distance from his pokemon. He had absolutely no desire to get stuck in the fray. Out of the corner of his eye, he spied Aurux who had already distanced himself from everything. Aurux gave Cyan a slight smile, and Cyan just rolled his eyes in response. If Crystal wanted him to act fast, he would. He watched as Edea opened her mouth, shadows quickly swarming to form a ball which she fired right at the incoming attack, the two balls colliding and exploding upon contact, smoke billowing out everywhere. "Edea, follow up with Confuse Ray, now!"

Edea was quick to respond, the large orb on her neck starting to glow. Within seconds, silhouettes of her form surged through the smoke to strike at Ada, hopefully helplessly confusing her. The smoke could be a problem, but I think Ada was far enough away from the cloud. When the illusions plow through the smoke, it should be a sure hit, Cyan thought to himself confidently while he had the chance, but it didn't last long. He didn't want to underestimate his opponent. We'll have to see how Crystal reacts first. He found his hands clenched into fists, his heart pumping faster. He could feel the adrenaline surging through his body. Battling was always such a rush for him. Aurux barked in cheer from the sidelines, wishing the best for his trainer.
_________________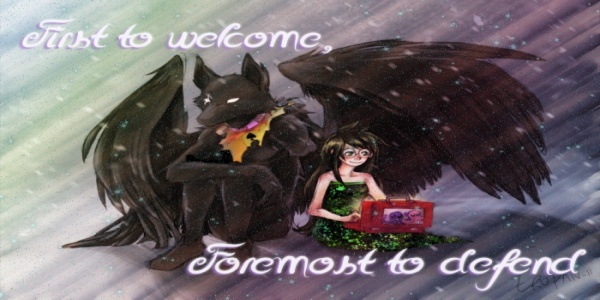 *Thanks to Mayari for the wonderful avatar/signature combo
WhippedCreame wrote:oh god yes eat my spaghetti confetti
Eternal Dreamer





Posts

: 16376


Join date

: 2009-10-28


Age

: 26


Location

: Home or work. Or some post-apocalyptic dream.



Crystal smiled as her Ada's Electro Ball was destroyed by Edea's Shadow Ball. Two elemental balls colliding with each other, resulting in a fairly large dust cloud. Despite the noise, though, Crystal's sharp ears picked up on Cyan's next move. She would have to act quickly, but where would the attack be coming from? There wasn't much room between Ada and the dust cloud, so there was really only one option.

"Ada, Light Screen!" Crystal called to her Flaffy, who responded immediately, setting up a barrier of light on all sides, including below to thwart any attacks from the ground. The illusions of Edea pelted through the dust cloud the next second, making Crystal glad she trained Ada to respond so quickly, and evaporated when they touched the barrier.

But when Ada lowered the Light Screen, she began to wobble around on her feet, flicking her tail from side-to-side, as if dazed by the illusion attack. Now, Crystal knew that Light Screen worked to deflect things like Confuse Ray, as well as other moves like Will-o-wisp. But Ada here was acting strange, did the attack get through to her, or not?

"Ada!" Crystal called, "snap out of it! We can't be having you twirling like a ballerina during a battle, c'mon!" Crystal knew what was happening. Ada was playing a little trick. "Get in close and use Fire Punch!" Crystal ordered. Ada didn't seem to mind changing her course to wobble through the dust cloud, disappearing from sight. The cloud was clearing now though, so the cover wouldn't last long.
Totes-Mcgoats





Posts

: 16374


Join date

: 2009-11-01


Age

: 26


Location

: Naletia



Page 2 of 2 •

1, 2


Similar topics
---
Permissions in this forum:
You
cannot
reply to topics in this forum