Her eyes were always beautiful. Dark, yet reflective. I could lose myself in them, but it was impolite to stare. And who was I but the awkward freshman with no friends or connections at the academy? I was a nobody. I could..never....h0p3 to g4t a giiiiiiiiiiiiirrrrrrrrr...---

SYSTEM...ERROR...ERROR!!

Receiving code...
...
...
processing...
program "timekeeper.exe" found. Activate?
...
processing...
running program...

Corruption value depleted heavily!

They're everywhere! Why are their numbers increasing?! I thought...I thought we had a chance with all of us together!! Gods, this report may be my last...

processing...

Rontzelle Academy. I've dreamed of going to this school for such a long time now. They say they've integrated the latest technology into everyday operations and that they even have an independent laboratory performing top secret research. It's so exciting! And to think that I got the chance to go!! Working hard in the beginning parts of high school really paid off. That full ride was a surprise. I think I nearly died when I heard the news. I hate that I have to leave all my friends behind but...I have to take this opportunity while I can. Not many can say they attended Rontzelle, and even less can say they graduated. It's going to be tough, but...but I know I can do it! Yes, I'm going to pack my stuff now because I am kissing my old life goodbye!

processing...

What the hell? I've been noticing strange things lately. They're scaring the absolute piss out of me. These...creatures...what are they? Have I not been getting enough sleep? Maybe if I just ignore them...they'll gooo000000 aw44445yyyy....8we8238wuj24jfqa...jw0iejwa--

TRANSMISSION CORRUPTED.

THey"RE CoMING....

....RUN.

RUN.

RUN.

RUN..

--END.
_________________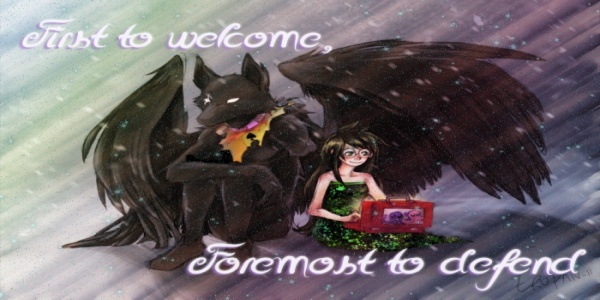 *Thanks to Mayari for the wonderful avatar/signature combo
WhippedCreame wrote:oh god yes eat my spaghetti confetti
Eternal Dreamer





Posts

: 16376


Join date

: 2009-10-28


Age

: 26


Location

: Home or work. Or some post-apocalyptic dream.



Masq I think your iPad has a virus.
Totes-Mcgoats





Posts

: 16374


Join date

: 2009-11-01


Age

: 26


Location

: Naletia



"Barely got away that time."

"I know."

"Were you that intent to learn what happened here?"

"I suppose you could say that. Let me do my work."

DRIVE DETECTED...

Loading...

Loading...

Scan or View files?

Attempting to load files...

CODE ENTRY: ******

CODE CONFIRMED!

CORRUPTED FILE!!!

ERROR! ERROR!

"You're not going to get anywhere like that."

"Hush, asshole."

PROGRAM UPLOAD...
LOADING...
LOADING...
program "reaper.exe" found. Run?

Running...

"Jackpot."

I took a tour of Huervellund today! It's such a beautiful city! I've never been to another country before. Everyone here has accents; I feel so out of place. Regardless, I think this is going to be a great new place for me to live. The people are nice, the scenery is to die for. The academy itself is grand. I feel like the luckiest guy in the world!!

"Luckiest guy in the world? Heh, I don't know if I would go that far."

Running...

Someone....someone I know really well passed away today. I know it's because of the JQW(IEJl...they did this to him. There's nothing else it could have been. A mysterious death with seemingly no cause. But I know. I can see them. I can see them laughing at me now. Pl4y1ng triakcowa on meeeeeee3333333...--

ERROR!
OVERRIDE CODE: FA4793KEI
...
ACCEPTED...Continue transmission?

Running...

I might wind up killing myself. This one is strong. Probably stronger than the last Advanced one I fought. If it takes me down though, I want to go down fighting.

"We should go. We'll be outnumbered again."

"Fine, fine. God I hate being so useless. Let's go."
_________________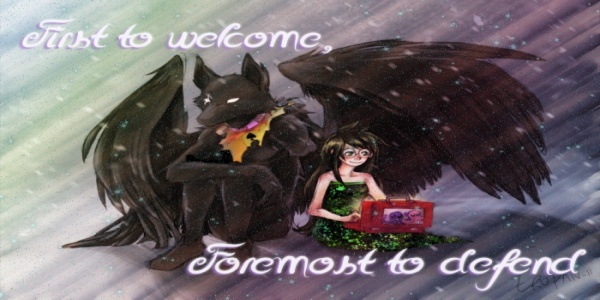 *Thanks to Mayari for the wonderful avatar/signature combo
WhippedCreame wrote:oh god yes eat my spaghetti confetti
Eternal Dreamer





Posts

: 16376


Join date

: 2009-10-28


Age

: 26


Location

: Home or work. Or some post-apocalyptic dream.



If you are listening to this transmission, then the end has yet to come.

PAUSE.

DISTORTION CHECK...
...CLEAN.

ERROR CHECK...
...FREE.

CORRUPTION CHECK...
...
...
CORRUPTION BLOCK SYSTEM "PURITY" ACTIVE.
"No corruption shall infect this file. By my blessing, this transmission shall be heard." -Vice Administrator Arwen Vanderfell

UNPAUSE.

Let me warn you now that the end is coming. It's just as Professor Huuntz said. The mass of darkness is looming over the academy and the Rietzen have become more active and numerous. There is no way we can stop them nor the threat that hovers over our being. A Rietzen of the highest class will appear and destroy this academy for its crimes against the other Rietzen. We are a threat to their existence and now they are going to snuff us out for good. After that, it will destroy the world, for sure. How long will it have after the academy has been destroyed? That, we do not know. Professor Huuntz and Headmaster Gorren have decided that we will not fight against it. No one is to evacuate as Huuntz proclaims that it will provoke the Rietzen to destroy the world faster. No, we are to stand our ground and die--to accept our fates for the sake of a world with days that are numbered. We have been assigned to do these last testaments. Wills have no meaning in a doomed world. All of our belongings will be destroyed--there will be no one left to inherit them. Gorren said it would be good for us--a way to let out our feelings on the matter. Truth be told I've fought against some tough Rietzen, and many people have been taken away from me. I hate them with every fiber of my being, and I hate that I have to die without putting up a fight but I know I cannot defeat it on my own. My friends...I don't know how they feel. They probably feel the same way I do...

It doesn't matter. I had a great time at this academy. If I somehow survive this catastrophe, I won't stand down when the true end has come. There won't be anyone to tell me not to. I hope Aisla, Stephen, and all the others are there to stand with me. We have to make it through this somehow...

To anyone who finds this transmission, know that not all hope is lost. The Rietzen can be seen. There are people out there who can see them, and technology to help those who can't. Find these people and harvest this technology. If you can do that, then maybe, just maybe, there will be a chance to save this world. Until next time, farewell.

END TRANSMISSION.

Tears rolled down the boy's face. He sat on a large broken chunk of metal while his companion perused the files in the terminal. His white hair had grown long since that transmission was made. It blew in a breeze that came down from the overcast sky, long strands dancing in the air. Honey eyes began to grow red and puffy as more salty tears fell along his cheek and plummeted to the ground below.

"Do you think you finally figured out what you came here to figure out?" he said softly.

"I think I've heard enough." The companion disassembled his equipment and put it back into his shoulder bag. This man was quite older and had messy blond hair with a dark stubbly beard and sideburns. He slung the bag over his head and let the strap rest on his shoulder before reaching into the pocket of his slacks to retrieve a pack of cigarettes and a lighter. He retrieved a stick and stuck it in his mouth, shielding the lighter from the breeze with his other hand as he lit it. He returned the materials to his pocket and took a long drag from the cigarette, taking it out of his mouth and exhaling the massive cloud of smoke. The breeze was fairly constant, gently touching the hems of his beige overcoat.

"Why don't you tell me the whole story yourself? Why make me go through all of that?"

"You needed to see the destruction for yourself," the boy responded simply, hopping off of his metal cube and straightening his own tattered black overcoat which covered the white button-up he used to wear with his school uniform. "Would you have believed me if I told you that this school was destroyed by metaphysical creatures that can only be seen by people with special powers stemming from their state of being? That there were kids at this very academy that were made to fight against said creatures at the cost of their sanity or even their existence? Of course you wouldn't. Maybe if there were documents from the lab that were preserved but there was hardly anything that wasn't corrupted."

"Haha, maybe you're right, kid. I wouldn't have believed a lick of that," the man responded puffing some more on his cigarette. "I supposed I did need to hear this." Taking a final inhale, he tossed the cigarette on the ground and stomped it with his brown loafers. "So where's this technology? You're going to need allies kid, if you wanna keep the hope alive right?"

"You can't possibly mean to--"

"I've come this far, jackass, and I am not turning back now."

"All right. Let's go. I'm surprised we haven't encountered them yet, but if you want to fight, we'll have to give you the means. Follow me."
_________________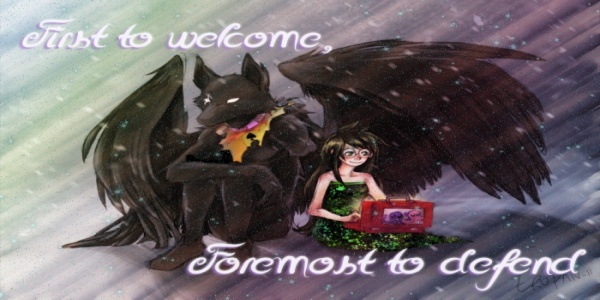 *Thanks to Mayari for the wonderful avatar/signature combo
WhippedCreame wrote:oh god yes eat my spaghetti confetti
Eternal Dreamer





Posts

: 16376


Join date

: 2009-10-28


Age

: 26


Location

: Home or work. Or some post-apocalyptic dream.



In the world of Terza Iriden, there lies a country by the name of Huervellund which houses a legendary academy by the name of Rontzelle.  This prominent educational institution is the best in the land, and possesses a strict degree audit for the attendees.  Most who are fortunate enough to attend falter in the weight of the workload and wind up flunking out.  The rigorous course studies are not for the faint of heart.  However, success in this academy guarantees that one will land a job in any field of their interest without question.  Boasting a degree from this academy entitles one to a lot which is to be expected after all the work.  There is even an independent research laboratory on campus albeit it has restricted access and the experiments conducted within are top secret.
Rontzelle Academy holds many secrets, and it appears to be plagued by things that cannot be seen by a normal eye.  Wandering around Rontzelle and the nearby enemies are metaphysical aberrations known as Rietzen, abstract manifestations of ill will, hatred, and negativity.  Why they have come or how they came to be is unknown, but it has become apparent that there are a select few who have the gift to see and harm these otherwise invisible and intangible creatures.  Quite a many have been accepted into the academy and are used to combat these creatures that threaten to take the lives of humans by attaching themselves to the soul and draining the positive feelings from it leaving a tainted and depressed soul.  The afflicted typically commit suicide or just outright die for reasons that cannot be determined by those in the medical field.  As such, the Rietzen, whose presence has been acknowledged by the administration at the academy, have been deemed a threat to humanity.  It is rumored that the laboratory is researching ways to rid the world of Rietzen for good.  It seems logical, but no one is to say for sure...
You will enter this scenario as a student at Rontzelle with the gift to see and combat the Rietzen.  You will be given tasks by administration to defeat certain Rietzen which vary by class: Fodder (Trash), Intermediate, and Advanced.  It is your job to see these missions to completion and protect the city and student body from the Rietzen threat.
This role play will go differently in the way that the profile is different in quite a few ways, and your interactions and tasks at school and in battle will influence the progression of your character's statistics.  Let's take a look at the example profile:
Name:
Ion Vurlei
Gender:
Male
Age:
16
Level:
1
Next Level:
0/12
Appearance:
Spoiler:

Ion is a fairly tall young lad wearing his school's standard uniform: a long sleeved black jacket with gilded trim and crimson vine designs upon the front accompanied by a pair of black dress pants.  Ion chose to wear a white button-up beneath his jacket and standard black dress shoes to complete the look.  He keeps his white hair short and brushed back usually, held back with a light gel.  His honey eyes gaze with hope upon his future, and his pale complexion belies a yearning for adventure and outdoors exploring.  One certainly wouldn't expect such a thing out of him.
Rank:
Novice
Classification:
Area of Effect Damage Dealer
Merits:
None.
Crisis Calling:
Beams of Light –
Twin blades composed of a pure blue light that can slice through most anything.
[Basic Attacks: 3 cell range][2 hits][Cleave]
*Cleave: Deals 50% Basic Attack damage to nearby foes to target.
Armor:
Rontzelle Academy Uniform –
Standard low-defense uniform mainly for aesthetical appeal as opposed to protection in battle.
Accessory:
Checkered Bandana –
Worn about the neck, it is a rather poor attempt at making a fashion statement.
C-Ability:
Carving A Path:
+Flash Blitz:
Dashes forward and ends one's path with a perfect circular slash to harm all enemies in an area.  Deals 80% ABS damage to all enemies surrounding the user after the user has traveled in a straight 4 cell line.  8 SB.
Essence Calling:
Lightspeed – The soul shines as brilliantly as light and travels just as fast.  Regains SB equal to 10% of total damage dealt from one attack.  Net damage from multi-hit or multi-target attacks are added up and then the user regains 10% of that totaled damage in that case.
Q-Ability:
Cascading Blades –
Lunges into the air and vanishes from sight with one's blades remaining visible before diving downwards, striking upon some hapless foe, phantom images striking over and over again after the initial assault.  A true rain of blades marks the demise of the guilty.  Deals 200% Piercing ABS damage to an enemy up to 4 cells away.
Stats:HP:
20 (+5 from Checkered Bandana)
SB:
20
Atk:
2 (+0 from Beams of Light)
Def:
1 (+1 from Rontzelle Academy Uniform)
Abs:
4 (+2 from Beams of Light)
Per:
3 (+0 from Rontzelle Academy Uniform)
Agility:
7
Movement:
3 cells
Honors:
0
Merit List:
Spoiler:

None.
* * *
I am only going to go over the new fields as the old ones function in the same manner as in other role plays.  Let's begin.
Rank
- This is your rank given to you by administration.  You will start off as a novice and progress through the other four ranks.  Attaining each new rank will provide you a bonus of some sort.
Classification
- Your self-given classification.  What is it that you do in battle?  It should be tied to your Crisis Calling in some way.
Crisis Calling
- This is the manifestation of your gift which you use to combat the Rietzen.  It takes the form of some sort of weapon or ability--you use it to execute basic attacks.  And these basic attacks will have special effects such as Ion's Cleave which allows him to do area damage as specified in his Classification.  See how it all ties together?  Another character, Aisla, has the Crisis Calling: Immense Allure which deals damage to a target and provokes them to attack her.  There are plenty of ideas; just run them by me and we'll figure something out.
C-Ability
- This is your Crisis Ability.  Utilizing your Crisis Calling, you can manipulate that power to execute more powerful skills at the cost of your State of Being.  You will only have this one C-Ability for the entirety of the role play.  You may have up to 10 skills in your C-Ability.
Essence Calling
- Your Essence Calling is a power that comes deep within your soul--it is a part of you.  Utilizing this power assists you in combat through a variety of means.  It is completely up to you what you put as this Calling.  Callings are always subject to scrutiny by myself and may be nerfed or adjusted.
Q-Ability
- This is your Quintessential Ability.  It is the ability to end all abilities, similar to D-Abilities in other series.  It does similar damage and has similar effects.  The only difference is that it may only be used under certain circumstances in battle.  There are no limits to how many times it may be used in one battle as long as the conditions are met again and again.
State of Being (SB)
- This stat is comparable to the MP stat in other role plays.  However, there needs to be an explanation of what this is.  State of Being is exactly what it says: it is the absolute essence of your character's existence.  Using C-Ability skills weaken one's State of Being--the energy has to come from somewhere.  When SB gets low, it is wise to stop using skills.  The closer SB gets to 0, the higher chance of the character going Insane or Nonexistent.  Insane characters permanently change in and outside of battle.  They have literally lost their minds.  They may be functional, but they will never be the same.  A character that goes Nonexistent will cease to exist and be erased from the role play.  It only has a chance to occur if SB reaches 0.  If a character does not go Nonexistent at 0 SB, they will go Unconscious and must undergo a comatose recovery phase to restore their being to its rightful way.  Insane characters can also go into comatose recovery in the same way to restore their Sanity, but to do so requires time and resources.  Be wise about your SB expenditure.  Another unique aspect of SB is that distraught characters or characters that are conflicted or experiencing negative emotion may start off with a lower SB than maximum.  
DO NOT LET THIS INFLUENCE HOW YOUR CHARACTER ACTS OR FEELS AS IT DETRACTS FROM THE INTEGRITY OF THE ROLE PLAY.Abstract Thought (ABS)
- Abstract Thought is a metaphysical essence that can be used and manipulated.  Most Crisis Callings utilize this stat, but there are those who can take this energy and strengthen themselves to execute powerful physical attacks, hence the difference between STR and ABS.
Perception (PER)
- Perception is one's ability to navigate and expose Abstract Thoughts and give them form--to understand them and therefore reduce the damage taken from attacks made of that energy.
Agility
- Every character is given an Agility rating.  In battle, numbers are compared.  A more agile unit will be able to dodge your attacks more easily and deal critical strikes more often to their targets.  That isn't to say that a unit with lower Agility can't deal a critical or hit a higher Agility unit, but the chances are much lower.
Honors
- Honors are certificates obtained for successfully completing battles and missions.  Build up your Honors in order to purchase Merits.  (See below.)
Merits
- Merits are like Honors, but they are badges that provide special powers and abilities.  They are very very important.  Some Merits possess innate skills when equipped, or boost stats.  Only one Merit can be equipped like that in the beginning, but as you increase your rank, more Merits can be equipped.  Other uses for Merits include increasing base stats, upgrading your Crisis Calling (will require Currency as well), altering current skills or adding new skills under your C-Ability, sold for Currency, unlocking the two hidden abilities which serve special functions, and upgrading one's Q-Ability to a higher form.  Merits can be obtained by completing special tasks in school or completing missions successfully.  They can also be purchased by using Honors.
The flow of battle will be similar to other statplays.  I'm working on a grid system that is a little more time efficient than the current one. We shall see where that goes.
If you are willing to take up the mantle of protector against the unseen, then send me a profile and we shall get this party underway!
_________________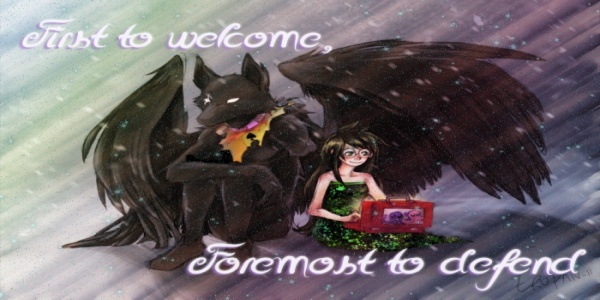 *Thanks to Mayari for the wonderful avatar/signature combo
WhippedCreame wrote:oh god yes eat my spaghetti confetti
Eternal Dreamer





Posts

: 16376


Join date

: 2009-10-28


Age

: 26


Location

: Home or work. Or some post-apocalyptic dream.




---
Permissions in this forum:
You
cannot
reply to topics in this forum