Page 32 of 32 •

1 ... 17 ... 30, 31, 32

Clara barely had a chance to smile, much less respond to Kazega when her hand moved from the Wind Maiden's heart to her own. Everything happened so quickly! One moment they were at the top of the tallest tower and then they were in the library. A burning mess. Pieces of... flesh... everywhere. A blackened smudge on the floor. Trinity evidently, and without saying, justifiably distraught beyond belief; the poor girl's sobs clamored in the accompanist's ears. Clara felt the world start to spin––a very familiar head rush almost took her, but she squeezed her eyes shut. In all this chaos, now was not the time to give in to weakness!

She forced a deep breath and her opened her eyes. Burning. Clara swallowed harshly as she took in the flames of burning light left crackling in the ashy remains of the bookcases and literature. The White Queen would not be happy with that much, she was sure, but hopefully not so moved as to turn them away. Not the time, Clara, she reprimanded herself internally, closing her eyes once more and pinching the bridge of her nose. Her eyes quickly shot open again, however, for Kazega had attempted to calm Trinity. The girl cried out––Clara's heart practically shook at the Keyblade Knight's dying tone. She had done this? Battered Ryas until her body had crumpled and then sliced the pieces into nothingness? And the smudge... she could only assume Tenkai no longer existed period. But how?

"W-what?" Clara breathed, her mouth unbearably dry. She looked to Trinity, but she couldn't hold her gaze. The Keyblade Knight looked as if she wanted to throw herself to the heartless. To let them take her and do with her as they pleased. Even her statement... she didn't feel fit to wield the Keyblade any longer. She wanted to throw away her identity.

Unable to offer the grieving girl anything tangible, Clara's eyes flew to Chris'––blue-green meeting lilac, the latter's pupils caught in the grasp of horror. Had she seen what Trinity had done? "Chris," she managed quietly, taking a cautious step toward the psychic.

Chris did not move. Not at first. She shook her head. Slowly at first, but then she shook her head. "Trinity," she uttered, her head still shaking although everything about her screamed that she wished to stay petrified. "I-I don't know."

Her head stopped moving. Her eyes focused on the black blot on the floor

Clara looked away. Her eyes scanned the destruction once more, ultimately settling on Kazega and the weeping Trinity. The organist approached cautiously. "Trinity, please explain," she asked gently, unable to help the welling of tears in her eyes. "How did this happen?"
_________________
Prince of Dreams





Posts

: 9517


Join date

: 2009-11-29


Age

: 22


Location

: I stand at a crossroads and stare at a question.



Trinity clutched herself as the others launched their inquiries. There was hardly anything to tell other than the fact that she truly was a monster. She shook violently in fear of what she had done. She felt like throwing up, and so she breathed deeply trying to get a hold of herself but to hardly any avail.

"T-Tenkai snuck up on me...," Trinity explained. "She was..t-touching me and that was f-fine, but..." The memory burned her mind as she recalled it, just as it had happened a few moments ago. "She threatened m-me...or I felt threatened, and then...I was possessed."

Kazega became alarmed. She knew Tenkai could be troublesome but the conversation she had with the assassin on the tower was so pleasant. How could it have come to this?

"Possessed by what, Trinity?"

"I don't know," the keyblade knight admitted. "There was a flash of brilliant light and I could feel this overwhelming presence looming over me, controlling me. Ryas came to quell the fighting, but she was caught in the crossfire. I was deadset on killing Tenkai...or at least whatever possessed me was...but Ryas..." At this point the tears welled up in her eyes once more and she began to bawl. She could not believe what she had done.
_________________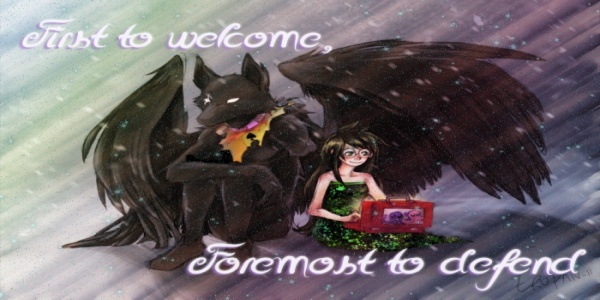 *Thanks to Mayari for the wonderful avatar/signature combo
WhippedCreame wrote:oh god yes eat my spaghetti confetti
Eternal Dreamer





Posts

: 16376


Join date

: 2009-10-28


Age

: 26


Location

: Home or work. Or some post-apocalyptic dream.



Clara's heart sank. Trinity seemed a ghost of her former self and the way she explained what happened offered no inkling of the girl they all knew. "Possessed..." Clara whispered, eyes returning to Chris for a fleeting moment. The older girl held no answers. Her lilac eyes remained locked on the black smudge on the floor. "Maybe the Queen knows something about this. We know Wonderland isn't safe, maybe this some part of this world has affected you..." the Accompanist attempted to reason with the Keyblade wielder, drifting over to kneel at her side. "Or maybe Alice did something... w-when she petrified you. I wouldn't put something like this past her."

"No." Clara's eyes shot over to Chris. The Psychic had taken a step away from the others. She was shaking her head again. "I don't think that's possible," she stated evenly, her voice full of air and lacking substance. "And I doubt the Queen knows what's going on," she swallowed, starting to take another step backward only to stop herself. "Whatever this... thing... this light that possessed Trinity was – is, I don't believe it has anything to do with Wonderland or Alice."

Chris forced herself to take another step forward, trying to look as pleasant as possible although her words were sour. "I think it has to do with Trinity. Alice mentioned something about light shining too brightly... to the point where there would be repercussions. Now, I'm not saying she's right, but she petrified Trinity right when she said that. She asked us if there couldn't be 'too much of the light' and... and that light burst into existence... from Trinity." Chris took a moment to breathe and look at each of them, trying to keep her kindest gaze on Trinity. "Whatever is going on... we need to seek out someone who knows more about the light than we do. I do not think that person is here," she continued carefully, moving over to the others and kneeling next to Clara, "which means that we need to find Alice – the right Alice – do what we can, find the Gummi Ship, and seek out that person." She forced a shaky smile.

"It's our best bet."
_________________
Prince of Dreams





Posts

: 9517


Join date

: 2009-11-29


Age

: 22


Location

: I stand at a crossroads and stare at a question.



Page 32 of 32 •

1 ... 17 ... 30, 31, 32


Similar topics
---
Permissions in this forum:
You
cannot
reply to topics in this forum