Profile Skeleton
Name:
Age: (ideal is anywhere from 18 to 32, but other ages are accepted)
Generation: (see below)
Stimuli: (if applicable)
Species: (limit to medium to medium-large mammals)
Bio: (be detailed!)
Appearance: (describe your human form, your animal form, and your half form; any and all that apply to your generation.)
Likes:
Dislikes:
Other: (any other important details that you feel we should know)

The Generations
The generations are the the different sets of experiments, none of which were total failures.

1st Generation: The results of the very first shapeshifter experiments, in which the results were humans turned into full animals without knowledge of how to shift forms. There may be a way for them to shift, but they will have to figure it out themselves. The ones that do figure it out do NOT have a half form.

2nd Generation: Experiments whose main form is the half form. Their shift is conditional and completely uncontrolled. They do NOT have a full human form.

3rd Generation: The experiments that have a main form of human, and can only shift in the presence of a random stimuli. 3rd gens whose stimuli is moonlight get mistaken for weres, which really pisses them off. The half form exists when the 3rd gen sleeps.

4th Generation: The ultimate success of The Sorana Project; shifters with full control of their shifting abilities. The 4th gens are the masterminds behind the shifters' escape. The half form exists when the 4th gen's mind is in a state of instability.
Name: Sorana Mitashani
Gender: Female
Age: 22
Generation: 4th Generation
Species: Vulpes vulpes (red fox)
Bio: Sorana is a woman who has a passion for animals, so much so that she volunteered herself for the recombinate DNA experiments, which would later be named after her for being the first successful product of said experiment. Her intent for joining the experiment, however, was to prevent the resulting creations from being used for military purposes. (Mine is short because I plan to reveal her history little by little)
Appearance: Her human form; she is a tall, slender woman with copper-red hair, brown eyes, and beautiful, defined features. She's not a girly woman, by any means, usually steering clear of form-fitting clothing. Her half form; identical to her human form, but has a long, bushy red tail, vertical slits for pupils, and enlongated and pointed teeth. Her fox form; she looks like an ordinary vixen.
Likes: Animals, making others happy
Dislikes: Pity and sympathy

Name: Jacob Ritchkan
Age: 28
Generation: 4th Gen.
Species: Canis lupis (Grey wolf)
Bio: Jacob has always felt like his life was on hold, so when he heard about the sorana project experiments he thought of it as a way to give his life direction. He had worked as a soldier for 12 years before hearing of the first success of the experiments, and had gotten into the higher ranks of his company. He is a 1st Lieutenant, and since his participation in the experiments he has began to think twice about using this amount of power for military purposes as he he feels stopping this from happening may be the direction he was always looking for.
Appearance: His human form; he is about 5' 9" with short, brown hair, hazel eyes, and a defined, muscular build. His half-form; slightly taller than his human form, with a slight point to the ears, sarper kanines, and medium thick fur on his arms and legs. His animal form; a typical grey wolf.
Likes: Working on mechanical items, keeping among those he wroks with.
Dislikes: Hatred among a team.
((Do I need to make my bio longer?))
Sleep-Deprived Zombie





Posts

: 22


Join date

: 2011-02-15


Age

: 24


Location

: Wouldn't YOU like to know...



It's good. I forgot to make it clear, but the most were unwilling participants. Some 4th gens were volunteers, but the information was kept under wraps. Jacob will be acceptable, since he had an important position in the military. Just for other's reference, your characters were likely conned into participation. Be creative!
Name: "The Butcher" Richtofen

Age: 24

Generation: 3rd

Stimuli: Extreme anger

Species: Ursus arctos (Brown bear)

Bio: Richtofen was a skilled German surgeon that came to the Americas to escape the family of an unfortunate patient that he wasn't able to save. Although being an illegal immigrant, Richtofen had a bit of a hard time living in the Americas, more specifically finding a well-paying job. To add to that, he barely knew any English. After a few years in the Americas, Richtofen still couldn't speak English too well nor could he find a job. And the money Richtofen brought from Germany had practically run out. Unable to pay his home rent Richtofen was forced out into the streets. It was at that time of despair that Richtofen came upon a man who claimed to be able to give the surgeon a job. Of course, being as desperate as he was Richtofen took the man's offer, being taken to an unfamiliar place and before he could react, was locked away as some test subject. He was then experimented upon, with a brown bear, and became a shapeshifter. The experiments had a side effect on him, however, for Richtofen's sanity was almost completely lost during the experiment. Afterwards, during the time he was locked away Richtofen often liked to do little experiments of his own to the other shapeshifters, usually in the form of dissection. Due to the absence of sanity of Richtofen, more often than not Richtofen's little experiments end up with his subjects dying in some horrible way. The consistency of the deaths had earned the nickname "The Butcher" along with the fear and resentment of many other shapeshifters.

Appearance: In human form, Richtofen has a slender build that makes people wonder how his shapeshift could actually be of a bear. He has blond hair that reaches the back of his neck and light blue eyes, under his eyes are heavy bags that indicate a severe lack of sleep, which he attempts to cover up with mascara. Richtofen also wears purple lipstick, and no matter what he's wearing Richtofen prefers to have on a white doctor's coat. In animal form Richtofen looks almost exactly like a brown bear, the only difference is that if examined closely some patches of Richtofen's fur has a slightest hint of yellow. And in half form Richtofen looks so different with the exception that his hair becomes a light brown color and lengthens to his waist.

Likes: Dissections, science, blood and gore

Dislikes: None to speak of

Other: Richtofen is very slow to anger, but once he does he practically has no sanity, he will be no different from a rampaging animal.
Masochistic Kitty Kat Maid





Posts

: 8939


Join date

: 2009-10-30


Age

: 23


Location

: I dunno 3:



Name: Nikita Feorras
Gender: Female
Age: 19
Generation: 3rd Generation
Stimuli: Blood
Species: Latrodectus mactans (Black Widow)

Bio: A troubled girl who grew up in a broken home, Nikita developed into a rather cynical being, weary of the presence of other humans. She secluded herself, delving into the realm of writing. Most of her stories were about death of loved ones and failed romances. Her poor social disposition landed her with nearly no friends, yet she was admired by quite a few. Still, life was lost to her, so when she was approached by a government official about a secret operation involving research and development, she willingly gave herself up.

The experiment was to be simple enough: a mixture of the human DNA with that of an animal's to produce a half-breed of some sort. She wasn't given details of what animal they were using. Unfortunately, the experiment, still somewhat new, wasn't a complete success. There were...things needed to allow a shift in form. Not able to let her go, Nikita became irritable. Already she was saddened by life, but now she was enraged. However, it wasn't like there was anything she could do on her own. She couldn't believe how willingly she had handed herself to them, and that made her angrier. Thus, she sat as a captive for quite a while...

Appearance: With a height of 5 feet 8 inches, she stands prominently among others. Her uncaring nature for others welcomes a rather arrogant nature that can be seen easily upon her visage. Her skin is pale and fair, and her long blonde hair is tied up in some sort of shape at the back of her head with several strands sticking up and then bending back slightly, held semi-upright with the binding she uses to keep the rest of her hair in place. Her grayish-blue eyes are filled with sorrow at times, and filled with unbridled fury at others. No one would be caught dead seeing her in anything but a gothic style black dress of some sort: black bows and white frills galore. She likes black heels, but doesn't mind going for the black boot look every once in a while.

In her half form, which she never sees anyway, she sprouts fangs and develops glands that secrete venom. Her two eyes become eight, no longer those of a human. She also sprouts several extra legs which are those of a spider, but she lacks spinneret glands with which she would normally be able to spin web.

In her full form, she shrinks down greatly and takes the form of a typical black widow spider that is about twice the size of a normal one.

Likes: Darkness, bloodshed, tragedy, heartbreak
Dislikes: Happiness, sunshine, rainbows, anything sweet
Other: She actually wrote a very successful novel, Love's Deadly Nightshade, for a school project a few years back. It's rather well-known.
_________________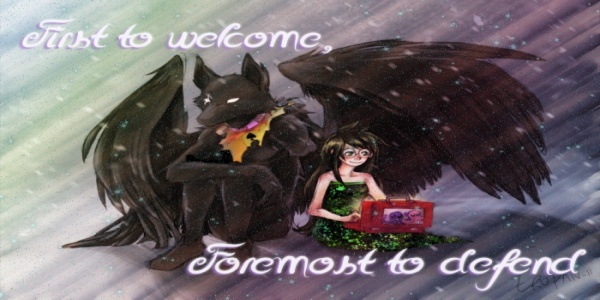 *Thanks to Mayari for the wonderful avatar/signature combo
WhippedCreame wrote:oh god yes eat my spaghetti confetti
Eternal Dreamer





Posts

: 16376


Join date

: 2009-10-28


Age

: 26


Location

: Home or work. Or some post-apocalyptic dream.





Similar topics
---
Permissions in this forum:
You
cannot
reply to topics in this forum