Page 3 of 3 •

1, 2, 3

"I can't imagine you being anything of the sort," Broken replied quite promptly in response to Zein's asshat comment.  Out of everyone in the world he could have been stuck with in this abysmal void, he was glad that he had Zein with him.  And of course the mysterious Resentment.  His thoughts were scattered at the mention of him being badass.  "I suppose my attire does have some intimidating qualities," he mused in his deep voice, glancing upwards in thought as if mulling that over in his mind.

"Yes, I sort of did.  The dessert thing for one.  I feel like they have something to do with my past...and then there's this happiness," the man explained, his blush fading and his smile dampening.  Golden eyes now rested on the ground.  The gleam had faded and he suddenly felt empty.  And it hurt.  But he didn't say anything.  In the end, Zein was right.  "It's a little step in the right direction to be sure," he said reassuringly to Zein, giving her a small smile.
_________________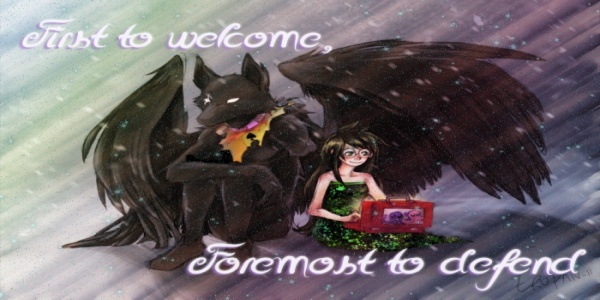 *Thanks to Mayari for the wonderful avatar/signature combo
WhippedCreame wrote:oh god yes eat my spaghetti confetti
Eternal Dreamer





Posts

: 16376


Join date

: 2009-10-28


Age

: 26


Location

: Home or work. Or some post-apocalyptic dream.



"Yeah." Zein agreed, mentally berating zirself for a moment. That wasn't what ze was trying to accomplish at all, that fading smile. Although ze was glad that he didn't think ze was annoying. That would suck to be stuck with someone you didn't necessarily like, and it would also suck to be that person that he didn't really like. It would just suck all around. Zein perked up though. "Well hey. If either of us remember something, we'll be sure to tell the other right? I mean not like if it's some invasion of privacy or whatever, but we'll just let each other know?" Zein was pretty certain ze'd end up telling Broken about it anyway, but at least this way ze would know when to keep it to zirself for a while, if that was required.

_________________
"We must no more ask whether the soul and body are one than ask whether the wax
       and the figure impressed on it are one."
Right Hand of Destruction





Posts

: 5479


Join date

: 2009-10-29


Age

: 26



Page 3 of 3 •

1, 2, 3


Similar topics
---
Permissions in this forum:
You
cannot
reply to topics in this forum