If you are looking for a well-written, descriptive opening that vividly brings the setting of a roleplay to life... you will not find it here. No plot... no definitive goal, and if there will be one, there will be no explicable reason why. The more sense you try to make of this, the more frustrated you will be. So where exactly are you, in this singularity of confusion? Well you all begin in the mythical and fictional city of Houston, Texas. Because I have a friend that lives there. When does this all take place, you ask? Well this all takes place in the past right after the Canadian-Mexican Alliance came to power and took the States by surprise and threw the world into DEFCON 4: The Legend Of The Fuckening. What do you mean you don't ever remember that taking place? Have you read a fucking history book lately? Anyway, all you assholes wake up in the middle of a run-down mall lying inexplicably in a pile on top of each other. You will all take it from here.
Void Sleeper





Posts

: 604


Join date

: 2012-06-22


Age

: 26


Location

: Eternal Dream Hell



I hit the bed.

Hard.

Getting home from a weekend "retreat"––titled so because any trip I took during my high school career marked as a retreat was anything but––was always the point that three days worth of work finally caught up with me. It had been fun, definitely so, I wouldn't have gone otherwise, but the ache in my limbs had finally seized me. My muscles, before relaxed and ready for anything, now screamed at me to just lie still. Unmoving, I found I couldn't bring myself to argue––any work I had to do for the following morning seemed impossible, any wish to get stuff done sickened me.

So I lied there with my eyelids wide open, staring. The Christmas songs I had spent hours working on over the weekend echoed in the back of my mind, but I ignored them. Instead, I focused on breathing, which in and of itself seemed like a much harder task than normal. Each inhale seemed more laborious than the one prior, exhales offered only a brief respite. I lost count of the difficult rises and heavy falls somewhere in the near infinite loop of time. I don't remember when, but I closed my eyes at some point.

Closed my eyes and slept.

Falling.

Not like the sensation of dropping from a height through open air, but falling. Floating, almost. Drifting lower and lower in a sea of blackness, perfectly aware of my hazed surrounding, but not bothered by them in the slightest. In fact, the further I fell the more content I felt. Breathing didn't seem quite as tough anymore; I could have relished in that fact alone for hours. But I didn't get the chance to, for at some point my floating returned me to an upward position, settling me cautiously on an invisible floor.

Interesting dream, I thought, taking my first step forward, almost reminds me of Kingdom Hearts. For a moment, I half expected shimmering lights as the blackness took flight away from itself––to see a pillar with stained glass like the aforementioned game. But nothing happened. I took another step and still found myself staring at empty blackness. I tilted my head, sighed, shrugged, and took another step.

You're going the wrong way. a voice from behind resounded smoothly; I twisted my body around instinctively, half-expecting to find a figure in a black cloak. But no. This was not like the video games I enjoyed. Instead, I was met by a sudden change of scenery, a large, highly decorated, marble staircase. I whirled back around to find the blackness traded for what appeared to be the inner-workings of a mansion. You're new to this, aren't you?

Again, I tilted my head and shrugged, but this time I quickly began walking up the stairs. The path you're taking won't be an easy one, the voice echoed all around me, I kept climbing the stairs. In fact, I hope you're prepared for the absolute shitstorm coming your way. I stumbled slightly, not expecting the voice to be quite so... blunt. A slight chuckle filled the room, clearly coming from the top of the staircase. I began to climb once more, a little more haste in my step.

Poor thing, if you're tripped up that easily you won't last a day where you're going. the voice taunted. My brow knit together and a grimace formed on my face, but I kept climbing. The second I hit the top of the stairwell, I saw no person before me. My muscles tensed again, sudden breeze hitting me from behind; I whirled around, but where there had been a staircase before, a wall with open window featuring the black nothingness sat. I closed it immediately, turning back around on my heels with a grimace. Whatever was going on with my dream, I didn't like it.

Oh come now, that's no way for you to act. It was scolding me now? I crossed my arms over my chest, and the voice huffed in disgust. Fine then, be a brat, the sound of footsteps thudding against the floor sounded, but no one was there. I looked around worriedly, unable to tell just where they were coming from when I felt a sudden push on my chest. Just go. And take this, you'll need it. Don't say I didn't do you any favors.

The force against my chest grew stronger, and I felt myself falling backwards inexplicably into nothing. Where there had been floor before, now there lay nothing. Falling once more, but this time with an intense rush of air pushing against me. I wanted to scream, but nothing would come out. For the longest time all I knew was falling through the hazy void.

And then it stopped.

My vision went black and I blinked my eyes, first seeing the typical darkness from behind my eyelids, and then a fuzzy image. My muscles felt terribly sore again, and my bed wasn't quite as comfy as it had felt. I forced myself to sit up, clenched fists wiping the sleep from my eyes. When I removed them, however, I didn't see my room at all––in fact, I didn't see anything I recognized. I barely set my hands down, only to feel a short rush of air against my finger. I jolted, looking down and practically fainting when I saw myself sitting on top of someone I didn't recognize. I briefly register that my finger had been dangerously close to this person's nostril.

Then I realized I was on top of several someones.

And I tumbled off the People Mountain.
_________________
Prince of Dreams





Posts

: 9517


Join date

: 2009-11-29


Age

: 22


Location

: I stand at a crossroads and stare at a question.



Once, she was a delicate woman. Once, she could have been the princess. Once, she could have been a great warrior. Once, she could have been a powerful sage. Once, she could have been a poor beggar. Once, she could have been an ordinary human. But no, she could not be any of those things now. Or maybe she was all of those things. Or maybe she was all of those things and none of those things. The thought was always on her mind and never on her mind.

Within the confines of this mind, she explored vast galaxies with numerous different planets capable of life. In her many journeys, she was forced to relive her life over and over again. This next life would be no different, and she wondered what kind of power she would have this time. Being unattached to the world and it's people is what allowed her to assume a spectral form after her life ended.

The most exciting part about getting a new life? Which gender she would be. Just one lifetime ago, she was a male, but the floppy thing between her legs - she forgot what the people called it - did not last very long. It might have been because she pissed off some random chick with a sword. She didn't really understand it. She quite liked being flirted with whenever she was a girl, why was it so much different with the princess that had just been transformed into a mermaid-type creature? She was only being honest.

While she was wondering about her new body, she felt a consciousness awaken in her. At first glance, it seemed like a normal mind, one that she had broken multiple times in order to obtain her way. But no, this was a different mind. She seemed to welcome the presence of another, rather than be surprised by it.

Hello there, are you another me? The new mind asked her. She was able to quickly determine that this was a female body from the way the mind was structured, and the fact that the body didn't have the wobbly thing between its legs that males did. The crystals today are quite pretty, aren't they?

Oh, so it was this kind of mind? She would be having quite a lot of fun breaking this mind. Though it already seemed disconnected from the real world, she could tell that this girl was far from reaching her optimal state of insanity. Finally, she decided to converse with the girl. Yes, they are quite nice. My name is Insanity, what is yours, child?

You sound like a Ruby to me. Such smooth edges and dark color...like the blood that leaked out of my hand the other day. It was quite interesting. It tasted funny. Clara Hillcrest is my name. I'm still just a rough diamond, waiting to be cut into pieces.

Was this girl suicidal? Probably not, but she would have to keep an eye on the girl. Clara didn't seem like the sharpest knife in the pocket. Still, it would be fun to break her.

...

Clara awoke suddenly, and, realizing her position at the bottom of a rather heavy mountain of people, placed her hands on the ground and forced herself up. She lifted the entire mountain of people with just her physical strength and shook herself violently, throwing all of the people on top of her off. Once the last person dropped, Clara assumed a cross-legged sitting position, staring up with a blank look on her face.

"It's very nice to meet you, Insanity. Please, make yourself at home in my body. I accept you," Clara said monotonously.
Totes-Mcgoats





Posts

: 16374


Join date

: 2009-11-01


Age

: 26


Location

: Naletia



Where had the wayside led me this time? A crushing pressure. There was gravity this time, and of that I was sure. In the past I was made aware that the gravity on other worlds differed greatly, and that should have been expected. However, that very fact was something that I found to be very hard to get used to, especially when the wayside constantly swept me up and dumped me out, much like the Thought Stream. It had dumped me out this time, but where? This crushing pressure. There was a flurry of activity. Did something hit the floor? It was hot. I became aware of...breathing. It donned on me then that tangled mass I was trapped beneath was actually a pile of other...beings. I assumed human, but from the way we were all dumped here, I also assumed they were not...native to this dimensional space. After all, for what godly reason would all these people be piled on top of one another like this?

Squirming a bit, I managed to get free of arms and legs, tumbling out the midst of bodies and rolling along the floor only to rise into standing position mid-roll. My gloves began to glow as I preferred to be wary around these strangers. Surely this wasn't some kind of diabolical sex gathering, but one could never truly know. It was honestly a pathetic sight to see them all like that. How had these poor souls, myself included, come to have wound up here in...wherever here was? Taking a look around, I realized we were in a mall, something most of the modern worlds and dimensions possessed. It was a place for people to go and shop at the numerous businesses inside. It also tended to be a place where people just hung out. This mall, however, was in the sorriest of shapes. The glass was broken and nature sought to overtake the spaces that had once been used as shops. Cracks in the ceiling let in light from outside, and gaping holes offered even more of that light. Whatever metal could be seen was riddled with rust. The place was quiet and rightfully so. I walked away from the people and looked down at a displaced sign on the ground, its original lettering rendered unreadable by a mass of black spray paint. Did that mean other people were around?

To say that I was curious to question these other beings, and now I say beings because there's a large chance that either all or none of them may be humans. I can sense strange abilities from some of them and it is somewhat unnerving and relieving at the same time. I want to know their stories. However they ended up here, I wish to know, and to walk around alone would not be the best of ideas. As docile as this place--a rundown mall--might seem, there was no telling what dangers this realm possessed. As such, I waited for the rest of them to get themselves oriented leaving my own eyes to continue observing my new surroundings.
_________________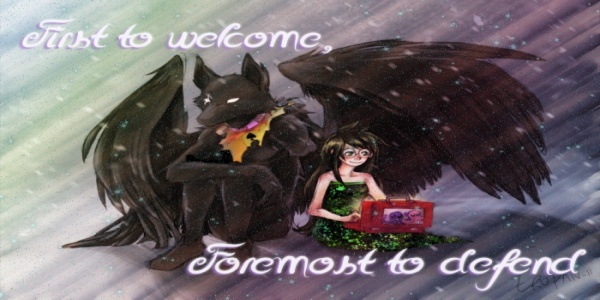 *Thanks to Mayari for the wonderful avatar/signature combo
WhippedCreame wrote:oh god yes eat my spaghetti confetti
Eternal Dreamer





Posts

: 16376


Join date

: 2009-10-28


Age

: 26


Location

: Home or work. Or some post-apocalyptic dream.



Just before you can even begin to get acquainted with each other, a very large and grotesque man crashes through the women's perfume section of the mall and ferociously roars at the lot of you. He isn't wearing anything other than a crown and a pair of ass-less chaps.

"OI! THE FUCK ARE YOU DOIN'?! GET BACK IN THE FUCKIN' PILE BEFORE I SLAP YER SHIT! BACK INTO THE PILE. GO ON. NOW."
Void Sleeper





Posts

: 604


Join date

: 2012-06-22


Age

: 26


Location

: Eternal Dream Hell



"Ow..." I groaned, rubbing the back of my head as I sat back up. Finding myself on top of and falling off of a large mountain of people certainly wasn't on my top ten list of things to do, and I had to say I had no desire to do it again. However, when a grotesque-looking man shattered the women's perfume section of this supposed mall, all the while demanding I return to my position at the top of that hellish pile, I felt an immediate urge to scramble back up. I didn't, of course, but one cannot say the thought hadn't been my first instinct. "How about no?" I called, still rubbing my head, undoubting that a bump would form sooner or later––that would fucking suck. "I don't really feel like hitting my head again," I added, although I'm pretty sure only the people I had been place precariously on top of could hear me.
_________________
Prince of Dreams





Posts

: 9517


Join date

: 2009-11-29


Age

: 22


Location

: I stand at a crossroads and stare at a question.



My observations come to a complete halt as a loud voice permeates the air around me. Some of the others are coming to and getting out of the jumbled pile in which they had found themselves in, however, the introduction of the loud voice commanded them all to get back in the pile as if that was where they were meant to be, but I am not fooled. I refuse to get back in a pile full of people for no good reason, and for someone to threaten with force? No, I had dealt with much worse than some hideous chap-wearing lunatic. This is no problem for me. "You had best prepare to 'slap our shit' then because if I am not mistaken, nobody plans on following your orders," I state matter-of-factly making sure to sound authoritative and unafraid which I really am not. There is nothing to be scared of when your life is filled with nightmares every single day. In the past I had seen quite a few things, and to this day they will haunt and scar my mind but I have lived. Here I am.

I adjust my arcane glove as it begins to glow with a luminous, light violet energy. This man has no idea what I or any of these other people, beings, or monsters are capable of, but I have a feeling if he persists that he will find out the hard way. I know I certainly do not possess the patience to deal with nonsense at this dire time. We have bearings to get, and some introductions will be long overdue by the time we get to speak with each other without worrying about some wannabe king belching out orders. So serene had I been in the days of my past, but now, a stand must be taken.
_________________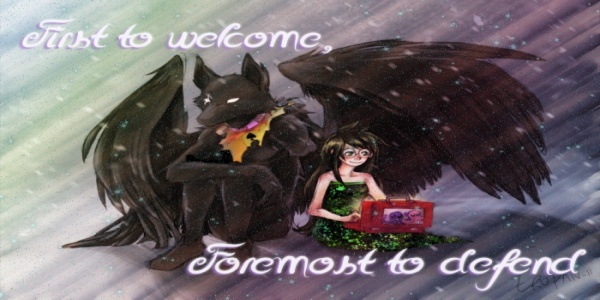 *Thanks to Mayari for the wonderful avatar/signature combo
WhippedCreame wrote:oh god yes eat my spaghetti confetti
Eternal Dreamer





Posts

: 16376


Join date

: 2009-10-28


Age

: 26


Location

: Home or work. Or some post-apocalyptic dream.




---
Permissions in this forum:
You
cannot
reply to topics in this forum