Page 14 of 14 •

1 ... 8 ... 12, 13, 14

"Ah, there she is."

Amy's words were sort of meaningless seeing as how nobody had shown up. It was still her, August, Aria, and Katarina. No one new had arrived. Oh but Amy knew. She could feel the wind upon her skin, and soon enough, a girl crashed into August causing Amy to cough in order to obscure a smile that was larger than she cared for. The look of panic upon August's face was just too great. The colonel hadn't even noticed that Jeanne had taken to the skies on their way to the garden, but considering the girl's dream powers, it was only fitting. The sky was where she belonged. "Jeanne, that wasn't very nice. You could have given the Dreamweaver a heart attack," Amy scolded playfully, tapping a booted foot upon the ground.

August took a deep breath. Why was everything intent on scaring him half to death today? So this was supposed to be a new addition to his group? The closeness of her body to his was somewhat unsettling. Was it like her to be this...brazen around new people? The man shifted uncomfortably upon the cloud, the girl still on top of him. "My name's August. August Chambers. Apparently the...Dreamweaver?" He gazed over at Amy. Certainly he had heard the term before, but what did it imply exactly? "It's really nice to meet you, and Colonel Liesenzweil, of course. We'd be more than happy to have you; I don't know where our other friends have gone to..."

"Worry not, Dreamweaver. They have merely been recalled to the Waking World," Amy explained reassuringly. "I would have thought that they would be here for the long haul, but it seems Fate has other plans." She raised an eyebrow in regards to his uncertainty towards his title as Dreamweaver. "It seems as though there are things that need to be explained to you, Dreamweaver. But I am not the one to do so. You need to speak with the Oracle." The Oracle was the being in charge of prophecies, an avid clairvoyant specializing in the future of dreams and the Dreamlands. It was her who told of the Dreamweaver's coming, and now that he was here, it was time to see what would come about of his presence.
_________________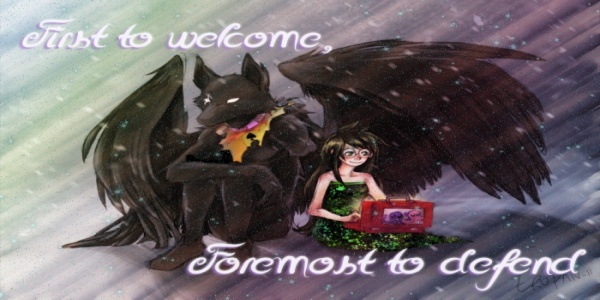 *Thanks to Mayari for the wonderful avatar/signature combo
WhippedCreame wrote:oh god yes eat my spaghetti confetti
Eternal Dreamer





Posts

: 16376


Join date

: 2009-10-28


Age

: 26


Location

: Home or work. Or some post-apocalyptic dream.



"Eh, heh heh, sorry about that, Miss Amy," Jeanne apologized lightheartedly, sitting up to smiling back at the woman who knew her. She turned her eyes back onto the boy she was straddling, who introduced himself as August. "You have such a pretty name," Jeanne whispered to him, leaning back down until her chest pressed against his. She put her hand on his head and began petting his hair. "Such soft hair too...Amy, can I keep him?" Jeanne looked back again at the Colonel who guided her here.

SHLINK.

The sound of a blade sinking deep into dirt resounded in the air, most likely surprising the others around. Jeanne, however, seemed unfazed by the sound, nor by the appearance of a rather long scythe. The blade had sunk deep into the dirt just centimeters away from August's head, coming that close to slicing his ear off. Jeanne turned her head to the scythe with a blank look on her face, then suddenly threw herself at the weapon, grabbing it and pulling it out of the ground with ease.

"Nimbus! There you are! I thought you were gone forever!" Jeanne giggled uncontrollably, rolling around on the ground. At least, she would be, if it were not for the cloud that prevented her from touching the ground. The cloud beneath August disappeared entirely, allowing him to regain his balance on solid ground.
Totes-Mcgoats





Posts

: 16374


Join date

: 2009-11-01


Age

: 26


Location

: Naletia



As the plant's armored shell was shredded away in the combined efforts of August and the mystery woman, Aria felt a strange certainty burst within her. The fight completed, a brilliant flash resounded from her being, her once flickering form now definite. Magenta colored eyes fell to gaze upon her figure almost instantly, the feeling of confidence surging through her like it never had before. She closed her hands tightly, knowing they were not grasping anything and that her form remained intangible, but still she smiled. Her form did not seem quite so impossibly shaky anymore.

She had a definite hold in this world now.

Any thoughts of celebration, however, were short-lived, as suddenly a girl fell from the sky. The Illusion swiftly reappeared next to August, slightly off-put by the skychild as she embraced the Dreamweaver. She was to be a member of their... well... she couldn't really call it a party anymore could she. Three people did not a force make––not that a fourth was going to fix it, but it wasn't unwelcome. Still, such behavior in the presence of those she had only just met.

I hope she's more careful in battle... the Illusion thought, glancing the girl over once more before returning her gaze to August. He was the only one she felt even the slightest bit familiar with now. "August," she started only to realize she had no way to word her worries properly. Hopefully he would notice and put her at ease.
_________________
Prince of Dreams





Posts

: 9517


Join date

: 2009-11-29


Age

: 22


Location

: I stand at a crossroads and stare at a question.



Page 14 of 14 •

1 ... 8 ... 12, 13, 14


Similar topics
---
Permissions in this forum:
You
cannot
reply to topics in this forum