Page 4 of 4 •

1, 2, 3, 4

"Oh!" Amy's mouth formed into an O shape as she watched the bright healing light emit from the fairy. She felt better already! Smiling happily, she waved at the fairy. "Thanks for the help!" Raising a hand, she faced her palm at the plant. Spirit focused his energy and a blast quickly flew out at the enemy.

[Amy] uses Mind Blast on [Carna]. 4 INT DMG and knocks enemy back one cell. Carna is forced to cell [E-7].
Mana: 7/20

Seeing that saying where she was was dangerous, Amy quickly backed away.

[Amy] moves to [E-2].

Poppi takes 7 damage.
Health: 8/40

Poppi's S-Ability: Fury activates! Poppi is now Berserk.
Attack: 12
Defense: 2

Carna takes 2 damage.
Health: 35/40

[ ] [ ] [ ] [ ] [ ] [ ] [ ] [ ] [ ] [ ] [ ] A
[ ] [F] [ ] [ ] [ ] [ ] [ ] [ ] [ ] [ ] [ ] B
[ ] [ ] [ ] [ ] [ ] [ ] [ ] [ ] [ ] [ ] [ ] C
[ ] [ ] [ ] [ ] [ ] [O] [ ] [ ] [ ] [ ] [ ] D
[ ] [A] [ ] [ ] [ ] [ ] [C] [M] [ ] [ ] [ ] E
[ ] [ ] [ ] [ ] [P] [ ] [ ] [ ] [ ] [ ] [ ] F
[ ] [ ] [ ] [ ] [ ] [ ] [ ] [ ] [ ] [ ] [ ] G
[ ] [ ] [L] [ ] [R] [ ] [ ] [ ] [ ] [ ] [ ] H
[ ] [ ] [ ] [ ] [ ] [ ] [ ] [ ] [ ] [ ] [ ] I
[ ] [ ] [ ] [ ] [ ] [ ] [ ] [ ] [ ] [ ] [ ] J
-1---2---3---4---5---6---7---8---9---10--11

Enemy Phase 6

Poppi moves to G-5.
Poppi uses Claw Attack on Ruby. 12 ATK DMG. 2 hits.
Mana: 22/60

Ruby takes 16 damage.
Health: 14/30

Carna moves to E-6.
Carna uses Claw Attack on Oz. 6 ATK DMG. 2 hits.
Mana: 18/60

Oz takes 6 damage.
Health: 7/15

[ ] [ ] [ ] [ ] [ ] [ ] [ ] [ ] [ ] [ ] [ ] A
[ ] [F] [ ] [ ] [ ] [ ] [ ] [ ] [ ] [ ] [ ] B
[ ] [ ] [ ] [ ] [ ] [ ] [ ] [ ] [ ] [ ] [ ] C
[ ] [ ] [ ] [ ] [ ] [O] [ ] [ ] [ ] [ ] [ ] D
[ ] [A] [ ] [ ] [ ] [C] [ ] [M] [ ] [ ] [ ] E
[ ] [ ] [ ] [ ] [ ] [ ] [ ] [ ] [ ] [ ] [ ] F
[ ] [ ] [ ] [ ] [P] [ ] [ ] [ ] [ ] [ ] [ ] G
[ ] [ ] [L] [ ] [R] [ ] [ ] [ ] [ ] [ ] [ ] H
[ ] [ ] [ ] [ ] [ ] [ ] [ ] [ ] [ ] [ ] [ ] I
[ ] [ ] [ ] [ ] [ ] [ ] [ ] [ ] [ ] [ ] [ ] J
-1---2---3---4---5---6---7---8---9---10--11

Neutral Phase 3

"Freaks of na-Why, I never!" the fairy clutched her fists, cheeks reddening in anger. "You should be grateful that I, Florin, am even helping you!" Looking ready to kill, Florin quickly calmed herself, smiling at Amy. "You're very welcome dear. It's so hard to find a pure soul like yours."

[Florin] casts Fairy Light on the Player Party. Heals 25% of max Health.
Mana: 45/85

Ruby heals 8 health.
Health: 22/30

Oz heals 4 health.
Health: 11/15

Amy heals 4 health.
Health: 15/15

Player Phase 7
Never Awaken





Posts

: 8307


Join date

: 2009-10-30


Age

: 25


Location

: Displaced



A flame burned in Ruby's eyes. "Did you finally get some balls, plant?!" she exclaimed, spinning around and horizontally slashing the monster. "If you wanna dance, let's go!" She smiled crazily at the monster; it would soon be reduced to nothing.

Ruby attacks Poppi! 8 Dmg! CRITICAL HIT!!

Ruby waits.
_________________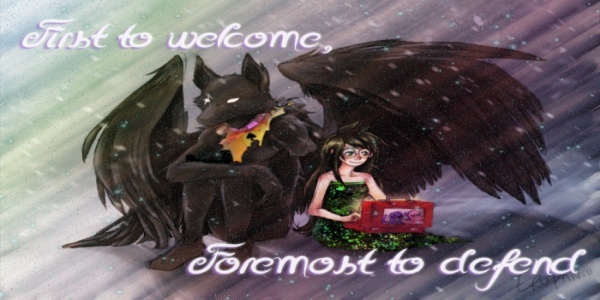 *Thanks to Mayari for the wonderful avatar/signature combo
WhippedCreame wrote:oh god yes eat my spaghetti confetti
Eternal Dreamer





Posts

: 16376


Join date

: 2009-10-28


Age

: 25


Location

: Home or work. Or some post-apocalyptic dream.



Ling moves to cell E-4

Seeing that one of the plants were acting up and left a large gap in it's defense, Ling was about to execute it. But then he noticed that Ruby was already on her way to killing it. So he glared at the last one standing and ran toward it, twirling his dagger in his hand.

Ling waits.
Masochistic Kitty Kat Maid





Posts

: 8939


Join date

: 2009-10-30


Age

: 22


Location

: I dunno 3:



Page 4 of 4 •

1, 2, 3, 4

---
Permissions in this forum:
You
cannot
reply to topics in this forum