Okay...


Name:

Age: 14+

Gender: Male/Female/It/Shemale

Class: Squire, Chemist, Black Mage, White Mage, or Knight

Powers: Nothing above one -ara (I.E. Fira / Blizzara) for black mages and white mages. (to show specialty, you may, as I said, still have ONE -ara spell to start) ...
probably best to put this in A-Abilities and all those other Tales of Aldaire ability lists.

Appearance: No hentai

Likes/Dislikes:

Personality:

This is a really basic character sheet, and you can do whatever you want for the sheets. This was just to give an idea of what you'll need and to set some starting limits.
Siesta Master




Posts

: 93


Join date

: 2010-04-29


Age

: 21


Location

: Agregeirs



Name: Yuki Maibashi
Age: 20
Gender: Male
Class: Black Mage
Powers: Black Magic
+ Blizzara
+ Fire
+ Thunder
Appearance:
Spoiler:
Likes: Solitude, books, winter
Dislikes: His name, his somewhat-feminine looks, large crowds of people, fighting
Personality: Yuki's usually not a very talkative person but isn't afraid to speak his mind. His pessimistic and cold side to him makes him a bit distant from other people. But Yuki isn't really bothered by that since he'd rather sit down and read a book than do anything else.
Other: Yuki's family had a tradition of naming their children when they reach the age of 6. And due to the fact that he looked a bit like a girl, Yuki was given a girl's name but he hated it.
Masochistic Kitty Kat Maid





Posts

: 8939


Join date

: 2009-10-30


Age

: 22


Location

: I dunno 3:



Name: Claudia Kingsbridge
Age: 24
Gender: Female
Class: Knight
Powers: Arts of War:
+Power Break - Aims a blow at the target's arms to reduce the target's physical strength.
+Rend Magick - A devastating slash that reduces the target's magickal capabilities.
+Leg Wound - Takes a swing at the target's legs with a sword to lower the target's speed and maneuverability.
Appearance:
https://2img.net/h/i135.photobucket.com/albums/q128/Mikeypooh/knight3.jpg
Likes: War, snow, dark clouds, fighting, bloodshed, pain, destruction, death
Dislikes: Overly happy people, the sun, clear skies, flowers, candy, cute things, life
Personality: With a wary and untrusting nature, Claudia remains independent and cares not to rely upon the charity of others. To her, friends are a sign of weakness; they are like crutches to keep the diseased and injured moving. Claudia does not need them, for she is not infirm and is capable of being mobile without aid. She is neither caring nor generous, and when others approach her with troubles, she reprimands them for not being able to deal with them on their own. However, she's surprisingly tolerant, and her patience is one of her very few redeeming qualities. She doesn't lash out in anger out of the littlest things. Instead, she responds with terse comments with a tone indicating her irritation in hopes that the person will leave her alone. Very few people have managed to have a conversation with her, but the topics were those of war and battle, which she adores above all else. Everything else is brushed aside.
_________________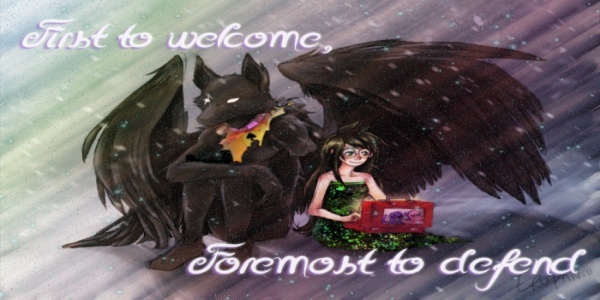 *Thanks to Mayari for the wonderful avatar/signature combo
WhippedCreame wrote:oh god yes eat my spaghetti confetti
Eternal Dreamer





Posts

: 16376


Join date

: 2009-10-28


Age

: 25


Location

: Home or work. Or some post-apocalyptic dream.



Name: Becca Norign
Age: 19
Gender: Female
Class: Knight
Powers:
Armour Break, Shield Break, Weapon Break, Power Break, Mind Break
Appearance:
Spoiler:
Likes/Dislikes: She likes religion and goes around trying to convert people to her fanatical religion, but loves violence and overpowering them. She both admires and despises her older sister, who is an accomplished Sword Saint, a job she herself is aiming for.
Her favorite season is autumn, her favorite pastime is slaughter combat. She also loves weapons and swords and aims to learn the Dual wield, Doublehand, Equip Shield and Equip Armour abilities.
Aside form that, she likes eating (especially sweet things and spicy things) but hates sour or bitter things.
Personality: Forceful, bold and aggressive. She is not afraid to be the center of attention (she often is with her aggressive requiting style) and refuses to back down from any challenge, no matter who issues it and what it is. She is also very stubborn and hates losing more than life itself.
Fleeting Dreamer





Posts

: 1161


Join date

: 2010-03-13


Age

: 26


Location

: Minding a multiverse



Name: Rex Aldridge (Captain of your squad)
Age: 22
Gender: Male
Class: Knight
Secondary Class: Black Mage
Powers: Arts of War:
+Power Break - Deals a crippling blow to the target, reducing their physical power.
+Magick Break - Strikes the foe with a cursed blade, reducing their magick power.
+Rend MP - Strikes a blow with a spirit-enchanted blade to strike their magic resources.
Black Magic (self explanatory):
+Blizzard
+Blizzara
Appearance:
Different blade.
Likes: Learning more. Solitude. Detachment.
Dislikes: His parents.
Personality: In spite of himself, he usually does his best to act happy and completely without emotional pain around others. He cries a lot when alone. All else can be found out in the RP...which by the way, shall begin today.
-SIDE NOTE: I should mention, one more time, that he's the captain of your brigade, and therefore more experienced than you. That's the only reason why he gets a second A-Ability, you guys will naturally catch up with him and be granted a second one as well. You will also be granted more classes as the game progresses.
Siesta Master




Posts

: 93


Join date

: 2010-04-29


Age

: 21


Location

: Agregeirs




---
Permissions in this forum:
You
cannot
reply to topics in this forum