Page 7 of 7 •

1, 2, 3, 4, 5, 6, 7

Silvertongue hummed appreciatively as the princess took a few swipes with the rapier through the air before putting the weapon down. Her swordsmanship definitely showed some mark of skill. Had the girl not shown prodigious magical talent, he could have easily mistaken her for a fencer. True, he knew next to nothing about the actual practice of fencing, but her stance looked poised enough, even with this quick little demonstration, that believed she could potentially pass for a true member of infantry.

Nevertheless, her attention was directed away from the weapon and toward the door. Silvertongue's nerves steeled in preparation despite the lack of issue since the ragtag group's arrival in Scape. One could never be too careful, after all! The tension in his shoulders eased upon seeing Nest. The scribe quickly went to help Aeria prepare dinner––he started singing no sooner than he had started to aid the warrior in the preparations. The spell-thief smiled weakly, settling on the couch next to Natsumi.

This would have been quaint if they weren't fugitives.
_________________
Prince of Dreams





Posts

: 9517


Join date

: 2009-11-29


Age

: 22


Location

: I stand at a crossroads and stare at a question.



Aeria couldn't help but smile. Nest had overlooked the fact that she had brought up but it was no big deal. Her joke seemed to go right over his head as he chastised himself for his naivety. It was unbelievably adorable. She chuckled and continued to make her preparations for dinner. She listened closely to the song that Nest sang and she found herself humming along with it as well. It was quite lovely and it put her in good spirits. The two of them tended to the dinner while the others were able to mingle and relax. Everything bad that had happened recently seemed to just vanish. It would be a hard journey from here on out and this was sure to be the last time for them to be together in safety and solace. In an abandoned house in a beautiful village...this would be it. Aeria felt her heart tighten as if it were in a vice. No, everything would be all right. After they figured out what was going on in the north and managed to resolve the issue of their dying world for good, maybe this would be commonplace.

"The food is ready!" Aeria announced at last as the final thing had come out of the oven. She had asked Nest to help her set the table. The silverware and dishes weren't in the best of shape--certainly nothing you'd find at a luxury banquet, but they would serve their purposes. Aeria brought the food to the table, placing it in a line in the middle so people could take what they pleased, with a little passing around anyway. She took her seat at the head of the table, taking her napkin and placing it in her lap. She wasn't a messy eater, but she liked to be prepared for anything. "Come now, everyone! Before it gets cold!" she called out once more, abstaining from fixing her plate until everyone had gathered despite how amazing everything looked and how delicious it all smelled, the aromas filling the house and replacing the slight mustiness that had plagued it before.
_________________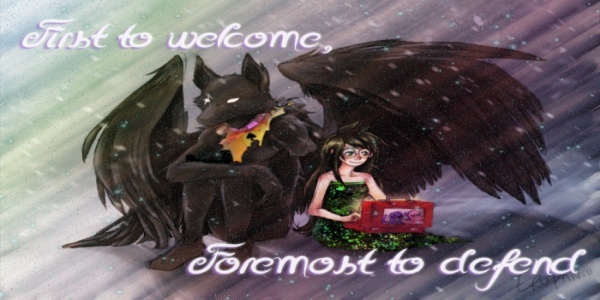 *Thanks to Mayari for the wonderful avatar/signature combo
WhippedCreame wrote:oh god yes eat my spaghetti confetti
Eternal Dreamer





Posts

: 16376


Join date

: 2009-10-28


Age

: 25


Location

: Home or work. Or some post-apocalyptic dream.



As soon as Aeria had announced that their food was ready, Silvertongue scooped Natsumi up, grabbing a throw pillow from the couch with her. He brought her over to the table and set the pillow down before resting her on it. Perhaps it was not as comfy as the couch, but the thief of spells assumed the young firestarter would feel much better with their company than off by herself––even if she couldn't physically stomach the food Aeria had made! As soon as he was sure that Natsumi was settled properly, Silvertongue went about making his plate grabbing a little bit of everything. It all looked amazing and he definitely could stand for seconds possibly even thirds, but the others had yet to grab their plates as of yet and he didn't want to be greedy. Stealing from those that deserved it was one thing, this was another.

"Et looks great, lass," he complimented, taking his napkin and stuffing it in the collar of his shirt. He wouldn't dare admit that he hadn't properly eaten in at least a day and a half so things might get messy. It was taking all of his willpower not to start chowing down immediately! If the others didn't hurry up soon there might not be much left.
_________________
Prince of Dreams





Posts

: 9517


Join date

: 2009-11-29


Age

: 22


Location

: I stand at a crossroads and stare at a question.



Page 7 of 7 •

1, 2, 3, 4, 5, 6, 7

---
Permissions in this forum:
You
cannot
reply to topics in this forum