Page 3 of 3 •

1, 2, 3

Akemi starts at I7.

"If we spent less time chasing the slime and more time killing it, we might not have drifted so far off into the desert." Akemi stated in a somber, yet somewhat irritated manner. She folded her arms, digging a single heel into the sand around her. Eyes piercing and austere, Akemi glared at the tomato creatures with deadly intent. "I'll send these unholy creatures back to the hell from whence they came." She let out an impersonal, dispassionate chuckle, driving her heel farther into the piles of sand beneath her body, "Oh wait, we're already there, aren't we?"
Hermit Sage





Posts

: 9671


Join date

: 2009-10-30


Age

: 57


Location

: I do not approve of double entendres.



Lola starts at H5.

"Nooooo....," Lola groaned as the creatures presented themselves to the group. Why hadn't they managed to get out of the desert yet? It felt like it was taking an eternity. Well, it had. She had to dispel her sphere of shadows every once in a while to build up her mana once more, and now she had to dispel it for battle; the mana had to be used for other things now. Like tearing these plants to shreds.

"Let's get this over with. I'll make you fools regret ever messing with us...prepare to have your brains scrambled," she stated matter-of-factly, drawing forth her hammer and brandishing it threateningly.
_________________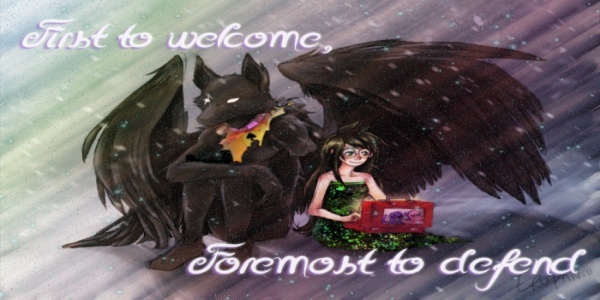 *Thanks to Mayari for the wonderful avatar/signature combo
WhippedCreame wrote:oh god yes eat my spaghetti confetti
Eternal Dreamer





Posts

: 16376


Join date

: 2009-10-28


Age

: 25


Location

: Home or work. Or some post-apocalyptic dream.



Xin Zhao starts at cell H-8

"Look, does it matter anymore that we've wasted a lot of time chasing that disgusting thing down? It's happened already, no way to go back and change that. So stop complaining." Xin Zhao said to the girl saying something about wandering off too far into the desert.

Xin Zhao was becoming agitated and stressed by the desert heat, and what better way to relieve stress than to beat a few things up? Xin Zhao shook off some sand stuck in the gaps of his scale armor, readied his spear, and took a stance preparing to charge.
Masochistic Kitty Kat Maid





Posts

: 8939


Join date

: 2009-10-30


Age

: 22


Location

: I dunno 3:



Johnny starts in H - 2.

Johnny gave a quiet whine in the back of his throat. More time in the desert? Listening to the others, he concurred with a couple of them. "But it's so hot . . . and there's so much sand." He was getting extremely uncomfortable with the amount of sand that was starting build up in all his creases, face, and hair. And tomatoes of all things. Why were there tomatoes in the desert? Why would a slime monster even run into the desert?

Johnny huffed a discontented sigh and tried to stand closer to Vivi, using her as a windshield. Maybe one day he'd be able to banish all this sand to the Nothing. Then nobody would have to worry about it. He nodded to himself and resolved to do just that as soon as he could.
Right Hand of Destruction





Posts

: 5479


Join date

: 2009-10-29


Age

: 25



Page 3 of 3 •

1, 2, 3

---
Permissions in this forum:
You
cannot
reply to topics in this forum